Many users may not know commonly used deleting and formatting can not delete data from the hard disk thoroughly but mark a special mark on the deleted data, making computer system unable to recognize these deleted data thereby being unable to display them. As a result, some users mistakenly think deleted data have disappeared completely. Actually, under this situation, it is possible to recover deleted data as long as these data are not damaged or overwritten. As to data recovery solution, I will introduce it in detail next. After hearing that deleted data can be recovered, many users may worry about data leakage which may result in influence on enterprise or individuals. Now, let me introduce how to delete data thoroughly.
To delete data thoroughly, we need the help of a technology called Erase. With this technology, original data are overwritten by writing in new data unceasingly, thereby being unable to be recovered. This is the most effective method for deleted data protection, and this method is employed by many institutions and enterprises which require extremely high confidentiality. With the development of software industry, Erase technology has been applied to partition magic which is suitable for common computer users to protect data. For example, the function "
Wipe Partition
" of
MiniTool Partition Wizard
, a partition magic which enjoys much public praise, applies this technology. Therefore, this wiping function can avoid data leakage effectively by erasing a hard drive. However, before using this function, users should consider carefully. If useful data are erased, no
data recovery software
can recover them, resulting in serious data disaster.
Data recovery solutions
Now, go back to the original topic data recovery solution. Actually, there are many solutions to recovering deleted data caused by simple deletion. Here, I offer 2 solutions. The first one is to resort to a professional data recovery company; the second one is to use high-efficiency data recovery software. And both of them are effective. However, as data recovery technology starts late, many data recovery companies charge so much money and many common users can not afford it. Considering this point, I recommend the second method, because in the process of operating data recovery software, users not only can know something about data recovery technology but also can enhance computer operating competence. It is really a good solution.
At this time, many users are troubled by the problem how to choose a piece of high-efficiency data recovery software. Well, users can evaluate data recovery software from the following aspects: first, data safety should be considered, because the data recovery software carrying virus will lead to more data losses or data damage; second, a high-efficiency data recovery software should have powerful functions, which can help users realize different types of data recovery; at last, ease of use and operability are also very important. Considering the above aspects, I recommend
MiniTool Power Data Recovery
. It is a good choice for us to recover data.
Steps for recovering data
After coming up with the solution, now, I will give detailed introduction to make users know this data recovery software more intuitively.
First, download this data recovery software from its official website
https://www.powerdatarecovery.com
. Then, install and run it to get the following main interface: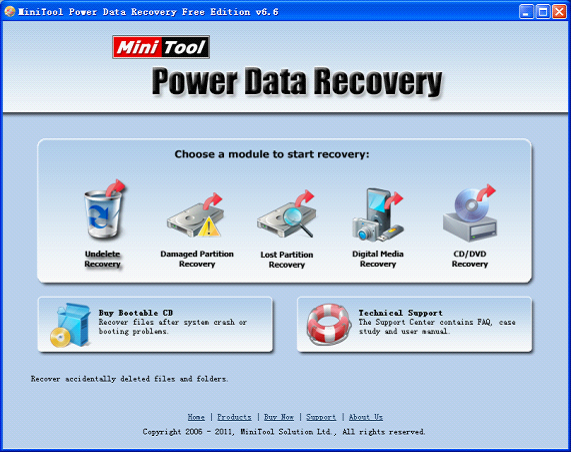 From the main interface, we can see 5 functional modules. To recover deleted data, we select "
Undelete Recovery
" module to enter the next interface:
Here, select the partition where deleted data originally are stored, and then click "
Recover
" to check data information.
Next, check files which need recovering, and then click "
Save Files
" to end operation.
After doing these easy operations, we are successful to recover deleted data. However, it is worth noticing that if data are deleted by erasing a hard drive, no
data recovery software
can recover these erased data. Therefore, users should be cautious when using this technology.
Common problems related to partition recovery and our solutions: