Lose Data In Weird Ways – Easy Tips For Quick Recovery
In computer using, disk management, data security and data loss are eternal topics that always draw our attention.
We can't be careful enough when using computer and every one of us tend to make mistakes: closing a program carelessly, deleting a useful file accidentally, downloading unsafe file/program after pressing wrong button, etc. Some of the mistakes will lead to
data loss problem
while others will not.
Apart from the human error that may cause data loss, sometimes, important files may be lost due to unknown reasons or unusual accidents (like flood). In other words, it's possible to lose data in weird ways. And in this case, we are often not aware of the data loss issue until we need to use part of the lost files.
So what's the real story?
Data can be lost all of a sudden
; some of the reasons are predictable and can be avoided, while others are totally beyond our expectations.
Tweet This Now
Yet, not all data lost in weird ways are gone forever. We have solutions for even inexperienced users to restore lost data simply. All you should notice is lost data can't be overwritten by new data and data storage devices can't be damaged seriously. Otherwise, data recovery from hard drive or any other devices can hardly be completed.
Be Aware of Data Loss Causes
Look, we're more and more used to storing important files in digital devices, such as internal/external hard drive, memory stick, USB flash drive and SD card. Though convenient it is,
possibility of data loss is increased
.
There're lots of reasons that will result in annoying data loss. Now, we roughly
divide those data loss causes into several categories
: human error, natural disaster, software malfunction, hardware failure, virus attack and power crisis.
Avoid Human Error
Human error mainly refers to the phenomenon where data are lost due to
users' wrong operations
. Common human errors include accidental deletion of files & partitions, accidental formatting of partitions & disks, wrong Ghost, etc.
Well, the specific human errors are often reflected in following aspects: operating system missing, unable to boot into OS, unable to find needed files, hard drive becoming RAW, and so on.
Here're useful methods for you to recover data from RAW.
Nevertheless, more and more cases indicate that data could be lost in unusual ways. We find uncommon human errors (in the form of negligence, anger and clumsiness) are quickly moving up the ranks.
To sum up, human error now becomes one of the most primary reasons leading to data loss. And people often make data missing by doing one of the following two things:
a). They hit "Delete" or "Format" carelessly during studying, working or managing drives on computer.
b). They throw things away to break computer or drop their data storage devices directly in anger, causing physical damage of device and severe data loss.
Natural Disaster
Unexpected natural disasters also become a major reason for data loss problem.
Common disasters
include: earthquake, volcanic eruption, flood, fire, tsunami, blizzard, thunder storm, hailstorm, tornado, etc.
There're also
not so common natural disasters
reported to be harmful to data: avalanche & mudslide, limnic eruption, heat wave, wildfire, and so on.
All those can break our computer system, cause power failure or bring sudden electromagnetic interference to damage our data. In short, our data could easily fall victim to natural disasters since they will not give us any warning in advance.
So here's the deal
: users are supposed to rely on a regular backup solution in order to safeguard the integrity of information juke like they purchase insurance for assets protection or health guarantee.
Software Malfunction
Software malfunction mainly refers to
logical errors
like operating system crash, file system damaging and software conflict.
Data loss issues caused by software malfunction are often easy to handle with. In other words, it is actually a simple task for users to recover hard drive as long as the data loss accident is not resulted from physical damage of data storage device components.
In this case, we strongly recommend that users
download
MiniTool Power Data Recovery Free Edition V7.0 for Windows platform or MiniTool Mac Data Recovery Free Edition V3.0 for Mac platform. Then, use it to scan the target drive to see whether lost data can be found or not.
Download Now
As for how can you actually use this software, we'll give a detailed step-by-step guide later in this article.
Hardware Failure
Hardware failure mainly refers to the
physical damage
of equipment. Storage media aging problem, disk surface scratch, magnetic head deformation & damage, magnetic arm fracture, chipset invalid and other components damage all belong to this category.
The following phenomena often indicate that you're encountering hardware failure: device failing to be recognized by computer OS, hearing a "click, click" or "bang, bang" sound, motor stopping running, inaccurate head positioning, etc.
Here's a post telling you how to distinguish hardware failure from software failure.
Though it's difficult to restore lost data after hardware failure, we still advise users to have a try by getting data recovery services from powerful data recovery software and professional data recovery agencies.
Virus Attack
As internet is becoming increasingly convenient and popular, the spread of computer viruses is getting simpler. There're a variety of virus transmission methods and the latent period of virus varies from case to case. All of those factors making
virus infection hard to be avoided
.
Thus, sometimes, when we start the computer as usual, we may find some files disappeared mysteriously or some programs are frozen.
Weird things would happen
even though everything seems to be fine the last we turn off the computer.
Thus, users are supposed to download programs/files from only trustworthy sites and receive documents from only reliable people. Besides, they can also install mighty anti-virus software to avoid virus attacks as much as possible.
B
ut,
what's the most important part
? Don't rush to kill virus or fix any problems generated by virus. Remember, the first thing you should do is always trying your best to
recover data from damaged hard drive
.
Power Crisis
Have you ever be put into any similar situations like this: when enjoying your time using computer, you suddenly find it
randomly switches off
on its own. You have done nothing wrong, but the computer still fails. Sounds weird! But this did happen now and then.
Most of the time, you don't know the exact reasons for causing power crisis. You're totally at a loss. But you know what? Please don't get too anxious; instead, stay calm and follow this 2-step guide to try to make up for it.
a).
check
whether there is
physical problems
in your computer hardware components.
b). use
bootable edition
of MiniTool Power Data Recovery to
enter computer without OS
and then recover data from internal hard drive.
Check this out to know why you should avoid power crisis.
All in all, data can be disappeared due to the reasons you're familiar with and in ways you've never expected. Weird as it is sometimes, it's real and we ought to do the best we can to reduce the possibility of losing data.
How We Lose Data in Weird Ways
To help users know better about uncommon data loss, we invite them to take a closer look at the following cases.
"I was about to download a utility program. My browser is set to ask a location to send the file to. I clicked the browse button and clicked on the destination folder I wanted. The folder had least 30 to 60 files in it. My screen flashed momentarily and when I looked at the folder again it was empty. How can I find them?"
This is a post on Microsoft's community and it has over 7,000 views, indicating that many users are concerned about the topic –
file suddenly disappeared
.
How do those files get lost? That's pretty hard to tell since file loss could be caused by various reasons. However, the more important thing is
what you do
after discovering the problem. Why does this matter? That's because whether lost files are overwritten or not decides whether you can get them back or not.
"The system sometimes couldn't identify 2.9GB drive and whenever I tried to access the drive, it said the drive hadn't been formatted asking if I wanted to format it now. I clicked No and restarted my computer, then the problem would be gone."
This is also a case we found on the internet. The user said he
couldn't access the drive
sometimes when the computer tells him to format it right away. Then, he chose to restart to the computer to solve the problem.
However, what we want to say is data in that drive are in great danger; they could be gone at any time. So what the user should do immediately is
backing up the important files to safe place
.
Yet, if data loss really happened before he backup files, he needs to
start recovery at once with MiniTool Power Data Recovery
to see whether the files in that inaccessible drive can be scanned out.
In addition to above cases, most of us have this experience: the application/program we are using shuts down unexpectedly sometimes, without any prompt or explanation. Usually, this type of issue is called software corruption. It may be resulted from software conflict, important files loss/damage, or the excessive overuse of application.
Of course, you can choose to ignore the problem and re-open application/program to use.
But there's a catch
: what if it just keeps crashing, not allowing you to access. You'll lose all data saved in that application/program.
Acquire One of the Best Data Recovery Services
Users are highly suggested to start
SD card recovery
, photo recovery or image recovery ASAP, regardless of the exact cause of weird data loss. To enjoy quality data recovery services, users should install MiniTool Power Data Recovery ahead of recovery.
Now, let's see how to do it exactly.
How to Recover Deleted Files
If you found some important files are deleted from computer mysteriously, but the drive is not broken, you may as well try "
Undelete Recovery
" module for a quick recovery.
Recovery operations
: run Power Data Recovery -> click on "
Undelete Recovery
" (
which is designed to recover deleted files
) from main window -> select the drive which contains deleted files -> press "
Scan
" button to search for lost files -> check needed files from scan result and save them to a safe location.
Tips:
If you need to recover files deleted from removable drive like SD card and USB flash drive, you'd better connect the drive to computer before running Power Data Recovery.
How to Recover Data from a Missing/Inaccessible Drive
If you need to recover files from a
partition disappeared from computer
suddenly, you should rely on "
Lost Partition Recovery
"; if you need to recover files from
existing damaged partition
, you should turn to "
Damaged Partition Recovery
".
Recovery operations
: run the software -> choose "
Lost Partition Recovery
" or "
Lost Partition Recovery
" according to different needs -> select the disk (
with missing partition
) or damaged partition -> click on "
Full Scan
" button to detect files -> look through found files and pick out needed ones to recover.
Tips:
Don't save the recovered files to its original location to avoid data overwriting and permanent data loss.
How to Recover Multimedia Files
If you only need to regain multimedia files like videos, audios, photos and pictures, you may as well choose "
Digital Media Recovery
", which scans only digital media documents. Read following content to know
how to recover photos
.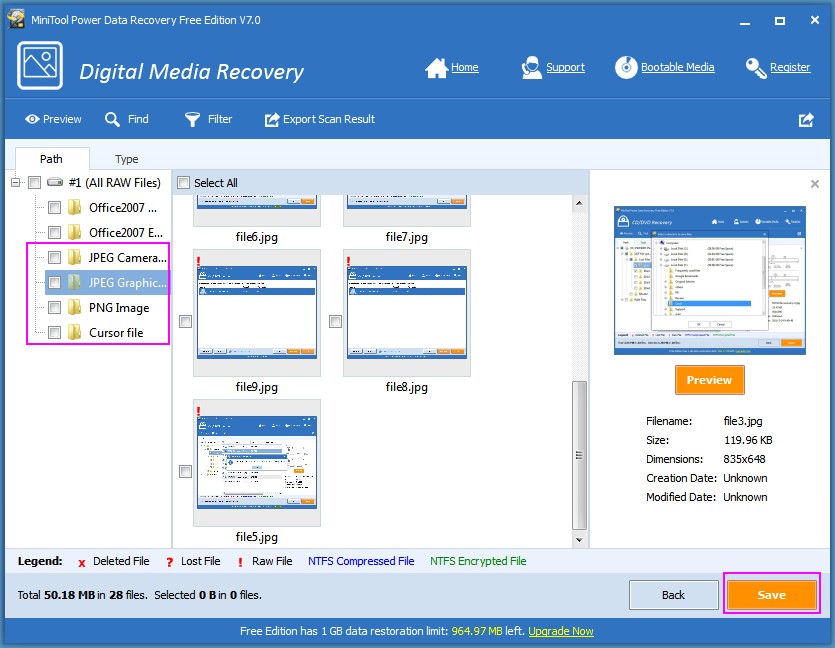 Recovery operations
: run software -> choose "
Digital Media Recovery
" -> select the drive used to save multimedia files -> click on "
Full Scan
" -> browse found files to choose what to recover.
Share New Skills
How to Recover CD/DVD Files
To
recover files from CD or DVD
, you just need to choose "
CD/DVD Recovery
" module and follow the operations we give in above cases.
Tips:
Free Edition of MiniTool Power Data Recovery can only help you recover less than 1GB data; to break the limit, you need to pay for a license.
Tips to Help You Protect Important Data
The best thing rather than asking how to recover data from dead hard drive or any other questions is actually take measures to try to
avoid data loss
effectively.
Form the habit of backing up data and updating backups on a regular basis.
Practice good working/studying habits.
Install powerful antivirus software if possible.
Place storage device under proper environment.
Don't open files/links from unknown sites/people.
Bottom Line
While using computer or other digital devices, we tend to meet data loss caused by common reasons like accidental deletion; in the meantime, we may lose data in weird ways.
No matter which is the actual case, you need to remember only one thing – please
stop using the device immediately
and
start recovery process
with the help of MiniTool Power Data Recovery to try to regain as many lost files as possible.
Common problems related to partition recovery and our solutions: