2 Ways to Recover Deleted Photos Windows 10
Have you ever mistakenly deleted precious photos from your computer? The following is my sister's experience:
Yesterday, I deleted some needless files to release more free space. However, I mistakenly deleted some precious photos. Now, what should I do? Is it possible to recover deleted photos in Windows 10? Who can help me?
In general, if you delete files by mistake, don't panic and read this post to find effective solutions to get lost data back.
Right here, in today's post, I am going to show you 2 ways to restore lost photos in Window 10.
Solution 1: How to Recover Deleted Photos from Recycle Bin
As we all know, if you delete files by mistake, files will be moved into the
Recycle Bin
, where they stay until they are automatically removed approximately 90 days later.
Therefore, if you can't find a file or mistakenly delete a file, the first thing you should do is to check your
Recycle Bin
. Open Windows 10
Recycle Bin
, then right-click the deleted photo, and choose Restore. (
Sometimes, if you cannot find the recycle bin, you can read this post "Show or hide the Recycle Bin" to get the recycle bin icon on desktop in Windows 10.
)

Note: This approach has some obvious drawbacks. For instance, it cannot recover permanently deleted files.
Solution 2: How to Recover Windows 10 Permanently Deleted Photos with Third-Party Software
No doubt, we can recover some deleted files from
Recycle Bin
. However, what if we emptied the
Recycle Bin
? Or, what should we do if we delete files by pressing
Shift & Delete
buttons (picture below)?
Now, you might be wondering:
"Can we recover permanently deleted photos? Can we recover files after emptying Recycle Bin?"
OF COURSE! THE ANSWER IS YES!
MiniTool Power Data Recovery, a piece of green and professional data recovery software developed by a famous software development company, is recommended here. This all-in-one data recovery software can easily and safely recover deleted photos from computer,
recover photos from SD card
and recover photos from other storage devices.
Download the free edition and have a try.
Here, let's discuss the detailed steps.
Step by Step Guide on Recover Deleted Photos in Windows 10
Look!
First, download and install MiniTool Power Data Recovery, and then launch it to get its main interface as follows.
Note: never install it on the partition containing lost data for that may overwrite files you want to restore
.
Second, in this window, you can see 5 different data recovery modules, and
Undelete Recovery
,
Damaged Partition Recovery
as well as
Digital Media Recovery
can help you recover deleted Windows 10 photos.
To be specific:
Undelete Recovery: focuses on recovering files deleted from Windows Recycle Bin or by using SHIFT+DELETE key.
Damaged Partition Recovery: can recover files from damaged, formatted and RAW partition. In a word, as long as the partition exists, you can use this module to restore lost files.
Digital Media Recovery: is specially designed to quickly recover music, photo and video files only.
Right here, we take
Digital Media Recovery
for example.
Third, select the partition containing lost photos, then click
Settings
to check
Graphics & Pictures
only, and click
Full Scan
button.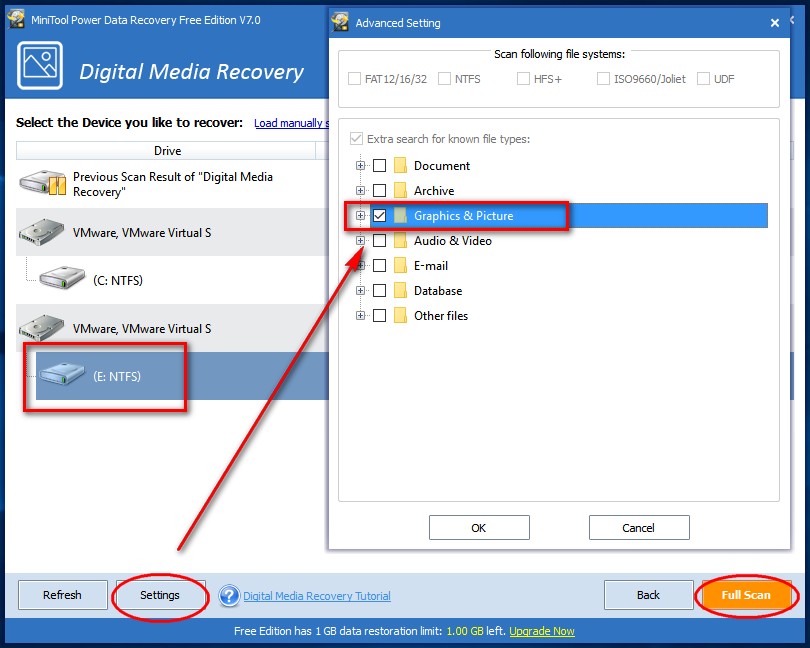 Finally, check all needed photos, and save them on a safe place.
Note: in this window, you are able to review photos before saving as long as you click Preview feature
.
Note
: For more details about Windows 10 photos recovery, please watch the following video.
How to recover photos Windows 10 free?
Tips: the free edition of MiniTool Power Data Recovery can only recover 1GB data. If you want to recover more, click the following button to buy the personal edition to break the limitation.
See! It is very easy to recover Windows 10 deleted files, isn't it?
Valuable Tips
Think twice before clicking "Empty Recycle Bin".
Stop writing new data to the partition containing lost data.
"I used MiniTool Power Data Recovery to effectively recover Windows 10 deleted photos without affecting the original data, and this tool also can help you get lost data back…."
Click to tweet
Bottom Line
Are you still worried about how to carry out Windows 10 deleted photos recovery? Now, MiniTool Power Data Recovery can help you get rid of this trouble.
In general, in addition to deleted photo recovery, this professional data recovery software can help to restore documents, videos, emails, etc. Besides, this all-in-one and read-only tool can help to recover files that have been lost caused by various subjective or objective factors, for instance, it can recover files after factory reset,
recover data from CRC drive
, etc. What's more, this tool not only supports Windows 10 but also supports other operating systems like Windows7/8/XP/Vista.
In a word, as long as file loss is not caused by hardware or lost files are not overwritten, you can try this tool to recover lost data. Want to know more information about this excellent tool as well as its excellent features? You can download it and have a try. It will surprise all of you.
At the end of this post, should you have any questions about Windows 10 deleted photos recovery or MiniTool Power Data Recovery, please leave it the following comments or send emails to
support@minitool.com
. Much appreciated!
Common problems related to partition recovery and our solutions: