Find file by name
When users conduct the image recovery with the freeware for recovering images - MiniTool Power Data Recovery, they may find the number of scanned pictures is so many sometimes. With thousands of files and directories to view, users may find it difficult to pick out a particular file in the recovered list. Actually, this image recovery software provides users a function, which can enable them to restore pictures conveniently. This function is to find files by name. This function makes it much easier for users to find the needing files.

For example, if users are looking for files with a specific name, they can enter a character string in the textbox of "File Name" to find files by name, either with or without ticking "Match Case" or "Match Word". Then, MiniTool Power Data Recovery will guide users to find files by name.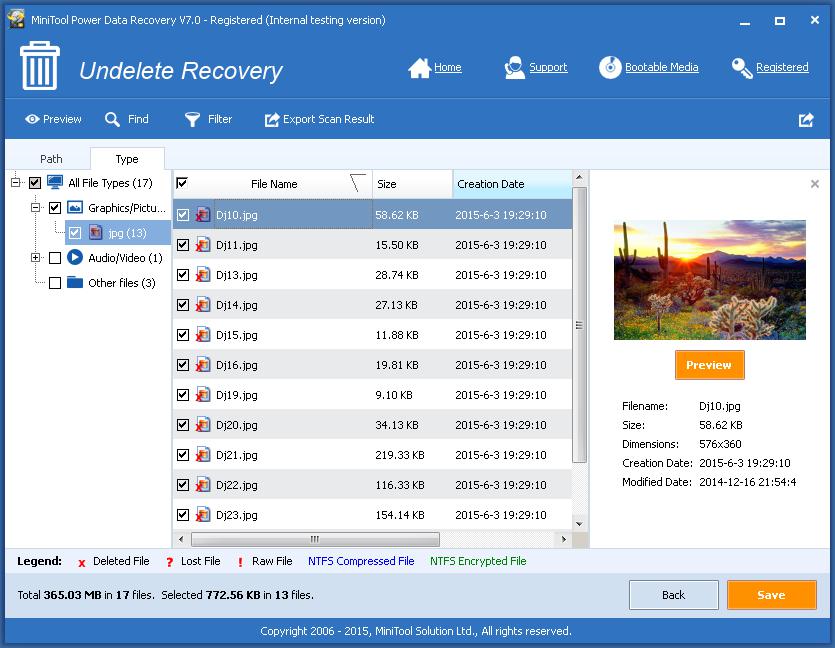 Except for "File Name", users can also fill in the file suffix by use "Advanced Filter" to find the needing ones quickly. The features of this function allow users to filter not only by the file suffix, but also the size and creation or modification date. Thus, users can find their pictures more quickly and correctly.




It is certain that it will be quicker to pick out the needing pictures by making use of the above two functions. After users find files by name, they need to click "Save" to save the selected pictures to a safe place. And this ends the whole restoration process with this professional freeware for recovering images.

From this article, it makes sense that users can restore pictures conveniently by utilizing some functions during the recovery. And typing the file name is pretty efficient. Therefore, users can choose to find file by name to accomplish the recovery work quickly. Click here to download this magical recovery software.