User could equally recover data from partition disk with data recovery software, even if they perform fdisk. So many data recovery software exist on market, but here I would like to recommend user a latest data recovery software - Power Data Recovery which integrates green, concise and effective features. Power Data Recovery supports data recovery for files systems of FAT12, FAT16, FAT32 and NTFS; operating systems of win 2000, win 2003, win XP, win 7, win 2008, etc. Besides, Power Data Recovery, small in size and functional, is a purely green software developed by
MiniTool solution Ltd.
.
FDISK
hard disk partition is in essence to format hard drive. User have set all hard disk physical parameters as well as assigned saving location of MBR and DBR backup as we create partition. However, regarding to information needed by file systems and other operating systems to manage hard disk, it is realized later by high-level formatting, namely Format command. To put a parable, partition is compared to draw a large pane on a blank paper, formatting to add checks in this pane, and installation of various software to write letters in checks. Partition and formatting are just like laying foundation for installing software which in fact play a role of marking and locating disk data. After
FDISK
partitioning, it merely restructures
FDT
,
MFT
and disk data still exist and is recoverable. Therefore, we could utilize Power Data Recovery, a data recovery software developed by MiniTool Solution Ltd., to recover lost data.
Download Power Data Recovery from our
download link
.
Install and run Power Data Recovery, unregistered user should check "
I am a home user, please launch MiniTool Power Data Recovery Free Edition
", and choose "
Launch Power Data Recovery Free Edition
" to enter following interfece: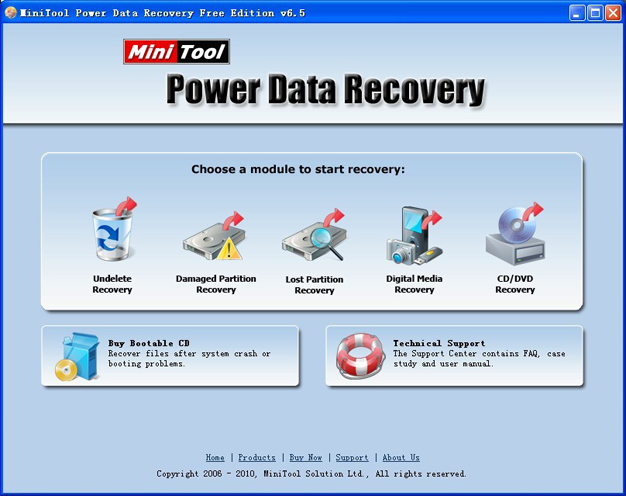 Five modules are available here including:
-
Undelete Recovery
-
Damaged Partition Recovery
-
Lost Partition Recovery
-
Digital Media Recovery
-
CD/DVD Recovery
Now please choose "
Damaged Partition Recovery
" to perform recovery.
In this interface, disk partition is searched by Power Data Recovery, then choose partition to be searched, and click "
Full Scan
".
At the same time, there would be a progress bar that indicates file numbers.
Choose partition to be recovered and click "
Show Files
".
Herein, listed files come up with deleted and undeleted data, please choose files to be recovered and click "
Save Files
"
Now click "
Browse...
" to choose files to be saved and then recovery is complete.
Common problems related to partition recovery and our solutions: