How To Recover Data After Hard Drive Crash
How to Recover Data after Hard Drive Crash
During computer using, hard drive is consciously or unconsciously damaged and this usually leads to crash and data loss. Therefore, how to recover data after hard drive crash becomes a frequently asked question among users.


What Is Hard Drive Crash
Hard drive crash, namely hard drive damage, usually includes logical damaged and physical damage. The former belongs to soft failure while the latter is hardware failure, which could hardly be fixed.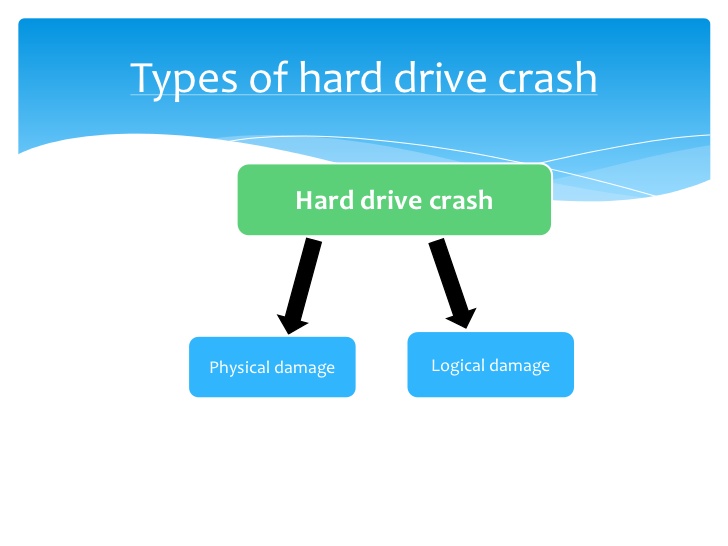 In general, logical damage includes partition table lost/damage, MBR damage, track servo information error, system information error and section logical error. This kind of damage is usually easy to be recovered by just adopting a professional and dedicated program.

In the meantime, physical damage refers to the damage of each component of a hard drive. The damaged part must be changed to get hard drive work normally again. Scratches on platter, head wear, circuit board's short circuit and chip burning are all included in this type of hard drive damage. Though physical damage could be solved easily, the important data in physically damaged drive may be lost forever. That's why we should be as careful as we can when using computer.

For users' information, there are 6 signs that may indicate a bad sector/track. Please pay enough attention to those signs so as to rescue your significant data timely from hard drive before it finally becomes dead.




1.A weird sound is coming from computer when it is started normally.

2.Data Error Reading Drive D:, General Failure Reading Drive C: or Sector Not Found error message appears and leads to boot failure, while virus infection is excluded.

3.Scandisk is automatically run to detect disk error each time when system is booted successfully.

4.When performing FDISK to hard disk, you find it was stuck in a certain point, going forward and backward repeatedly.

5.When you plan to format a partition on hard drive, the process is stuck in certain stage and error finally occurs, making you end up in failure.

6.Hard drive read error appears constantly when a file is reading or a program is running, suggesting file corruption and other information. Besides, if the disk reading process takes too long or the blue screen appears during reading, it also suggests that there's bad sector/track on hard drive.

Here's a conclusion: when any one of those signs show up, please seize time to recover data from your internal hard drive or external hard drive to avoid permanent data loss.


Hard Drive Types You Should Know
Before we talk about how to recover data from a dead hard drive, we think it's very necessary to introduce the classification of hard drive to all of you. Hard drive can be divided into different types according to different classification methods.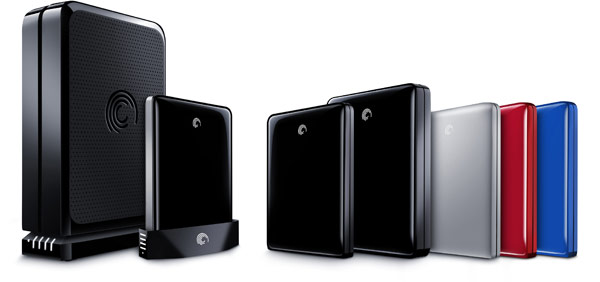 External hard drive and internal hard drive: depending on the way of placement, hard drive is generally divided into external hard drive and internal hard drive and this is believed to be the most ordinary classification method.


Internal hard drive is usually built inside our computer and we rarely have chance to get access to it. However, things are very different when it comes to external hard drive. Also known as mobile HDD (hard disk drive), external hard drive is widely used in our daily life to store large but frequently needed files. In this way, we can carry it around wherever we want and use files stored in it at any time.

As you may know, there's no obvious difference between internal hard drive and external hard drive except for the portability and capacity. Therefore, the way to recover data from external hard drive and the way to recover data from internal hard drive are nearly the same.

Want to know the best part? To be honest, as the data recovery software which owns large numbers of users, MiniTool Power Data Recovery is definitely a good choice to recover data from a dead hard drive, no matter it is internal or external.




Laptop hard drive and desktop hard drive: the hard disk is divided into laptop hard drive and desktop hard drive due to different computer types.


Just as the name implies, laptop hard drive refers to the hard drive used in laptops, while desktop hard drive is the storage device used in desktop computers. In this sense, recovering data from laptop hard drive equals to restoring laptop data most of the time.




IDE hard drive, SATA hard drive, SCSI hard drive and fiber channel hard drive: hard disk drive interface is the connecting part between the host system and hard drive and it plays an important role in the data transmission. Thus, the program running speed and system performance are largely decided by the hard drive interface performance.


Hard drive is generally divided into IDE hard drive, SATA hard drive, SCSI hard drive and fiber channel hard drive according to different interfaces. IDE interface is mainly used for household products, and it is also partially applied to server. However, SCSI interface is mainly used on server market. As for fiber channel interface, it only shows up in some high-end servers because of its expensive price.

You might be wondering: what the main function of SATA is. As a matter of fact, SATA is the most popular hard drive interface on current market. That's why so many users are eager to know how to recover data from SATA hard drive.

The full name of SATA is Serial Advanced Technology Attachment, also known as Serial ATA. It adopts the serial connection method and the bus is equipped with embedded clock signal.

In this way, SATA interface has stronger error correction capability and is able to check the transmitting commands (not just data). Error will be corrected automatically once it is detected and this greatly improves the reliability of data transmission.
Common Hard Drive Crash Cases
Case 1: RAW hard drive problem
Are you familiar with this scenario: hard drive becomes RAW somehow when you try to use it? This is actually a typical kind of hard drive crash that bothers lots of users. According to research, the cause for this problem is very complex; no one can name the exact reasons for sure. But we only need to know that the state of RAW hard drive is a little bit like the hard drive which hasn't been initialized yet.

Perhaps the only problem lies in how to recover data from hard drive without formatting. How to bring it back to normal state and use for further data storage? We'll teach users how to recover data after hard drive crash step by step in the following content.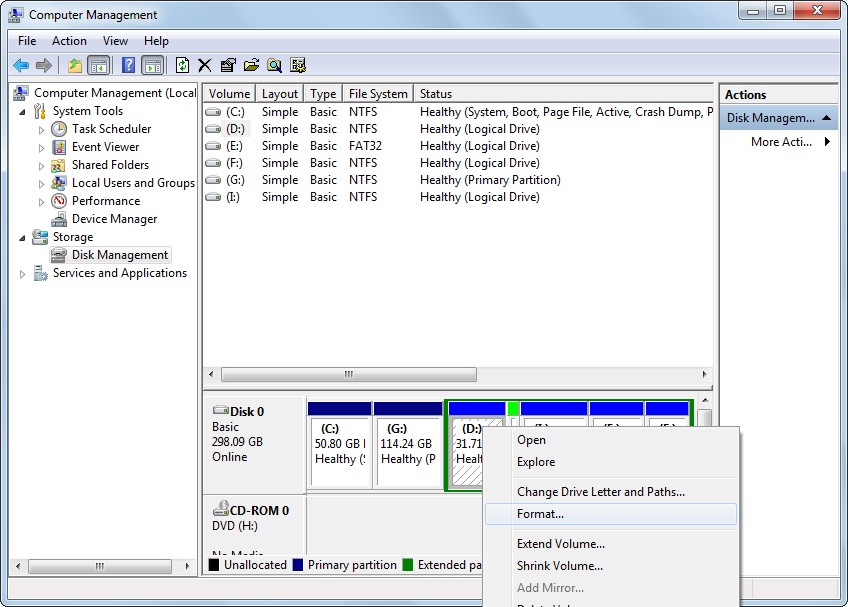 Case 2: accidentally formatted drive
Accidental formatting is also another frequently seen issue that could lead to serious data loss. Once formatting is done, nothing left in the target drive. And it is unlike deletion situation, in which users can try to check the Recycle Bin to find deleted data. Nevertheless, users don't need to worry too much if they want to recover data from hard drive after formatting.

That is because data will not be really removed out from the drive to which formatting has been performed. On the contrary, they still stay at the same place where they were located before getting missing and they remain recoverable unless new data are written in and take the place of them. But before that happens, you have a lot of time to successfully recover data after hard drive crash with a wonderful program.

Case 3: partition is lost from hard drive

In addition to partition formatting, partition loss is also a horrible accident. It's a nightmare for users who stored significant personal data & business documents in the lost drive. Causes for this problem can be generally divided into two types: human error and unexpected hardware/soft failure.

Human error means that users deleted partitions or necessary files for partition displaying carelessly while using computer. Hardware failure basically refers to the physical damage of hard drive while soft failure includes system crash, virus attack, software conflict, and so on. Users also needn't worry too much when they're in face of partition loss since the "Lost Partition Recovery" module in MiniTool Power Data Recovery is designed exactly for solving this problem.

Now, we're going to offer users the perfect solution in detail.


A Perfect Solution to Hard Drive Crash Accident
In above mentioned hard drive crash cases, no files could be found in Windows Recycle Bin. Though there are lots of data recovery companies who're willing to help users solve data loss problem at any time, it will cost much money and may lead to privacy or trade secrets leakage. For this reason, users still need a piece of data recovery software to recover crashed disk.

In summary, MiniTool Power Data Recovery is our recommendation. It is a free program but regarded as one of the best recovery tools by numerous users. It owns these merits: powerful functions, high effectiveness, virus-free, small size and excellent compatibility (supporting different file systems like FAT12, FAT16, FAT32 and NTFS, and almost all common storage devices & Windows operating systems). Here are the steps you should follow to easily recover data after hard drive crash.

Step 1: free download MiniTool Power Data Recovery from the download center and then install it to the computer hard drive. You're not expected to choose the drive with lost data (waiting to be recovered) for installation since this may damage your data and make them gone forever.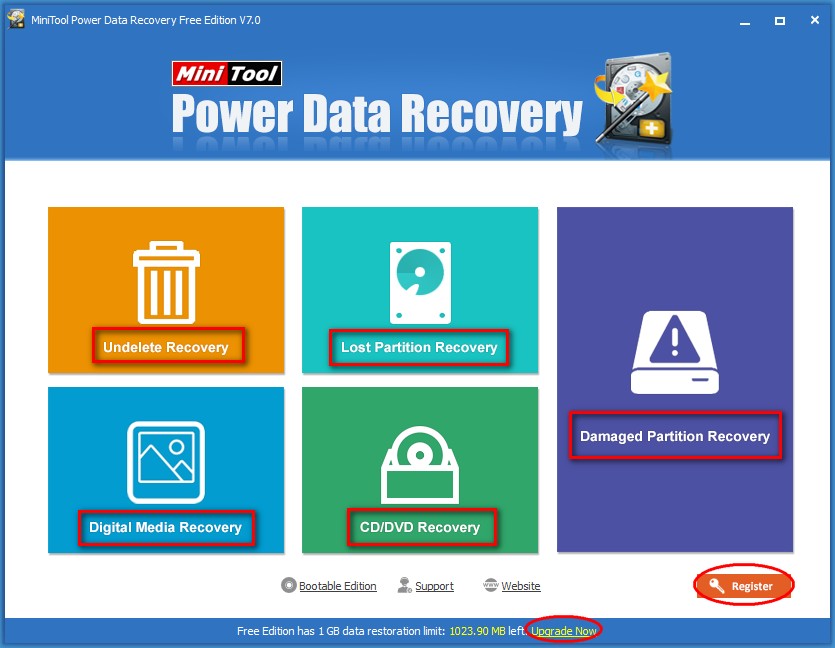 Step 2: you are supposed to choose an appropriate one from following five modules which are available for you after opening the data recovery software you've just installed:

- "Undelete Recovery": recover deleted files & folders after quick scan.
- "Lost Partition Recovery": recover data from missing partition (deleted or lost somehow).
- "Damaged Partition Recovery": recover data from RAW, formatted or attacked partition.
- "Digital Media Recovery": recover multimedia files from flash drive and memory stick.
- "CD/DVD Recovery": recover lost files & folders from CD/DVD discs.

Annotation of each module would emerge when you put the mouse pointer on them.

Note: you're only allowed to recover 1GB data with the free edition of MiniTool Power Data Recovery. If you want to recover more, you need to upgrade it to advanced editions by clicking "Upgrade Now" or just press "Register" to input your license key if you have already bought one.

Now, click on the certain module to enter (in case 1 and case 2, users should choose "Damaged Partition Recovery" while in case 3, they need to select "Lost Partition Recovery" instead). Here, we take "Damaged Partition Recovery" as an example to show you how to recover data from hard drive after formatting.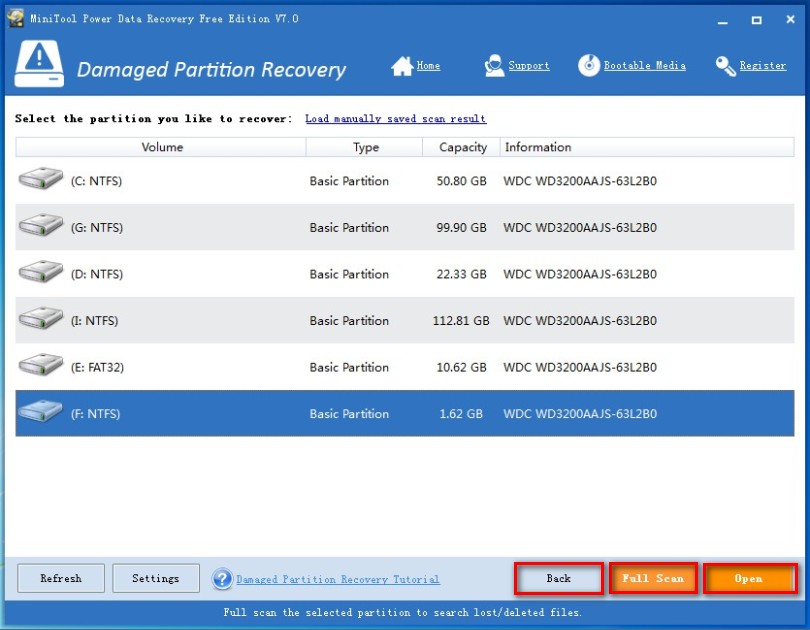 Step 3: in the lower right corner of this interface, three buttons are available:

- "Back": help you go back to the main interface and choose another module for help.
- "Open": you could directly open partition and search for partition data with prerequisite that this partition is intact or else this option is useless.
- "Full Scan": when partition can't be accessed at all (which suggests severe damage), you can click this to detect files in it.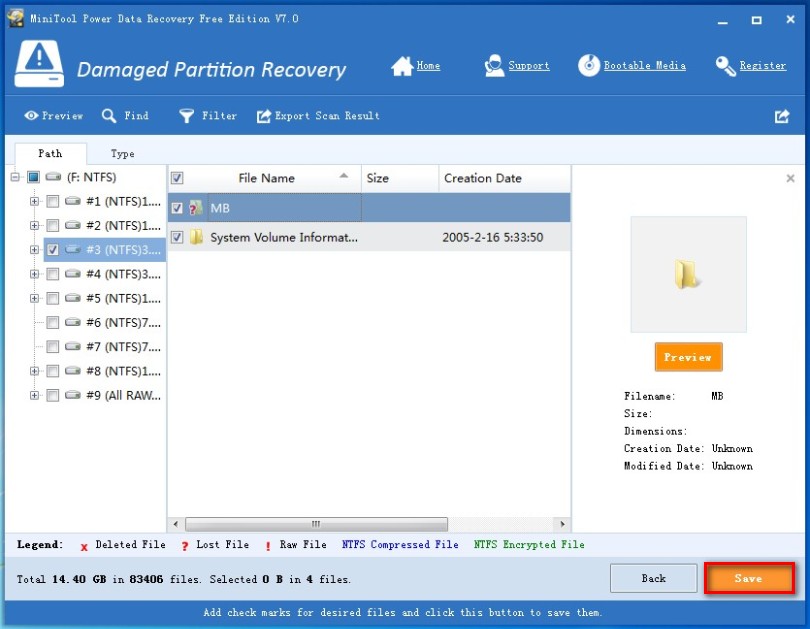 Step 4: then, you can see a file list with both lost data and existing data. Now, please check files you want to recover and click "Save" -> choose the destination -> click "OK", and then the entire process to recover data after hard drive crash is finished.

You can check the recovered data by opening the drive you selected for storing them. If you need to know more about "Lost Partition Recovery" module, please go there. Should you have any questions, you're welcome to contact us through email.
Common problems related to partition recovery and our solutions: