Memory is an indispensable part for most digital devices. Generally, all data are saved to memory when users save them to digital device. You may know that memory is divided into two types according to different save paths: internal memory and external memory. Indeed, internal memory is the built-in memory in digital device. It is also the main memory. External memory is the added memory. It is mainly used to exchange data between digital devices.
With constant development of memory technology, memory has been greatly improved in capacity and security. Therefore, users always save important data to memory in digital device, including important pictures. However, promoting speed of memory security is far from faster than upgrading speed of virus. Even if common types of memory in the market has already been equipped with great security, important picture loss is also a common problem in digital device. How to
recover lost
pictures from memory has become an urgent problem.
Why should we recover lost pictures from memory?
As known to all, recording every little thing in our life with digital camera is a fashionable and common thing. And pictures are saved in memory of digital camera. Maybe, as a result of virus attack or accidental operation, we usually lose these important pictures. Nobody wants to beat such a terrible result. Lost pictures may include our precious pictures of our significant moments in life.
How to recover lost pictures efficiently has become the center of attention of most users. In fact, recovering lost pictures is not a difficult thing as long as we have a piece of powerful and professional data recovery software that supports common types of memory, and has powerful picture recovery function. MiniTool Power Data Recovery is such a suitable
data recovery software
for us.
The powerful picture recovery function of MiniTool Power Data Recovery
MiniTool Power Data Recovery
is a piece of professional data recovery software that is compatible with all kinds of common memory, such as hard drive that has
IDE, SATA, SCSI
, and
USB port
, as well as SD card, U disk, and CD/DVD. This software also has rather powerful and modularized picture recovery function. After downloading MiniTool Power Data Recovery from official website:
https://www.powerdatarecovery.com/
and installing it to your computer, launch it to enter main interface:
In this main interface, we can see clearly MiniTool Power Data Recovery provides users with five functional modules. "
Digital Media Recovery
" functional module is specially designed for recovering digital media files such as pictures. Click it to enter next interface: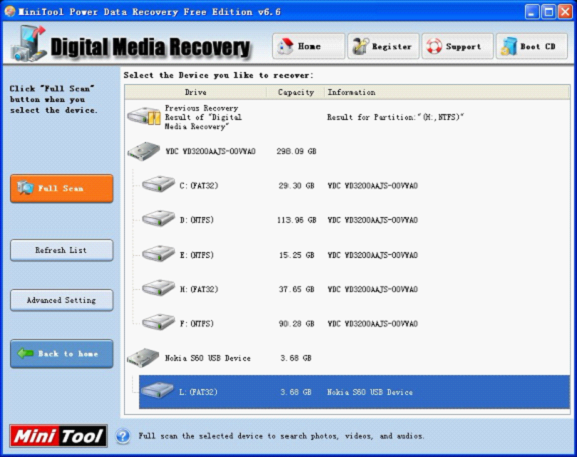 In this interface, we can see all disks and partitions in the computer. Select the one representing target memory device where lost pictures were (
Here let's take mobile phone memory for example
), and then click "
Full Scan
" button:
In this interface, MiniTool Power Data Recovery will display all media files it has found in the memory with classification. Thus it is easier for us to find out the ones we need to recover. Check the pictures you need to recover, and click "
Save Files
" button to save recovered important pictures to a safe location. Finally, we have finished all recovery work successfully.
Reading this article, you must have already been surprised by the great performance of MiniTool Power Data Recovery. If you are in trouble of important picture loss, visit our official website now and
download
MiniTool Power Data Recovery. It will help you a lot.
Common problems related to partition recovery and our solutions: