External Hard Drive Not Working – Analysis & Troubleshooting
It cannot be denied that we're getting more and more used to having an external hard drive for data storage and backup, with the continuous development of hardware technology. But, have you ever thought about this: the external hard drive may corrupt someday, without leaving you a chance to transfer the data out. What a heartbreak thing it will be when you find the external hard drive stopped working!
Today, I will lay my focus on the external hard drive not working problem. Firstly, I'll divide this problem into mainly four situations:
a). external hard disk not detected;
b). external hard drive not accessible;
c). external hard drive dead;
d). external hard drive physical damage.
Then, I'll briefly analyze these situations one by one and give corresponding solutions to help you recover data from external hard drive which is not working, with professional data recovery software. After that, I'll summarize some practical measures to troubleshoot the problem when the external hard drive is not working on the computer.
It is noteworthy that MiniTool Power Data Recovery is designed for Windows platform (Windows XP/7/8 /10 and Windows Server OS) while MiniTool Mac Data Recovery is suitable for Mac computer (Mac OS X 10.5 and above). Please make your choice according to needs.
Undeniably, a wonderful tool can help you yield twice the result with half the effort when performing hard drive recovery.
Classification of External Hard Drive Not Working Issue
In reality, the external hard drive not working problem can be divided into mainly 4 situations.
1. External Hard Drive Not Recognized Or Not Detected
"I have an IOGEAR 160GB External USB Hard Drive (GHD135C160) and it is not being fully recognized. I have a Win Me system, 512M, P3. When the drive is connected via USB and turned on, the removable disk icon(unplug or eject hardware) shows up on the lower right corner of my screen, it does show up under Device Manager -> under disk drives, but when opening My Computer it is not recognized there.
There are no drivers for this drive for Win Me, IOGEAR web page does not indicate any for this OS, it says Plug and Play. Please help me in offering suggestions to get my external drive recognized."
– posted by altezza on CNET Storage Forum
As altezza said, he found that his external hard drive not showing up in My Computer, but does show up in Device Manager. The two most probable causes of this phenomenon is the lack of drive letter or partition.
2. External Hard Drive Inaccessible
"I have a 1TB Toshiba Canvio Basics 3.0 Portable Hard Drive. After plugging it in, a check disk window pop upped and I chose the option to automatically fix file system errors and scan for and attempt recovery of bad sectors but was interrupted because a friend of mine got impatient and clicked cancel. After that, my hard drive became inaccessible. When I tried opening the hard drive an error message appears: Corrupted Hard Drive the Parameter is incorrect.
After searching for a solution on that problem, I found sites which said that using cmd chkdsk on the hard drive might fix the problem. So I ran chkdsk using cmd and I think it got interrupted again. I left it alone for half a day and when I checked it again, the cmd was gone. I assumed that it was already finished running chkdsk but when I tried accessing my hard drive again it now said that I need to format the disk before I can use it. When clicking cancel, an error again appeared: Location is not available. A: is not accessible. The volume does not contain a recognized file system. Please make sure that all required file system is loaded and that the volume is not corrupted.
Any Idea how to fix it? Is it still fixable? All my important files are there so I'm a little worried. I appreciate all the help that I will get."
– asked by chocosyrup on BleepingComputer Forum
The user said that his 1TB Toshiba Canvio Basics 3.0 portable hard drive has become inaccessible and the access is still denied by computer after he has tried running chkdsk in cmd.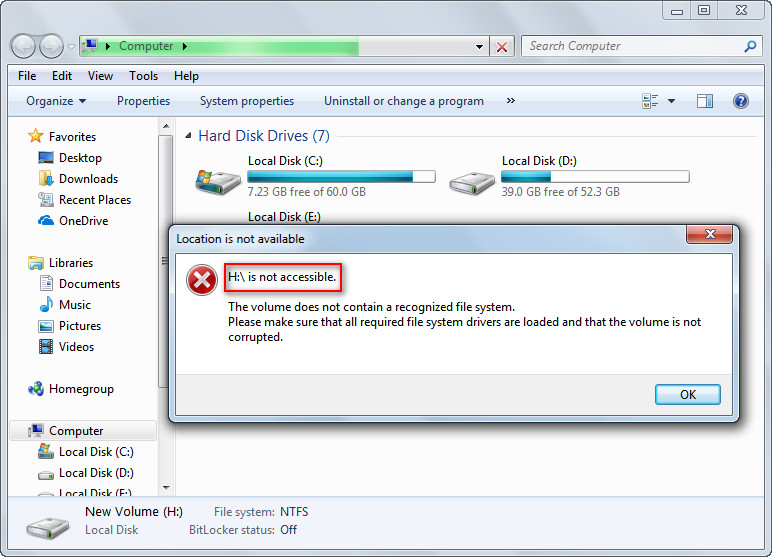 3. External Hard Drive Corrupted/Dead
"I'm using 80GB external hard disk for my study used... When i brought it to my Uni's computer lap today, it was hang and without accessible. It shown the message 'the file and directory is corrupted and unreadable', could you please let me know what's the matter with my hard disk? I don't have any backup, it's so awful for me to lose those information which store in my hard disk.... please... I need help...."
– put forward by cginkiad on TechRepublic Forum
When connecting the external hard drive to the computer, cginkiad discovered that his drive is corrupted and unreadable. Since he has no backup, he is afraid of losing important information. But luckily, the dead external hard drive recovery is possible.
4. External Hard Drive Not Working after Dropping
"I have an external Maxtor hard drive and I dropped it from my desk to a thin carpet floor. I plug it in and it just makes a clicking noise and then after 4 minutes or so, it stops clicking and no noise comes out. When I click on my computer it is not there :( The green light is still on the external hard drive though.
I can't believe a little drop to the floor can ruin it? It has a hard casing around it. What can I do? Can it still be saved? Help!!!"
– put forward by hi! on Tech Support Guy Forum
This user hears his external Maxtor hard drive made clicking noise right after it had been dropped from desk to floor. Soon after that, he finds the external hard drive is not responding (stops clicking and disappears from My Computer).
Recover Data from External Hard Disk Which Is Not Working
When an error is detected on the external hard drive, the two most important things people will think of at first are definitely: how to fix external hard drive and how to restore data from external hard drive. Considering that the fixing measures may bring secondary damage to data still kept on the external drive, I prefer to talk about external hard drive data recovery firstly in this part; then, I'll provide some useful tips to help you fix an external hard drive in the next part.
5 Steps to Recover Data from An External Hard Drive
What to do if your external hard drive is not working? Please follow this tutorial carefully.
Step 1: the first thing is to acquire suitable data recovery tool. As I have mentioned above, you should get a MiniTool Mac Data Recovery if you plan to recover data from external hard drive not working on Mac or a MinTool Power Data Recovery to recover data from external hard drive on Windows.
As for how much does it cost to recover data from an external hard drive; the answer really depends. For instance, to recover no more than 1MB data on Mac or no more than 1GB data on Windows, you can just use the free edition, without paying anything. Well, if you have to recover more files, you have to get a license to upgrade software from free. Of course, you can try the free edition firstly to see whether you need a license or not. Click here to know the comparison of different license types.
Step 2: connect your not working external hard drive to the computer and make sure it shows up in Windows Disk Management. (Please learn how to fix if PC not recognizing USB hard drive)
You should skip this step in the cases where the external hard drive does appear on the computer.
Step 3: get the software installed on your computer and then launch it to enter the main interface as shown below (taking external hard drive file recovery on Windows 7 as an example). And then, pick out a functional module that is most proper for your case.
How to recover data from non-detecting hard disk? As I mentioned just now, you should open Windows Disk Management to see whether the external hard drive appears. The most likely situation is that all the partitions are lost from this disk and the disk space turns into unallocated. Under such circumstances, you have to choose "Lost Partition Recovery".
To recover data from inaccessible external hard drive, you should definitely click on the third functional module – "Damaged Partition Recovery" and then do a full scan.
When you need to recover data from corrupted external hard drive, you may well try the "Damaged Partition Recovery" module. As long as the drive is damaged logically, there's a great chance to get back the data.
Well, to retrieve data from dead hard drive after physical damage, you'd better hire professionals to help you fix the external hard drive.
Step 4: select your external hard drive which is not working, and then press the "Full Scan" button to arrange a sector-by-sector scanning on the target disk. After that, please wait for the completion of the full scan.
The scanning time has a great relationship with many factors, such as the amount of data and the disk usage.
When the scan is over, the possible partitions will be listed in order in the software interface. At this time, you should open them one by one to see whether your needed files are included.
Step 5: check the files needing to be recovered from the not working drive, and then press the "Save" button to choose another drive as the new storage path. After that, click on the "OK" button to confirm.
As you can see, there is a hint at the bottom of the software interface, saying that the free edition has 1GB data restoration limit. So, when the total size of files you plan to recover exceeds that limit, you'll see a File Saving Limit window, instead of the storage path setting window.
Seeing this prompt window, you have no choice but to get a license to upgrade the software from free edition and then, recover all the files you have checked by pressing "Save" again.
This is the end of this part.
Fix External Hard Disk Not Working Error
Even though external hard drive not turning on seems to be a terrible problem, it may be fixed through proper means. I mainly want to share with you how to get your external hard drive to work in this part.
Troubleshoot External Hard Drive Not Recognized
Assign a drive letter to external hard drive or change a drive letter for it.
Initialize the external hard drive & create partition or partitions on it.
Make a hidden external hard drive appear by changing properties or other ways.
Reinstall or update the USB driver to the latest version.
Try a different USB port/cable or connect the external drive to another computer.
Repair the system built-in drivers by "System Restore".
Set parameters in CMOS to enable USB drive.
Use a powerful anti-virus program to kill viruses on the drive.
Install the latest chipset drivers of the motherboard.
Fix External Hard Drive Not Accessible
Re-partitioning the external hard drive.
Reformat the inaccessible partition on the external hard drive with Disk Management.
Delete the inaccessible partitions after data recovery and then create new partitions.
Use third-party software to check and fix not accessible external hard drive.
Take ownership of the external hard drive by the way you prefer to.
Run CHKDSK command on the inaccessible external hard drive.
Run the Error Checking tool in Windows to settle down access denied error.
Repair Dead External Hard Drive
If the external hard drive is only damaged logically, you may use the same ways mentioned above to repair the dead external drive. But, if it is damaged physically, you have to try these measures.
Check the failed component of dead external hard drive and then replace it with a new one.
Reset the external hard drive to factory settings.
Low-format the external hard drive.
Buy a brand new external hard drive
Sum-up
According to study, the external hard drive not working issue can be divided into 4 different situations. The causes of and the solutions to these situations are not the same. Therefore, if you really find your external hard drive stopped working someday, you should figure out which situation you're confronted with currently. Then, follow the steps mentioned in this article to recover data from the external hard drive. Finally, choose the appropriate methods to try to fix external hard drive yourself.
Common problems related to partition recovery and our solutions: