Recover Files From Dead External Hard Drive With Actionable Way
One of the biggest advantages of external hard drive when compared to internal hard drive lies in its portability. Users can carry an external hard drive with then whenever and wherever they want. In this way, data and applications saved in this removable hard drive are always available as long as users have access to computer.

Besides, it can be a great assistant when users need to exchange large files among different devices. The transfer speed of files between external hard drive and computer is much faster than that between two computers which realize data transmission through network.

However, it is actually those features that increase the possibility of external hard drive getting damaged. And when users are in face of a dead external hard drive, they'll naturally get into panic. Should they recover files first or just reformat the drive to make it working right? The answer really depends.

We mean if the files included in the dead hard drive are extremely important to users, they should consider completing hard drive file recovery as soon as possible. On the contrary, if there is no useful files in that failed drive, users just need to reformat it for further use. As for how could the external hard drive become dead and how to recover files from dead external hard drive when that tragedy happens, users should read the following content to find the answer.


Characteristics of External Hard Drive
As a convenient and widely used mobile data storage device, external hard drive has its own features that may be similar or different from other drives. Here, we're going to talk about 5 obvious characteristics of external hard drive to help users get to know it more specifically.

1.Large in capacity: equipped with a capacity which is larger than that of common flash drives, external hard drives is a high cost-effective mobile storage product. When the price of large-capacity flash drive was only preliminary accepted by users, the price of external hard drive is within the acceptable price range since it provides them with greater storage capacity and convenience. Hence, it is regarded as an upgraded version of flash memory products like USB flash drive.

2.Small in size: in general, the external hard drive dimension can be divided into three types: 1.8 inch, 2.5 inch and 3.5 inch. Among them, the 2.5-inch removable drive can be used as notebook hard drive. It is featured with small volume and light weight, so it is easy to carry around and this is especially convenient for users who need to use big business files frequently but want to guarantee security at the same time. In addition, there is often no external power supply for 2.5-inch external hard drive.




However, the 3.5-inch external hard drive's volume is relatively large and the portability is limited, so it is often used as desktop computer hard drive. Besides, the 3.5-inch external hard drive generally comes with an external power supply and cooling fan.

3.Fast in speed: according to statistics, most external hard drives are using USB, IEEE1394 or eSATA interface, which can provide fast data transmission speed. However, the disk data transfer speed is still subject to interface speed limit to a certain extent.

In particular, when users try to transfer large amounts of data on USB1.1 interface specification products, they must be patient enough. Compared to USB1.1 interface, USB2.0, USB3.0, IEEE1394 and eSATA interface are much better.

4.Convenient in using: as far as we know, mainstream PC is basically equipped with USB function; the motherboard usually offers 2 to 8 USB ports and some monitors will also provide USB adapter. In short, USB interface has become an essential on in PC using.

In most versions of Windows OS, users do not need to install a driver in order to use USB interface. This "plug and play" feature is really fascinating. Yet, for external hard drives whose capacity is over 160GB, an external power supply is needed and this restricts its portability greatly.

5.Enhancement in reliability: data security has always been the thing that mobile hard drive users are most concerned about, and it is also regarded as an important criterion for people to measure the performance of such products. Similar to laptop hard drive, external hard drive often adopts silica platter.

Compared to aluminum platter, silica platter is believed to be more durable and have larger capacity and better reliability. And the integrity of data saved on it has been greatly improved. Besides, the silica platter is equipped with a shock-proof function, so that when severe vibration is detected, the platter will be stopped automatically and the magnetic head will be reset to safe area to avoid platter damage.

Above content shows readers the most obvious characteristics of external hard drive, and of course, users may find other features easily when using it. However, though it brings us lots of convenience, it could let us be caught in dilemma sometimes.


Why External Hard Drive Is Dead and Precautions
Like internal hard drive, external hard drive could also be damaged physically or logically and thus causing data loss issues. And the external drive is indeed more error-prone than the internal one due to its portability. Now, we'd like to briefly summarize the reasons for making an external hard drive dead.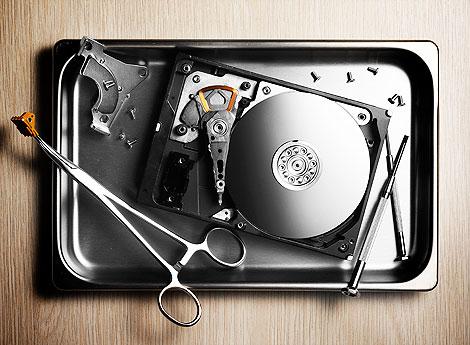 Physical reasons:
Magnetic head damage: it mainly refers that part of the magnetic head assembly has been damaged so as to make part of or the entire head can not read and write properly. Dust, head wear, head cantilever deformation, magnetic coil damage and displacement can all be accused of damaging magnetic head.


Drive circuit damage: this means a certain part of the electronic circuit board is broke down or becoming short circuit. Besides, electrical component damage and IC chip damage are also included in this type. In this case, after power was added to external hard drive, the platter may not be able to spin properly or the magnetic head can't perform correct track seeking even when head is spinning properly.


Hard drive surface damage: it refers to the scratch or demagnetization problem that occurred on the surface of external hard drive surface because of collision, friction or other reasons.


Other factors: the heat or vibration generated during using process tends to result in hard drive damage. In addition to that, the chip aging problem is also a factor that could easily make external hard drive become dead.




Logical reasons:
In addition to the reasons mentioned in above content, there also exist many logical reasons that are able to lead to external hard drive dead problem. Among them, virus attack, improper drive format and the lack of drive letter (or drive letter conflict) are the most commonly seen factors that stop an external hard drive from being recognized and used on computer.

Here are some things that users need to pay much attention to in order to decrease external hard drive dead problem. Otherwise, measures must be taken to recover files from dead external hard drive.

The first is the external hard drive cable issue: the USB cable connected to hard drive is both used as the data transmission line and the power supply line. There will be an obvious increase in resistance and data interference if the cable is too long, and thus letting hard drive fail to work properly. So we may say that the USB cable should be as short as possible. In addition to the original configuration of the cable, no extension cord should be connected.

What's more, users should choose the USB interfaces on the back side of the chassis, which are fixed directly on the motherboard, rather than the ones on the front side of it, which are connected to the front panel by motherboard through a section of a wire.

The second should be the external power supply issue: for an external hard drive, whose capacity is over 10GB, the mere power supply provided through USB cable is far from enough and hard drive failures may be caused by that. At this time, an external auxiliary power supply (DC stabilized power supply) becomes very necessary.




The last thing we'd like to mention here is about the Hot Swap capability: though the external hard drive adopted USB interface gives support for Hot Swap, users need to be careful when taking advantage of this function. In the using process, users, especially those who're running Windows Me/2000/XP, need to make sure that the USB interface has been properly closed and the USB hard drive has been properly unplugged from the computer before they take action to unplug the USB cable (they can click on the USB interface flag next to date mouse to disable it). Otherwise, serious damage may be brought to the external hard drive running at an extremely fast speed due to sudden power outage.


External Hard Drive Dead Phenomena and How to Fix
It is a common case that users can't find their external hard drive after connecting it to computer. And at this time, most of them think that their external hard drive is dead and they will rush to seek ways to recover files from dead external hard drive. However, they don't need to do so before they really identified a problem in that hard drive.

We mean, this phenomenon may be caused by some external factors, instead of drive damage, and users just need to try to perform some simple operations to fix it. Now, let's see the possible factors that could make an external hard drive fail to be displayed in computer.


Problem in system or system built-in drivers may be the reason for why removable drive is not shown in computer after connection. As for how to fix this, please try the following steps:

1.Boot into safe mode by pressing F8 (or other buttons) while starting the computer; exit the safe mode and choose to restart or shutdown the system and now users can enter the normal mode. In this process, the registry may be repaired.

2.If the problem persists, please use the built-in system restoration function to restore system to the last known good state.

3.If the problem also persists, please adopt the system repair disc: open a command prompt, input "SFC /SCANNOW" and press Enter, and then insert the original system disk repair disc. After that, the system will automatically compare and repair.

4.If the problem still persists, please enter the BIOS and set CD-ROM as the first boot device. Afterwards, insert system setup disk and press R to select repair install function.




CMOS parameter settings may need to be changed. For users who never used USB external devices, even if they have properly installed the driver, the problem – system does not detect USB hard drive may also appear. This is mainly caused because the motherboard's CMOS default port is closed. To fix it, users need to reboot, enter the CMOS settings window and set "Assign IRQ For USB" as "Enable" in "PNP / PCI CONFIGURATION" column.


Power shortage problem is also a possible cause. If no external power supply is added to external hard drive, it may easily become inaccessible in computer due to power shortage. In this case, users had better choose the device which is powered directly by Alternating Current.


USB data line failure is a commonly seen problem. If the USB data line used to connect external hard drive with computer is broken inside, there's no way users can access it in computer. Besides, if the standard of computer USB interface is different from that of external hard drive interface, the drive is also can't be recognized. So please try to replace the failed data line with a new one to fix this problem permanently.


Drive letter conflict could be a mysterious reason that most users are not aware of. To put it in a more simple way, this means the driver letter that belongs to external hard drive has already been taken by one of the computer local drives. Under this circumstance, users are supposed to make use of Disk Management or third-party tools like MiniTool Partition Wizard to change the drive letter of external hard drive.

In addition to above cases, there's also possibility for an external hard drive to become really dead. For instance, logical damage like accidental formatting and virus attack could also let an external hard drive not able to work normally. In this case, what is the right thing users are expecting to do, recovering files firstly or reformatting the drive? As far as we know, users should start trying to recover data from a failed hard drive completely, instead of fixing the problem and making it work correctly, as soon as the drive became dead.

After all, any operations performed to the external hard drive could bring secondary damage to the data lost from it and that may finally make them unrecoverable. As for how to carry out the hard drive file recovery safely and smoothly, please focus on what we're going to say next.


Actionable Steps to Recover Files from Dead External Hard Drive
Firstly, you need to install MiniTool Power Data Recovery to computer and then determine which type of dead external hard drive situation you're in face of.




No matter how many partitions your external hard drive has, you should employ "Damaged Partition Recovery" module of this external hard drive recovery software to recover files as long as no partition is lost, but all of them can't be accessed.




Nevertheless, if all partitions in your external hard drive are missing or your hard drive becomes RAW, you have to adopt "Lost Partition Recovery" module instead.

In both cases, you need to follow the instructions in the software interface strictly to make sure that every step to recover data from a failed hard drive or SSD is completed in correct way. By the way, if your device can't be detected in software, you need to unplug the external hard drive and connect it again to computer and then click "Refresh" button in lower left corner of the drive list interface to refresh the display.

If you also have other problems during recovering files from dead external hard drive, please try to find solutions from FAQ page; if this doesn't help, you can send an email to our support team to ask them help you with your problem. Please feel free to contact us since we're always ready to drag our customers out of the terrible data loss situations.


Common problems related to partition recovery and our solutions: