If This Can't Help You With Free USB Data Recovery, Nothing Will
As the abbreviation of Universal Serial Bus, USB is an
external bus standard
, used for the specification of connection and communication between computer and external device. Till now, USB has become a standard and the most popular PC expansion interface of the twenty-first century.
USB products
can be seen everywhere nowadays: USB flash drive, USB hard drive, USB memory stick, etc. Even the SD card and mouse, keyboard & other hardware components of computer can be connected through USB interface. So as an ordinary user, you must be familiar with USB.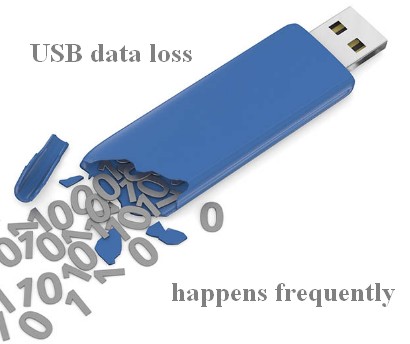 It's not difficult to imagine this: USB data loss problems happen now and then due to its frequent use, which makes USB data recovery a hot topic. Are you one of those who are suffering from data loss issues on USB device? Don't panic; we write this passage to offer quality but
free USB data recovery
service.
Are you ready to recover USB data yourself? Please download MiniTool Power Data Recovery firstly and then install it to a drive as you like. After that, you'll need to look at the prompt message in software to know what to do step by step.
After teaching you how to recover data with MiniTool
data recovery tool
, we'll help you know how to
avoid USB data loss problems
. And at the end of article,
more detailed information
about USB structure and USB application will be displayed. Hope you all can find what you need here!
4 Common USB Storage Device Problems
Once valuable data are lost, you'll definitely try every possible means to recover data from USB device. So for users' sake, we summarized
4 common problems
that may occur during the use of USB data storage devices.
After knowing this, you may be able to decrease the possibility of getting stuck in devastating data loss cases.
Unable to Safely Remove a USB Device
Some users may have encountered this situation: when they plan to remove the USB device from computer, they find it can't be safely removed; Windows prompts it
fails to stop the device
and users are asked to close all possible programs that might be using the device and then try again later. If you insist on ejecting the USB device forcibly, you may finally get a
broken flash drive
.
At this time, you should
resort to following 3 steps
to achieve safe removal:
Step 1: please check whether there is any data copying/transfer in progress.
Step 2: you need to confirm no program in Windows is using any files from the USB device to be removed (for instance, a video may be played in a Windows player); if there is, close it.
Step 3: if the USB data storage device still can't be removed after all programs were closed, you'll need to open Task Manager and then close all unnecessary background applications. (If this still couldn't help, you may as well try to close explorer.exe process for the moment)
Please remember, don't try to forcibly remove the USB device from computer in unsafe mode since it is easy to cause serious data loss.
USB Device Can't Be Recognized
Sometimes, you connect your USB device to computer, but nothing shows up in computer; this is what we called the
USB device not recognized problem
.
According to research, we find the
following reasons
could lead to this problem:
USB data line problem;
USB interface voltage instability;
Compatibility issue;
BIOS setting problem;
Drive hidden issue.
Correspondingly, we give
our suggestions
for solving the problem:
Connect the USB data line to another computer to check whether it is broken.
Check whether the USB interface voltage is adequate or not.
Check whether the motherboard and system are compatible with each other.
Make sure the USB is enabled in BIOS and operating system.
Try to unhide the drive with Disk Management or third-party tool.
USB Device Is Not Accessible
We know how upset you will be when trying to enter the USB storage device on computer, but fails (
prompt says it needs formatting
). In this case, users are not able to see any data saved in that USB device. And the system prompt may appear,
suggesting you to format the drive
for further use.
As you can see from above picture, the Windows prompt says selected USB device is not accessible and
the volume does not contain a recognized file system
. Actually, this could appear after this USB device was attacked by virus or corrupted due to other reasons.
In this case, we suggest you to make use of the "Damaged Partition Recovery" function of MiniTool Power Data Recovery to get back data in inaccessible USB device firstly before you carry out any operations to try to fix.
Delete Data from USB Device by Accident
Undoubtedly, everyone makes mistakes in life and work. And the situation is the same when it comes to data storage and management in USB device.
Lots of users said they have
deleted useful files from USB device unintentionally
and they all feel very chagrin after realizing the mistake. This is common and understandable, admittedly. But how to make up for the mistake? In fact, deleted data can be easily recovered by using "
Undelete Recovery
" function of MiniTool Power Data Recovery.
Top Recommendation
Sometimes, our data could be lost weirdly, without giving any omens. Don't worry; in cases you don't know the exact cause of data loss, you could also rely on MiniTool Power Data Recovery. Read Lose Data In Weird Ways – Easy Tips For Quick Recovery to know more details.
All in all, once USB device can't be accessed or valuable data in it are missing, the
first thing to do
is always recover data from USB device. Considering that not every user is able to afford the charge for data recovery, we provide solutions to achieving USB drive data recovery for free.
Link To Twitter
Start Free USB Data Recovery
We advise all users (
experienced users or green hands
) to rely on MiniTool Power Data Recovery – the
greatest free data recovery software
– to easily and safely get back lost data from USB device.
Operations for Data Recovery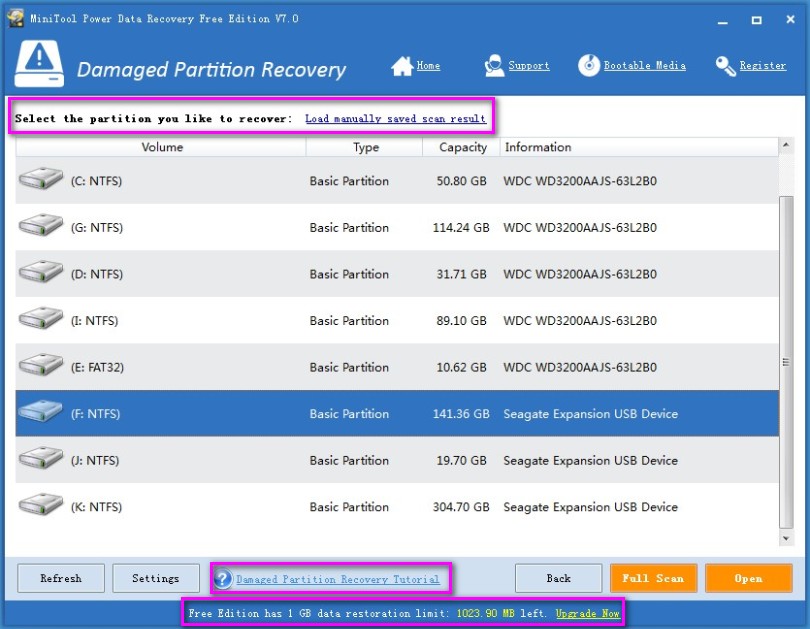 Install the software and run it immediately. Then, you'll be provided with 5 functional modules to recover data under different circumstances. Afterwards, you just need to
complete three steps
: choose the most suitable function -> select the device to scan -> pick out needed files from scan result.
7 Reasons for Choosing MiniTool Power Data Recovery
This could help you make the right choice:
1. It is totally free, safe and harmless.

2. The size of it is small and the software installation has basically no requirement for hardware.

3. Five functional modules are embedded in it to help users get rid of almost all data loss problems (as long as the lost data are not overwritten by the newly saved information).

4. This free data recovery software is formed by wizard-style interfaces. Users don't need to worry about anything since they can complete recovery work independently under guidance.

5. It has strong scan intensity, fast scan speed and automatic data protection feature.

6. It can work perfectly in various operating systems and is able to recover data from almost all commonly seen storage devices: USB flash drive, memory card, CD, DVD, computer hard drive, etc.

7. Whether the free USB data recovery can be finished successfully or not, this software will definitely not damage users' current data.
Why don't you give it a shot if you're troubled by data loss tragedy?
Protect USB Storage Devices
If important data are saved to a certain USB storage device, the strict management and control of this device becomes extraordinarily significant. We have to try our best to
prevent serious data loss or leakage event
.
We summarized
5 ways
to help users avoid data loss as much as possible, so they won't be bothered by seeking solutions for USB data recovery.
1.
Set write permission
: in order to prohibit others to freely modify important data stored in the USB device, we can modify the relevant key value of system registry. In this way, ordinary users are only allowed to access data in USB device, not able to change them.
2.
Control virus running
: considering that USB device being infected with virus is a widespread situation, we recommend users take actions to try to control the automatic running of virus and Trojans in USB device (
reject the access right of all accounts to USB device
). Otherwise, after the USB device was connected to computer, the virus and Trojans will be activated automatically so as to damage data.
3.
Hide the device drive
: if you don't want others to see the data in any USB devices, you may as well try to hide all the drives except for local hard disk drives. Thus, even though someone connects the USB hard drive to computer without your permission, trying to access your data, they'll end up in seeing nothing in computer.
You are suggested to use "
Hide Partition
" function of MiniTool Partition Wizard to finish drive hiding work.
4.
Disable auto play
: when a USB device is connected to the local computer, Windows system will automatically open the corresponding device window, in order to help users quickly access their files. Well, network virus is easy to take advantage of this process to damage data.
5.
Set a password
: if you think it's too troublesome for yourself to access data in a hidden USB device, you can choose to set a password to the device, instead of hiding it completely.
Tweet This Now
A Comprehensive Understanding of USB & USB Device
At the end of 1994,
USB (Universal Serial Bus)
was jointly proposed by Intel, Compaq, IBM, Microsoft and other companies. USB version has gone through years of development since its first release – V0.7 was issued in November 11, 1994.
USB has the features of fast transmission speed, convenient usage, hot swappable, flexible connection, independent power supply, etc. It plays an important role in
connecting computer with almost all external devices
, such as mouse, keyboard, printer, scanner, camera, charger, USB Flash Drive, MP3, cell phone, digital camera, mobile hard disk, external optical floppy, USB card, ADSL Modem and Cable Modem.
Structure Parsing of USB
The analysis of USB structure can be divided into mainly
two aspects
: software structure and hardware structure. Now, we'll talk about them respectively.
Software structure: each USB only have one host and the host software is designed on the basis of modular and object-oriented method. USB software generally consists of three main modules: Universal Host Controller Driver (UHCD), USB Driver (USBD) and USB Client Software.




Hardware structure: USB uses four-wire cable. Two of them are the serial channels used to transfer data; the other two are used to provide power for downstream device. For the high-speed peripherals which need high-bandwidth, the USB data transfer rate could reach 12Mbps. Yet for the low-speed peripherals, USB would transfer data only at the speed of 1.5Mbps. In a word, USB bus will switch between those two modes dynamically and automatically according to peripheral.
Applications of USB in Daily Life
USB has been using in all walks of life around the world and USB data storage forms the major part of USB applications. Besides, we'll also introduce some other applications in brief.
1.
USB data storage devices
: USB external hard drive, USB flash drive, USB mobile phone SD card, TF card, USB memory stick, etc. We bet those USB data storage devices are very familiar to users. Though the capacity of them is often much smaller than that of computer hard disk, they are prevalent throughout the world due to its portability.
2.
USB computer case interface
: in both the front and back side of computer case, there exist several USB interface to help to connect external device, such as mobile hard drive, flash drive and digital camera, to computer. In this way, data in external device can be managed on computer conveniently.
3.
Wireless USB technology
: Jeff Ravencraft, chairman of the USB Implementers' Forum and chief technology strategy officer of Intel, said that wireless USB technology is going to help users get rid of complicated cable connections when they need to connect external devices to computer.
The
standard data transfer rate of wireless USB devices
is the same with that of wired USB 2.0 standard (
480M/s
) founded in the twenties of the twenty-first century. The difference lies in: wireless USB technology requires a wireless transceiver to be equipped in computer and external device (
to replace cable connection
).
4.
Specific USB applications
: following 5 applications of USB may be not unfamiliar to you.
USB modem;
USB loudspeaker box;
USB Hub;
USB sound card;
USB computer camera.
However, connecting two computers with the help of USB may be new to lots of users.
Bottom Line
As you can easily find,
USB has become one kind of the most important interfaces
. With the help of USB, we are able to transfer data among different storage devices easily, without using network. Besides, varieties of USB devices enrich our life and ease our work.
Just because USB device is frequently used, problems tend to occur beyond our expectations. But no matter what kind of problem you're meeting, you should
rescue data from USB device firstly
. Then, you can choose to try possible means to fix the problem and make your device work normally again.
Common problems related to partition recovery and our solutions: