Meet The Best Way To Recover Files From Broken Computer
When you use a new computer, you're not likely to run into problems unless you've made mistakes due to carelessness: changing the system configuration, deleting necessary files, downloading files attacked by virus from network, etc.
However, as time goes by, different kinds of
computer problems tend to appear
at any moments. According to research, we found quality of computer hardware, users' way of computer using, virus attack and many other factors are all responsible for the appearance of computer problems.
Some of the problems only lead to minor abnormal responds, which will become normal then automatically or after a restart. Yet, some others may result in serious issues like a broken/dead PC. So it's necessary to
recover files from broken computer
.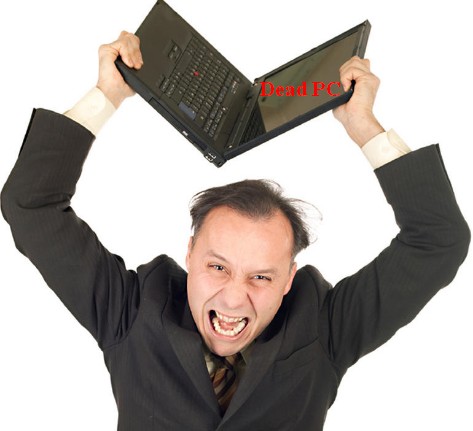 Can We Recover Files from Broken Computer
Indeed, users, especially those who have saved large amount of useful data in the broken computer will be like ants on a hot pan at this critical moment. Obviously, what they are most concerned with is whether they're able to recover data from broken computer.
The answer really depends
. It would be a yes when the computer dies because of soft failures, such as human errors and virus invasion. However, when the PC is broken due to hardware problems, such as scratch on hard drive and short circuit,
retrieving files from broken computer
may be a quite difficult task.
Maybe you know the exact reason why your computer is dead, may be you don't have any idea of how the PC is crashed; either way, we strongly suggest that you take immediate actions to start broken computer hard drive recovery, so as to regain as much useful data as possible.
In reality, the fastest, cheapest, most direct and basic way to recover files from a broken PC does not require access to the computer or hard drive; you may recover files and photos from a broken Windows PC directly by
falling back on your recent backups
.
Yet, what if you have no backups or your backups didn't include some vital information you need? Under such circumstance, we also don't think you should get into panic. Considering that a PC can be broken easily, we'd like to share the best fix to it –
resorting to MiniTool Power Data Recovery Free Edition V7.5
the moment when you discover data loss.
You don't need to be worried! This doesn't require any advanced knowledge; we mean, even inexperienced computer users are able to handle this free data recovery software. And you will finally find it's easy to finish computer data recovery in only a few simple steps with the help of this software. You can get back your data completely as long as they haven't been overwritten yet.
Link to Twitter
Guide on How to Recover a Dead Hard Drive
After you found your computer has been broken, you must
try restarting
it at first since a fresh restart may work. Then, if normal restart failed, you may as well
try to boot it in Safe Mode
to access hard drive data and then drag them to an external drive.
Yet, what if both methods failed? You still can't boot into computer successfully. In this case, we suggest you to recover files from a dead PC by using MiniTool Power Data Recovery – a powerful tool for Windows computer data recovery.
Please don't worry; this is a totally free recovery tool with small size and it's also very clean. With this tool, every user, including inexperienced one, is able to recover files from a broken PC without any trouble.
2 Ways to Recover Files and Photos from a Dead Windows PC
The first one is to
take out hard drive
from original computer carefully, and then
connect it to another computer
running normally as either an external hard drive or built-in hard drive. Please make sure that this hard drive can be recognized after connecting.
Then, download & run MiniTool Power Data Recovery and follow these operations to recover data from the dead hard drive:
a). select the suitable module from main interface ("Damaged Partition Recovery" and "Lost Partition Recovery" are used frequently);
b). select the whole hard drive/target partition to scan;
c). wait for the scan and then choose needed files from scan result;
d). press "Save" button and set a safe storage path to recover them.
The second one is to recover files from broken computer directly
with the help of Power Data Recovery Boot Disk
(
which is included in an official license
).
Please see how to build MiniTool Power Data Recovery Boot Disk in part 2.
After that, you should connect the boot disk you've made to the broken computer. Then, you'll need to enter the BIOS settings menu of your computer to change settings (
the access to BIOS varies from computer to computer; you may Google it yourself
), in order to let computer boot from this boot disk.
Then, save changes and exit to continue to boot computer. And when you see the interface shown below, you're supposed to select "
MiniTool Power Data Recovery
".
At last, the main interface of the bootable edition of MinTool Power Data Recovery will appear (
as shown below
). At this time, you'll need to complete the recovery operations we've mentioned in previous method to get files off a hard drive that won't boot successfully.
The only difference is that you'll need to save files recovered from dead hard drive to another removable disk.
Tweet New Skills
Now, this is the end of data recovery from dead/broken PC.
How to Recover Data from Hard drive without OS/with a crashed OS.
Analysis of Computer Broken Issue
When your
computer is broken
, you tend to lose all entries to files and programs saved here. And you may find yourself trapped in one of the following cases.
a)The computer won't turn on at all.
b)The computer fails to boot or load Windows properly.
c)Problems appear on computer suddenly and you can't fix them.
Actually, a computer is broken means that the computer is not working properly; it is often accompanied by a system crash – frequent crashes and other symptoms may be noticed.
But
, as long as the hard drive is not completely dead, you're able to retrieve data from hard drive even without others' help.
This tells you exactly how to recover data after crash.
So, what's the real reason for a computer becoming dead? And how can we prevent broken computer and system crash? That's what we're going to talk about now.
8 Reasons for Causing Dead Computer
System failures
: as the name shows, this kind of reason is indeed caused by the damage or lack of system files. For example, deleting necessary files, improper modifying of registry and virus attack can all make the entire computer system run improperly.
Software failures
: both the inappropriate installation & uninstallation of software and
software conflict
can lead to computer broken issue. Programs developed by different companies are not able to be compatible well with others. Thus, when you run 2 programs which can't work at the same time, the system disorder will be caused so as to lead to system crash.
Improper BIOS settings
: hardware has its own default or specific work environment, so we're not suggested to set parameters beyond its work permissions. Otherwise, it will fail to meet the requirement, resulting in a broken PC.
Hardware failures
: sudden power cut off, insufficient power supply, memory fault, hard drive surface scratch and many other unknown reasons all belong to hardware errors.
On one hand, some computer hardware products of small brands haven't gone through qualification test yet before being put onto the market; on the other hand, many people haven't paid much attention to the maintenance and protection of hardware.
System resource exhaustion
: when wrong procedure or code is performed in computer system, a "
dead
" loop phenomenon may occur.
Under such circumstance, the limited system resources will be put into the operations of endless loop. Thus, resource exhaustion may be easily caused. Besides, if a lot of programs are running on your computer, the system memory resource occupation will be insufficient, so as to lead to system resource exhaustion.
Poor heat dissipation inside the computer
: the main component of the computer's internal electronic devices is silicon; it is an element whose working condition can be greatly affected by temperature. So, the poor heat dissipation will have a great influence on the normal working of computer.
Wrong operations
: for inexperienced users, they're likely to perform some wrong operations during using the computer, which will finally result in a broken computer. For instance, hot plugging hardware, shaking the computer violently and installing software exceeding the basic hardware setting standard can all be accused of.
Other unknown reasons
: apart from the common reasons we mentioned above, there're also many strange reasons that will lead to a dead computer and we can hardly avoid them: too large voltage fluctuation, a reduce in the ability to read disk drive, poor quality, attack of virus or other hacker programs, etc.
Obviously, a computer can be broken easily. We strongly suggest that users should operate computer normatively and carefully in order to minimize the possibility of computer crash.
14 Preventive Measures for Securing Your Computer
Use power supply with
over-voltage protection
function: you might think that the system will be at risk only when thunderstorms occur. But, that is totally wrong! In fact, any factors that can interfere with the circuit may cause current backflow and then scorch your equipment components.
Turn on the firewall
before using computer: when you connect computer to the new cable or DSL modem, you need to confirm that all the firewalls are opened; otherwise, you'll be exposing in front of viruses and intruders.
Always keep your
antivirus and anti-spyware software updating
: to be honest, the antivirus programs are often very annoying – they always block some of the applications you want to use. Sometimes, you'll need to stop anti-virus programs before installing new software. And the antivirus and anti-spyware software is updated very quickly.
Perform disk defragment
on a regular basis: frequent installation & uninstallation of programs or adding and deleting data will produce disk fragmentation, having a bad impact on the disk performance. So you're supposed to conduct disk defragment regularly to improve this.
Don't open links, attachments or websites casually
: some viruses or ransomware may hide in the links/websites/links sent to you. Once you open them, your computer will get attacked. So please be careful enough when opening new sites/links/attachments.
Avoid overclocking
on CPU, graphics cards and other accessories: if
overclocking
is really needed, please pay high attention to the board temperature.
Save the old Master Boot Record
(
MBR
): when it's necessary to modify the Master Boot Record of hard drive, you had better save the old Master Boot Record before any changes are made. In this way, even if the modification failed, you're able to restore the MBR.
How FDISK /MBR rewrites the Master Boot Record
Hide system files & important private files
: by hiding important system files & personal files, we're not likely to delete them due to careless operations.
Do not open too many browser windows
: if too many windows are opened when you browse the internet, insufficient system resources will be caused and then system crash may be brought.
Check for IRQ
(
Interrupt Request
): when setting up the hardware, it is best for you to check for a reserved interrupt request. Do not let any other devices use the interrupt number, so as to avoid system crash caused by interrupt conflicts.
Use the
uninstall program or Windows built-in tool
to uninstall software: when you no longer need certain software and want to remove it from computer, you'd better use its own uninstall program or Window built-in uninstall tool.
Do not simply delete the program folder since some files saved here may be shared with other programs; once you delete them, other related applications may crash and then make computer broken.
Shut down computer step by step
: please don't turn off the power until all applications and programs are properly closed. Or, the system files may be damaged or deleted somehow.
Ensure proper BIOS settings
: you must confirm that all BIOS settings are suitable for your computer, since the wrong settings are easy to stop a running Windows.
Check computer accessories, kill virus and clean the computer
regularly: form a good habit of checking computer and cleaning disk regularly so as to stay away from unexpected computer problems as much as possible.
Well, those are not enough for putting an end to broken/dead computer, obviously. No matter how careful we are when using computer, we may run into computer shutdown/failing to boot problem. Thus, we're going to lay emphasis on how to recover files from a dead computer/how to recover data from a dead hard drive.
Bottom Line
In short, you shouldn't be worried too much when coming across a broken/dead/crashed computer. Why? Obviously it is because that we have change to recover files completely from broken computer.
Just
stay calm
when suffering from data loss caused by computer dead issue. And then,
follow the steps
we have given in above part to try to rescue them as much as possible.
For users who haven't met such problems, we suggest them to carefully
read the causes for computer crash & corresponding preventive measures
in order to protect computer well, trying their best to avoid data loss caused by broken/dead computer.
Common problems related to partition recovery and our solutions: