Where Do Deleted Files Go – We'll Unveil It For You
File deletion is a quite common action that helps us to clear unnecessary files. Every computer user must have adopted this way to release free space, we believe. However, there're a lot of people around the world repeat this mistake every day – deleting useful files accidentally.
It is precisely because of that, "where do deleted files go" becomes a hot topic. For people who have deleted the files they need by mistake, the first thing they will think of is – where do files go when deleted. And then, they'll ask questions like how can I recover deleted files and how do I undelete a file.
Here's a specific case:
"I have a hypothetical question: What if you've accidentally deleted important files, emptied them from the recycling bin, and then want to get them back? If you immediately realize what you did, is there anything that can be done to get the files back? Is there any software I can purchase to recover those files? Are there any available recovery services? What other steps should I take in event like this -- turning off the computer right away? Is there any hope to recover these files, or are they gone for good? I hope these questions don't sound silly to you, but I want to know just in case I ever make such an unthinkable mistake. Thanks!"
– asked by Lee Koo (ADMIN) on CNET forum
So what happens when you delete a file from your hard drive? How can you recover deleted files from hard disk? Those are what we'll mainly talk about in this article.
Part 1 – Where Do Deleted Files Go & How to Undelete Files
Summary: things will be different if the files are deleted from different types of storage devices. So we are going to show you where the deleted data go exactly after they're deleted from hard disk or flash drive.
The following content will be very helpful if you're now puzzled by where do deleted files (pictures, photos, videos, word documents, excel documents, etc.) go. We're going to talk about the location of deleted files in mainly two situations. Then, we'll offer a good data recovery tool – MiniTool Power Data Recovery Free Edition V7.0 – to help you restore deleted files for free. You can also get a paid edition directly to experience the Load Previous Scan Result function or unlimited data recovery service.
If you don't want to know both cases, please read the one you're interested in or that is similar to yours. Please note that the following operations are all tested in Windows 7, so you're going to see where deleted files go in Windows 7.
Where Do Files Go When Deleted from Hard Drive
Case 1: where do deleted files go from hard drive?
When you plan to delete a file from the internal hard drive or external hard drive, you often choose one of the following ways:
a). select the file and press "Delete" button on the keyboard;
b). select the file, right-click on it and choose "Delete" from the pop-up menu.
After that, you'll see the "Delete File" window, which asks you whether you are sure to move the certain file to Recycle Bin or not.
Clearly, the file deleted from internal/external hard drive will be sent to Recycle Bin if you only choose/press "Delete" to move it. At this time, the computer file recovery becomes an easy task. However, do you know where do things go when you delete them from the Recycle Bin? This is what we're going to talk about next.
How to perform recycle bin recovery:
Open Windows Recycle Bin by using the way you prefer -> select the file (files)/folder (folders) you would like to recover -> right-click on it/them -> choose "Restore" from the pop-up menu.
Then, the file or folder will be put back to the place where it was located before deletion. And now, you can go to the certain place to check the recovery result.
Case 2: where do permanently deleted files go?
When you want to delete file/folder permanently, you basically use the following ways:
a). select the file/folder in Windows Explorer and then press "Shift" and "Delete" button on the keyboard at the same time;
b). open Recycle Bin, right-click on the target file/folder and then choose "Delete" from the pop-up menu;
c). right-click on Recycle Bin and then choose "Empty Recycle Bin".
After that, the certain file or folder will be removed completely; you can't discover it anywhere on the computer/hard drive. Where do files go after they are deleted from the Recycle Bin? Actually, the file content still remains in the same place (only the relevant information is marked as invisible). Thus, the deleted files can be recovered easily as long as you have a professional tool at hand.
How to recover permanently deleted files from hard drive:
Download and install MiniTool Power Data Recovery Free Edition V7.0 -> launch the famous free file recovery software to see its main interface -> choose "Undelete Recovery" -> select the drive in which the deleted file (files) is included -> press "Scan" button -> look through the found files and folders -> add a check mark in front of the file you want to recover -> press "Preview" button to see currently selected file more clearly -> press "Save" button -> choose a storage path and press "OK" button in the pop-up window to confirm.
You'll see a successful window showing up in the software when the deleted file recovery is finished completely. At this time, you can close the software and go to check the file you have recovered.
Note:
1. If you find the size of files you selected is larger than 1GB (the free recovery limit), you ought to obtain a license to register the software from free edition first and then continue recovery.
2. If you need to recover deleted files on Mac, you should turn to MiniTool Mac Data Recovery, instead.
Till now, we're sure that you won't ask questions like how do I recover permanently deleted files from my PC. The steps to retrieve deleted files in Windows 7 with the help of MiniTool Power Data Recovery are quite easy to master, even for inexperienced users, right?
Where Do Files Go after Deleted from Flash Drive
When you don't need a file on the flash drive, deleting it is definitely the proper thing to do. Yet, you'll surprisingly find that the same prompt window shows up no matter which method you use to delete the file – choosing "Delete" from the pop-up menu, pressing "Delete" on the keyboard or pressing "Delete" + "Shift" simultaneously.
What does this mean? Simply, it means that the file deleted from USB flash drive will bypass Recycle Bin and be cleared permanently.
As for how do you recover deleted files from a USB flash drive, the method is basically the same as how to recover permanently deleted files from hard drive. The only difference is that you should choose the USB device in the following interface.
Note
: if you happen to find that the free data restoration space limit left is very small, you may as well click on "
Upgrade Now
" at the bottom of the interface to acquire a license for upgrading and then continue USB data recovery.
In both cases, if the deleted files are multimedia data like photos, pictures and videos, you can also choose "Digital Media Recovery" to scan and recover them specifically. After entering the operating interface of this function, you can make use of the "Settings" to find exact file types quickly. Here are the steps:
a). click on "Settings" button in the lower left corner;
b). open the categories and select the specific file types you need by adding a checkmark in front of them;
c). press "OK" button to confirm your selection.
After that, you can click on "Full Scan" button to start scanning.
Part 2 – What Is Permanent Deletion
You hear the word "permanent deletion" or the phrase "delete permanently" a lot, but do you know what will this action do exactly to your deleted file? If you give a negative answer, you also don't need to be anxious.
Permanent Deletion in Common Sense
First of all, we think it's necessary to talk about data/file storage (how a file is stored in hard disk). Actually, the data in files or folders are stored in a hierarchical structure.
Large files will be broken into data segment before the storage, then, they'll be stored in multiple memory locations when we save them on computer hard drive, flash drive or any other storage devices.
After that, parameters will be generated for indicating the location, size and other information about that file. When we open a file in the computer, the system will follow the parameters to pull up the data.
That is to say, a file is divided into two parts – content and parameters – when it is stored. Both general deletion and permanent deletion will only delete the relevant parameters, so the system will not recognize the content after deletion.
It's like the marker in the table-of-content saying "There's a file on page 13" no long exists. This helps you understand the reason why deleted files can be recovered.
Erase Files Completely When Necessary
When you really need to destroy some confidential data, you have to use tools to go to the place where the files' content is and overwrites it for a few times by using random data. Then, the files will be gone forever; no one can recover them anymore.
How to erase files completely:
Download and install MiniTool Partition Wizard Free -> run the software and click on "
Launch Application
" to see its main interface -> select the target disk/partition that includes data you want to clear thoroughly -> choose "
Wipe Disk
" or "
Wipe Partition
" function in left action panel -> check a wiping method and click on "
OK
" button to start.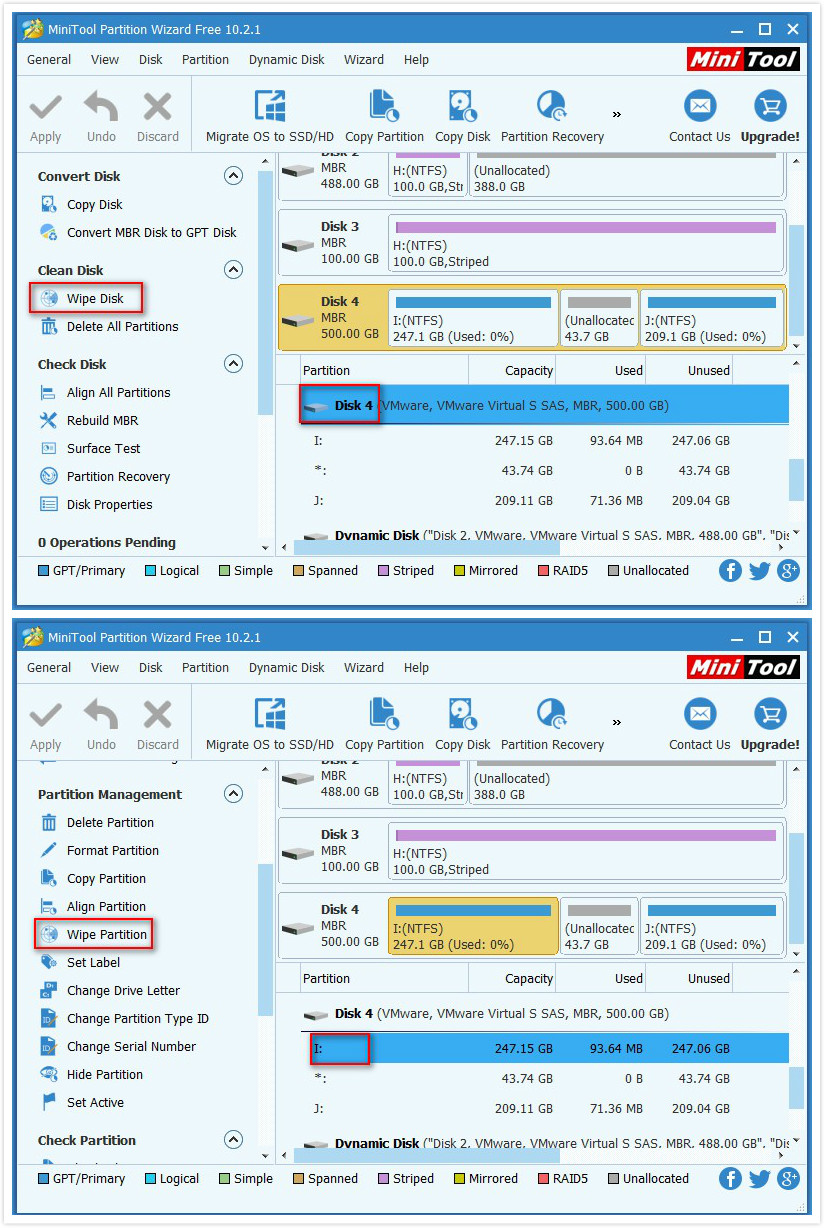 Part 3 – Conclusion
In general, when you delete a file from hard disk (both internal and external), it will be sent to Windows Recycle Bin, which gives a second chance to regain accidentally deleted files. However, there are also times when you can't find deleted file in Recycle Bin:
a). you delete a file by pressing "Shift" + "Delete";
b). you emptied the Recycle Bin manually;
c). the total size of files in Recycle Bin exceeds its maximum size;
d). you change the properties to be "Don't move files to the Recycle Bin. Remove files immediately when deleted".
Well then, where do deleted files go? Actually, they're not cleared completely from your storage device. It is only the relevant parameters (like file size and file location) that have been deleted; the real content of the certain files still exists. You just lose access to the deleted files; they remain invisible until you use a special tool to recover them or store new data to overwrite them.
Where do deleted files from USB go? It turns out that files deleted from the USB device (USB flash drive, USB memory card, etc.) will not be put into the Recycle Bin. Instead, all the relevant parameters of files will be cleared immediately when they're deleted from USB. So you also need a professional data recovery tool to locate them and then get them back.
Taking those factors into consideration, we recommend you choose MiniTool Power Data Recovery to undelete files easily and quickly. With this data recovery software, you can recover deleted files all by yourself; you don't need much experience or data recovery knowledge. Besides, it will not do any damage to your disk/partition or data inside.
As a result, please don't hesitate to give it a shot.
Common problems related to partition recovery and our solutions: