Seeing from the developing trend, we can draw a conclusion that CD and DVD will gradually fade into history and be replaced by more convenient and safer storage media, such as large-capacity USB flash drive and tiny memory card. Magnetic information memorizing technique has become relatively mature now, making it possible for manufactures to produce more advanced magnetic storage media with a low cost. But right now, CD and DVD are still in use, so we see the necessity to talk about the way to
recover files from corrupted or scratched CD/DVD
. Please keep reading the following content sentence by sentence because it is really helpful.
Can You Recover Files from Corrupted or Scratched CD/DVD
If you are experienced in CD/DVD file recovery or have rich knowledge about how to recover files from corrupted or scratched CD/DVD without others' help, you can just ignore this article. But if you're just a novice, you'd better do what we say to rescue files from CD/DVD.
The reason why different kinds of file recovery can be completed is that the real content of lost files is still there in original storage place and it is only the entry to files that has been damaged or deleted. That is to say, if the content of files lost from CD/DVD is damaged or overwritten by new data, we've got no chance to get the lost files back.
Fabulous File Recovery Software for CD/DVD
According to the result of various investigations and the feedback of users, we find an ideal tool for CD/DVD file recovery. The name is MiniTool Power Data Recovery. It has a functional module which is specially designed for CD/DVD data loss disasters.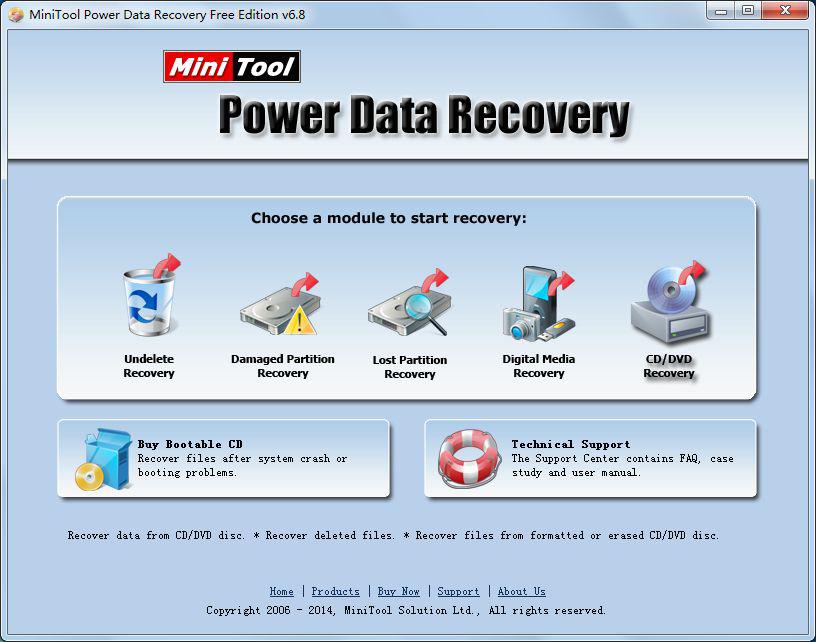 When you see this main window of recommended file recovery software for CD/DVD, you need to choose the last module – "
CD/DVD Recovery
". After clicking on it, you will see its unique interfaces. The first interface requires you to select the target CD or DVD and scan it thoroughly. After the scan is over, an interface with scanning result listed will appear. Finally, you should check the files you need and click "
Save Files
" to store them to safe place.
This is the entire work to recover files from corrupted or scratched CD/DVD with MiniTool Power Data Recovery. Look at
this page
if you still have problems.
Common problems related to partition recovery and our solutions: