Recover Data from RAW File System, RAW Partition and RAW Drive Efficiently
Brief Introduction to RAW Hard Drive
What's RAW? To be specific, RAW is the default file system of CD-ROM recognized by Windows. In DVD burning methods, there is a RAW mode referring to burn after reading the complete sector data. It can extract not only users' data, but also data of sub-channels. However, not all burners give support for RAW mode. 
Literally, the hard drive which has not been formatted by NT file system, such as FAT and NTFS, is called RAW hard drive. However, from this perspective, nothing should be included in a RAW hard drive because no drive can be put into use for saving data before it is actually formatted. 
Then, why are there so many questions related to 
how to recover data from RAW hard drive
? In fact, that is because a hard drive can turn into RAW after suffering from problems like virus attack and improper operations. 
RAW hard drive problem includes two situations. One is that the whole hard drive has become RAW; the other is one partition of a hard drive turns into RAW. 
RAW Hard Drive – the Whole Disk Is RAW
If the operating system you are running now can't recognize the
file system
of your hard drive at certain moment, the state of hard drive becomes RAW. At this time, no one is allowed to access any part of the hard drive. Meanwhile, its capacity, used space and unused space will all be shown as "zero". That is to say, all data originally saved in that "RAW" disk are lost. You can neither see them nor transfer them to safe place for further use. What a tragedy it will be if it includes files of great importance. 
It is worth noting that both internal hard drive and external hard drive can become RAW because of inappropriate operation or virus invasion. 

How about recovering data from SD card?
Click to find the answer
.

What about the laptop hard drive recovery?
Click to find the answer
.
RAW Partition – Only One Partition Is Inaccessible
When damage is only brought to one partition on a hard drive, you'll find except for this partition, whose file system is RAW now, other partitions are in normal state. You click on the drive and an error message – "
The file or directory is corrupted and unreadable
" or "
You need to format the disk before you can use it
" – will pop up to show that this drive is not accessible. 
In this case, choosing to format the drive will help you enter it successfully. However, the formatting will do harm to data in it and possibly all data will be gone because of that. So quit the idea of formatting the RAW partition to make it work properly since this will be done at the cost of losing useful data. 
6 Possible Causes for a Hard Drive to Become RAW
In general, the cause for a result can be various. For instance, you are late for work today. The result is that you are late, but the reason is not clear. Traffic jam, illness, emergency and a lot of other things could be the reason why you didn't arrive at the workplace on time. Likewise, the state of a hard drive could turn into RAW due to different factors. Now, we're on the way to sum up the common reasons and write them down. 
1.Hard disk drive cable problem: in rare cases, a hard drive may be shown as RAW in computer because of cable issues. For instance, when the cable is broken, hard drive can't be listed in computer with normal state. In addition, if the interface of an external hard drive has bad contact, we get no chance to see it listing in computer. 
2.
Bad sectors
: if you click on the letter of hard drive, only to find the responding speed is very slow, it means that there are bad sectors in the key area of hard drive. Under this circumstance, professional tool is required to mirror the hard drive. We are supposed to carry out data recovery only when this step has been done for security consideration.
3.File system structural damage: if the RAW problems occur without an obvious sign or reason, users need to analyze the causes manually. If users are not proficient in such work, they can resort to professional tools like WINHEX. 
4.Partition table damage: no matter what the reason is, once the partition table of the hard drive has been damaged, the whole hard drive will become RAW. The OS can only identify different partitions with the help of partition table, which records the size, location, type and other information of every partition in disk. 
5.Reinstallation or restoration of operating system: users may choose to reinstall the OS they are running now or restore it to the initial state for different reasons. And the hard drive may become RAW.
6.Virus attack: computer viruses are widespread throughout the world. They should be responsible for many undesired problems, such as documents loss, photo missing,
partition loss
, system crash and file system crash. The hard drive will be turned into RAW state after viruses attacked the hard drive and changed/deleted some vital parameters and information of the hard drive. 
SHARE ON TWITTER
3 Possible Causes for a Partition to Become RAW
Users may see the following errors when they are trying to get access to a hard drive partition so as to make use of data in it.
"The disk in drive F: is not formatted. Do you want to format it now?"

"You need to format the disk in drive D: before you can use it. Do you want to format it?"

"This volume does not contain a recognized file system. Please make sure that all required file system drivers are loaded and that the volume is not corrupted." 

You know why a hard drive partition is inaccessible and how to solve this issue?
This post tells all
.
Please don't format the partition as the prompt suggested and there's no need for being freaked out when above errors show up. You need to calm down and do the best you can to try to recover data from RAW hard drive. However, before taking actions to get back missing data, we'd better have an overall analysis of the probable reasons leading to RAW partition trouble. 
1.Virus invasion: if part of the hard drive partition table with partition information like partition starting position and ending position has been damaged or corrupted because of computer viruses infection, the corresponding partition will be given a RAW file system. 
2.System reinstallation: if the current system partition is formatted with FAT, but it is changed to NTFS when we replace the old operating system with a new one, you may find the file system of system partition can't be recognized by OS anymore. 
3.Number of hard drives and partitions: the fact that too many hard drives and partitions have been used in one computer simultaneously will probably bring RAW partition issue as well. 
To sum up, the reasons for a RAW partition various a lot and we can hardly know the accurate cause of it. All we need to and can do is sparing no effort to try to figure out the real reason. 
Note
: sometimes, we may find a partition in the Windows Disk Management without a file system type (rather than with a RAW file system). Actually, both cases are similar to each other and timely damaged drive data recovery should be carried out to minimize or even eliminate data losses. 
3 Ways to Recover Data from RAW Hard Drive
Let's start with a true example on how to recover RAW drive:
Q:

"Hi, I had extra space on a hard drive so I extended it in disk management but I did not format it as I had data on it. And now it is showing as a RAW HD and I cannot open it without formatting the drive. Is there any way to recover the date that I know is still on it? "
--from Tomshardware
Ok first of all you must stay calm even if the whole drive becomes RAW. And you need to keep one thing in mind:
stop writing any data to the RAW drive before you get all important data restored
. Then choose one of the following ways to complete RAW drive recovery step by step.
Way 1
: install and run MiniTool Power Data Recovery -> choose "
Lost Partition Recovery
" from main window -> choose the RAW hard drive and scan it -> select a partition to recover files from it (Note this step can be carried out repeatedly to get back missing data from different partitions).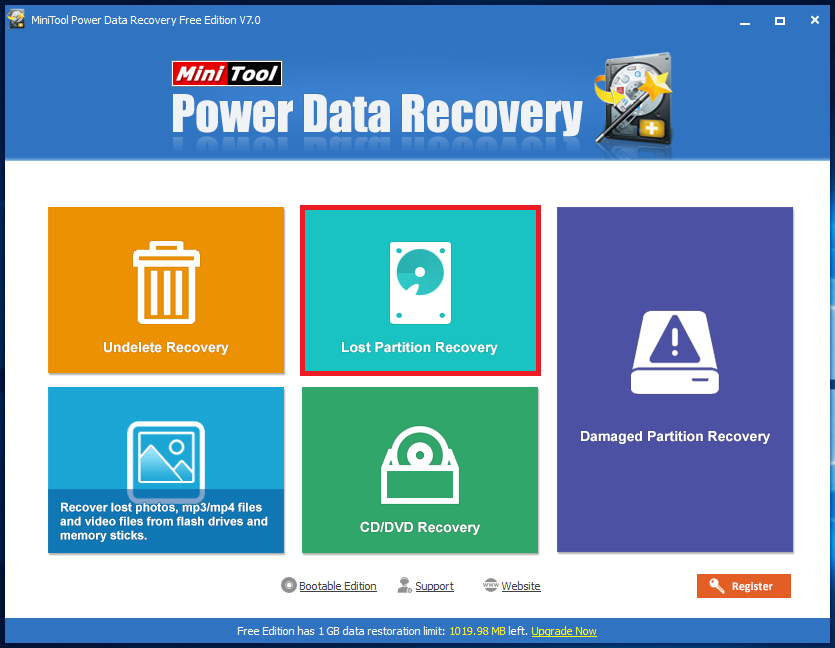 Note:
Free edition has 1 GB data restoration limit. To recover more data, click the Buy Now button to break this limit.
Way 2
: call the system built-in fix program after discovering RAW problem -> download practical tool to repair the hard disk boot record -> rebuild hard disk partition table with special tool -> recover data from RAW hard drive by employing professional data recovery tool (MiniTool Power Data Recovery is a good choice even for green hands).
"MiniTool Power Data Recovery (Free Edition) is my top pick as it proved to be way ahead of the competition. It comes with a very intuitive interface which is suitable for all users. It has recovered 1GB in 85 seconds and managed to recover all 106 files after the disk was formatted…"
--By Gizmo's freeware
Way 3
: make use of the powerful tool – WINHEX. The installation way will not be introduced here. RAW data recovery process is roughly: choose the RAW hard drive -> scan for lost partitions -> open found partitions -> select the files that can be and need to be recovered -> set a location to store files.
3 Ways to Get Back Missing Data from RAW Partition
There are also several ways that can be adopted to help recover data from RAW partitions.
Way 1
: install and run MiniTool Power Data Recovery -> choose "
Damaged Partition Recovery
" from main window -> full scan RAW partition -> select a partition to enter -> check needed files and recover (the appointed storage location for recovered data can't be the original RAW partition).

Want to know more about Damaged Partition as well as the recovery?
This post will show you everything you need to know
.

If the hard drive/partition containing system becomes RAW, you will need the help of MiniTool Power Data Recovery Boot Disk to recover data. The main functions of this tool is basically the same as that of the Windows Version. The only difference is that the boot disk doesn't provide "CD/DVD Recovery" module.

For more information about how to use the boot disk, see this tutorial. Hope you can solve the RAW data recovery issue without any obstacle.


Way 2
: right click on RAW partition and choose property -> select security settings -> delete useless users and messy codes -> add a local user.
Way 3
: click "Management Tool" from "Action Panel" -> find "Local Security Policy" and "Security Settings" respectively -> find the sharing and security model for local accounts -> change guest only to classic.
Bottom Line
This is the end of why RAW drive appears and how to recover data from RAW hard drive. After reading the above content, you must have noticed that lots of factors can lead to the hard drive RAW problem. However, although RAW drive data recovery can be finished completely sometimes, it is still advisable for you to
back up hard drive
regularly. In this way, you can get rid of the terrible feeling of regretting of losing valuable data permanently. What's more, just by resorting to the backups directly, you can get back missing data quickly and easily.
In a word, data backup is a very important way to protect significant data. But if no backup is available, ask MiniTool Power Data Recovery for help, it won't disappoint you.
Common problems related to partition recovery and our solutions: