Lost Partition Recovery
About "Lost Partition Recovery"
Once you enter MiniTool Power Data Recovery, you could see "Lost Partition Recovery" module in the main (first) interface. As you can see by putting cursor onto it, it is mainly designed to recover data from lost/deleted partition. What's better, both local hard drives and removable devices are fully supported.

In the meantime, various commonly seen file systems (like NTFS and FAT32) and operating systems (like Windows XP, Windows 7, Windows 8 and Windows 10) can be compatible with all modules of MiniTool Power Data Recovery, the professional partition recovery software. All in all, if you start the computer normally, only to find a partition you need is missing mysteriously, you could make use of "Lost Partition Recovery" module to recover lost partition with ease.


Introduction to Partition Loss Issue
Partition loss is not as common as data loss. Yet, this problem is much tougher than simple data loss. Once a partition is missing, all data saved in it could be gone forever. Just thinking about this will drive users crazy. If there's no important data in the missing partition, users can easily solve the problem by creating new partition or repartitioning the hard drive.

However, it is often not the case. Most of the time, the lost partition contains a lot of valuable data and the loss of them would bring us enormous losses. In summary, there're 4 kinds of partition loss situations which will lead to different phenomena.

1.Only the boot partition is lost.
2.All partitions in the hard drive are missing.
3.Only the boot partition is left; other partitions are gone.
4.One or more partitions (except the boot partition) are lost from hard drive.

In situation 1 and 2, users are not able to enter the OS successfully. Blue screen or black screen tends to appear during computer boot process; meanwhile, the boot process may be stuck at a stage. In situation 3 and 4, users can see their left partition or partitions in hard drive after a successful boot.




Why Partition Is Lost
Sometimes, users know clearly that their partition is lost because they just delete it by pressing the wrong button. Nevertheless, partition is lost unwittingly in some cases and users don't have a clue what's the cause for it. This makes partition loss problem difficult to prevent. For users' consideration, we're going to list several common reasons for causing partition loss disaster.




*) Partition table damage or loss: partition table is an indispensable part of hard drive; it is responsible for displaying partitions to us. If the hard disk partition table is somehow lost or damaged, the data in it can not be read and written sequentially, resulting in non-operational issue.

Partition table damage or loss is often caused by wrong operation, software conflict, power outage, hot-swap failure and virus attack. No matter what the reason is, users are not able to boot into the computer system successfully. Black screen or blue screen is easy to appear and suggest users that they can't enter the OS for certain reasons.




*) Careless operation: as the old saying goes – "Even Homer sometimes nods", everyone may make mistakes even though they think they're already careful enough. For instance, when we open the Disk Management tool in Windows, trying to manage hard drive, we're likely to delete a volume unintentionally. After that, the disk space which is originally taken by deleted volume will turn into unallocated space.


*) Virus attack/system crash: one of the most obvious characteristics of computer virus lies in its wide dissemination. It is no exaggeration to say that virus is hidden in every corner of the network and some of them are very difficult to detect. As is known to all, different viruses are created for different purposes. For instance, some of them are designed to steal other people's private information while some others are just created to delete the storage information of data in order to play trick. Thus, partition can be easily deleted once computer is infected with virus.

Generally speaking, system crash refers to the situation of computer not working normally or crashing frequently. It is easy to happen; even the commonest operations, like shutting down system/upgrading BIOS abnormally and installing program mistakenly, could lead to system crash accident and then making partition(s) disappear.


*) Bad sector/track: physically, a hard drive platter is divided into several concentric circles, called tracks; and each track is divided into several sectors to store data. If a sector can't be read and written normally, it becomes invalid, so the corresponding track is called a bad track.

If the sector/track is damaged physically by scratch or stain, the whole hard drive will be dead. But if only logical sector/track is detected, the hard drive can continue to be used as long as users finish shielding the bad sectors.

Obviously, all above reasons are able to bring partition loss to computer hard drive. Yet, users shouldn't be too scared to do anything after finding the partition with useful data stored in is missing. They should be aware that partition recovery is possible. Even free partition recovery is achievable if only users turn to helpful tools in time.


What Should Be Noticed after Partition Loss
The symptoms of partition loss are: the partition and drive letter can't be found in Windows Explorer; the partition also can't be seen in Disk Management (under Control Panel -> Administrative Tools -> Computer Management). The place where partition is expected to locate is shown as Unallocated. In this case, we can confirm the partition is definitely lost.




However, if users can't see a partition in Windows Explorer, they need to further check the Disk Management. If a partition is here but without a drive letter, this means the certain partition is not lost; it's only the drive letter that is missing. And they could make that partition appear again by just assigning an available drive letter to it.

After we confirmed that our partition is lost from hard drive, our first and natural reaction must be finding ways to recover lost partition ASAP. But, we need to notice the following things; otherwise, our wrong operations may bring irreparable damage to partition, so as to make partition data gone forever.


Please stop performing any operations to hard drive immediately when you discover partition loss. Anything you do after that is very risky and may lead to further losses.


Don't try unreliable method without measuring its safety. Ordinary users tend to become extremely anxious after they lost the partition and valuable data in it. They're willing to know how to recover lost partition effectively, so they would like to try every possible means to recover data. Well, this could be dangerous.


Don't format the disk. Some people heard that the disk will go back to normal after a successful formatting, so they may decide to try formatting when finding partition loss. However, this is completely wrong. Disk formatting will only make the important information needed for partition recovery disappear so as to reduce success rate.


Rebuild partition table function is not a panacea. In the case when partition is lost because of partition table damage/loss, users are likely to think of rebuilding partition table to try to make the lost partition show up again. But we need to tell you that though this function is powerful, it still can make things worse when we use it in an inappropriate situation.

For users' consideration, we strongly recommend that they choose green partition recovery tools to solve the partition loss problem. Since many high-quality recovery tools are mixed with the poor-quality ones, which can be found easily on the internet, we remind users to be extraordinarily careful when selecting one; security should always be put in the first place. Based on those points, we find MiniTool Power Data Recovery is a wonderful choice.


How Could Lost Partition Recovery Be Done
MiniTool Power Data Recovery is small in size but powerful in function and it is totally clean, no virus & spyware could ever be detected. Free edition, personal license, commercial license, enterprise license and technician license are provided for users who have different needs. Please click here if you want to know the differences.




All those editions provide users with the same five functional modules: "Undelete Recovery", "Lost Partition Recovery", "Damaged Partition Recovery", "Digital Media Recovery" and "CD/DVD Recovery".

They're designed for different data loss cases, so you need to choose the most proper one after reading the specific using range by putting cursor onto them. Click to enter a certain module and then the prompts in each interface will tell you how to recover lost partition.

If you're desired to know the steps of lost partition recovery in detail, please move on to the next part, in which a clear tutorial is given to help you get back all data from lost partition. By the way, MiniTool Power Data Recovery Free Edition is able to deal with free partition recovery as long as the total size of data waiting to be recovered is no more than 1GB. Otherwise, a paid license code is needed to upgrade the partition recovery software from free edition to other advanced editions.




How to Recover Data from Deleted Partition
Here, we're going to take deleted partition recovery as an example to show users how to restore partition data.




Step 1: download MiniTool Power Data Recovery and install it to another drive with no lost data. Then, run it to see above main interface. Now, "Lost Partition Recovery" module needs to be chosen.




Step 2: you're supposed to select the hard drive that contains your deleted partition (both internal and external hard drive will be displayed here). If your needed drive doesn't appear, please click "Refresh" button to continue. After that, click "Full Scan" to search.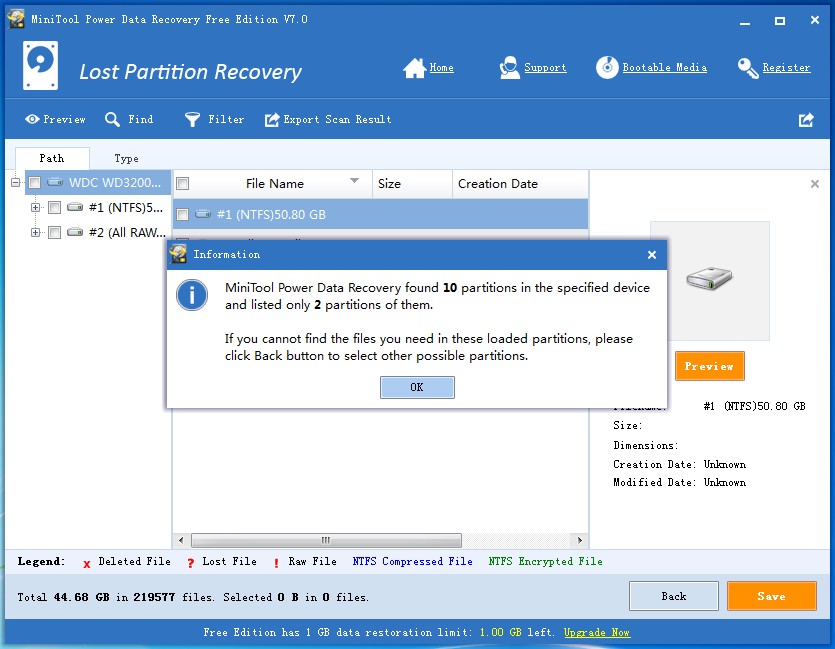 Step 3: the result interface will appear automatically at the end of full scan. Now, you can see a list of possible partitions and all you need to do is select the desired one and check needed files to store by pressing "Save".

After all files were saved completely to the appointed place, you can format the disk, rebuild MBR, or do whatever you want to do.

But remember, if your system can't boot successfully after partition loss, you should make use of the boot edition of MiniTool Power Data Recovery.