Quick Fix - Music Missing From SD Card Suddenly
Phenomena – Music Missing from SD Card
Do you enjoy music? I bet most people's answer to this question is a big yes, right? As a matter of fact, music is really a wonderful thing in life. The beautiful melody brings us joy and happiness. Meanwhile, it makes our life more colorful and meaningful. Most important of all, music has a magic power to relax our mood, making life & study easier. As a result, almost everybody loves music.
It must be a nightmare when you lose your favorite music and realize that you can never get it again from any other way. How terrible it is! Recently, I discover music missing from SD card is talked widely. There are plenty of people saying that their music files disappear from SD card due to various reasons. And the best way they can think of to make up for the situation is to recover music files from SD card as soon as possible.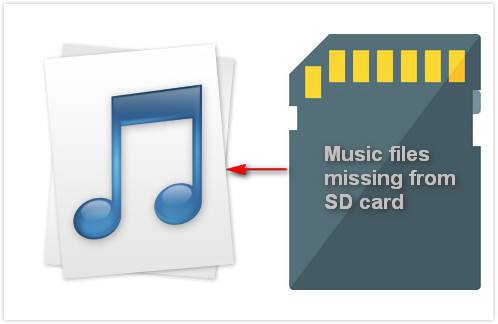 So, here comes the question – how to quickly recover lost songs from SD card. Considering that most of you don't know how to choose quality
data recovery software
, I decide to recommend a good choice for you: MiniTool Power Data Recovery; it provides both free edition and personal/business edition to satisfy various needs. Of course, you are welcome to try the free edition first. As for how to recover data from SD card in different situations.
Solutions - How to Find Music Files on SD Card
As you can see, there are a lot of reasons should be blamed for causing data loss. In today's post, we'd like to introduce the three most common cases of music file loss. And in each case, we'll give detailed suggestions on how to retrieve music disappeared from SD card.
Now, let's take a closer look at them.
Get Back Deleted Music from SD Card
A true example from Lee Koo (ADMIN) on CNET Storage Forum:
I accidentally deleted the files on my SD card. How can I recover them?
"What is the best way to recover deleted photos, videos, and music from an SD card from my Canon camera? I accidentally pressed a wrong button, and presto, a lot of photos, videos, and music disappeared. I don't know whether I can get them back. Any information and solutions will be very welcome, especially the solutions that you have personally used and have had success with. Thank you very much in advance."
You may have heard of or met accidental deletion frequently, right? To be honest, it is not so terrible when compared to other kinds of file loss cases on SD card (for instance, SD card becomes dead suddenly). Though the music files deleted from memory card will not be sent to recycle bin for temporary storage, it is still an easy task to restore deleted songs from memory card.
Steps of using recommended software to recover deleted music files from SD card:
1. Download MiniTool Power Data Recovery from the reliable link and save it to your local drive. After that, please open the target drive to run the setup program and check "Launch MiniTool Power Data Recovery 7.5" option at the end of the installation process.
2. Connect your SD card properly to the current computer by using an adapter, and then please choose "Undelete Recovery" (which is specially designed for quick scan and recovering deleted files) from the main interface of the software.
3. Pick out the partition that stands for your SD card when you see the following list. Then, you should click on the "Scan" button to start to search for the deleted files in SD card. Upon clicking, the scan will be started immediately and it will be finished in a very short time.
Tip:
If you did not connect the target SD card to the computer until you see above interface, you should take actions now. Please connect the memory card immediately via adapter, and then click on the "Refresh" button in the lower left corner in order to show it here.
4. When the quick scan is completed, the following interface will leap into your eyes. In this window, you are able to see all the files and folders found by the software. And you'll discover that there's a square box in front of each file and folder.
At this time, please browse the found files and folders carefully and confirm which ones are needed by looking at the "File Name", "Size" and "Creation Date". Then, add a check mark in the certain square box by mouse clicking. Afterward, you need to click on the "Save" button to see a pop-up window, in which you're expected to select a directory to save files.
Tip:
As you can see from the legend, all the deleted files & folders will be marked by a red "X".
That is all you should know in order to recover music files deleted from SD card by mistake. Now, let's move on to the next situation.
Retrieve Songs Not Showing up on SD Card
A true example from Rivalry:
Some songs not showing on SD card
"I have tried to check in the details of the file and cannot figure out how some songs are not showing up on my SD card. Out of 200 songs on my SD card only 113 show up. A lot of songs are ones that I ripped from CDs. I didn't have this problem with my 2014 SRT. Any suggestions?"
You must be freaked out if finding songs on memory card does not appear (especially when those lost songs are really important to you). Please don't be since we are sure that you can restore lost music on SD card before they get overwritten. So you have to acquire Power Data Recovery mentioned above or other powerful data recovery software without any delay.
Steps of how to recover music files from memory card:
1. Also, in the first step, you should download, install and run the software immediately to see its main interface.
2. Now, you also need to insert your SD card into a card reader and then connect the USB interface of the reader to that of the computer. After all these things are done, please select "Digital Media Recovery".
Tip:
By moving the cursor to this module, you'll see its specific function clearly: recover lost photos, mp3/mp4 files and video files from flash drives and memory sticks.
3. Similarly, you need to select the USB Mass Storage Device that represents your SD card. And after that, please click on the "Full Scan" button to do a deep scan in order to find lost music files completely. Obviously, the full scan will take more of your time.
Tip:
Scrupulous users may find there's a "Settings" button next to the "Refresh" button. What's the function of it? To put it simply, it is a feature designed to help you narrow the scanning range; you can check to scan specific file systems or file types manually and this is going to save a lot of time.
4. After waiting for a period of time (which depends on the usage of your SD card), you will see a lot of files (and folders) are displayed in the software interface. Also, there's a square box in front of each file and folder.
Please take a look at the found items and decide which files to recover and which are not. Afterward, you ought to click on "Save" button to set a storage destination.
Look, SD card recovery is not as difficult as some users thought it would be. If you fail to recover files from SD card by using the above two methods, you can also try the third method.
Recover Music from Damaged SD Card
A true example from weslexcore on Samsung Android Phones Forum:
Android SD Card showing ready but is not usable/Applications not showing
"The card had been working for a long time with no issues, was formatted to be used as internal storage so that I could move applications to it. The card was encrypted and when I go to decrypt the card (attempting to recover with my laptop) on the phone it has 'Decrypting SD Card' as a notification but I have yet to have it complete. The notification just stays there and when I click it, it goes away but gives no further information.
I can plug it into my computer and see the JPG's and other files but am unable to open them. When it is plugged into my phone it shows as 'SD Card Ready' under storage, but all the applications, music and photos that I had on the card are not showing on the phone.
Thank you for any help you can give and let me know if you have any questions!"
Sometimes, you'll receive error messages indicating that your SD card is damaged. Or you find the memory card is corrupted/dead suddenly without giving a sign. Does this mean that you'll lose your data forever? Of course not; you still have a chance to get them back. But you have to know that you must perform damaged SD card recovery at once.
How to recover data from damaged SD card:
1. In the case of SD card damage, you can also download the free software we have mentioned above to recover MP3 files from USB. But, we strongly advise that you forget about free USB data recovery; then, get a personal license and use it to register the software.
2. After that, please connect SD card to computer & choose "Damaged Partition Recovery", which is used for formatting SD card recovery, dead memory card recovery and RAW/inaccessible card recovery.
3. Also, you ought to pick out your damaged SD card from the drive list, making it highlighted. Then, please click on the "Full Scan" button to scan the selected card sector by sector. This may take a relatively long time (depending on the usage of your memory card). And if you want to recover photos (or other kinds of files) from SD card, in addition to music files, you do not need to change the default configurations in "Settings".
4. When the scan is finished totally, the software will load the scan results automatically. All you need to do now are:
a). check the files you need; b). click on "Save" button; c). set a new storage path for these files & click on "OK" button.
Tip:
You should not choose the SD card again as the storage drive in case of unwilling data overwriting. On the contrary, you are expected to select a local drive or another removable device to save the music files waiting to be recovered. But you have to be clear that the remaining space on the target disk must be not less than the space required by the music files.
This method also works if you'd like to recover music files lost during moving.
That's all we want to talk about how to recover music from SD card. However, if you encounter music player not reading SD card problem, you may as well read USB Flash Drive Not Recognized – Don't Worry Too Much; it tells all you desire to know.
Suggestions – Prevent SD Card Corruption & Protect Data
In addition to telling you the ways to restore files from SD card, we also think it's necessary to let you know the suggestions on how to prevent SD card and protect data on it in an effective way. These tips will keep you away from SD card data loss as much as possible.
How to Prevent SD Card Corruption
Always leave space left on the card.
Don't use the SD card when battery is low.
Keep SD card in an appropriate environment.
Format new SD card ASAP in the original device.
Remember to eject the card safely every time you move it.
Stop using the card immediately when you receive an error message.
Choose a high-quality card and card reader/adapter when you need to connect it to computer/other devices.
How to Protect SD card Data
Set password for SD card.
Encrypt SD card when necessary.
Enable write protection on the card.
Always keep SD card in a safe location.
Try your best to avoid any physical damages on the card.
If you master well these tips about protecting data on SD card, there won't be so many people ask how to recover data from SD card.
Conclusion
According to users' feedback, music missing from SD card becomes a problem that troubles a lot of people now and then. Taking that into account, we have demonstrated 3 ways to recover music files from SD card step by step. Hope they could help you get rid of your trouble. And please remember, you are expected to protect SD card properly in order to get away from SD card data loss as much as possible.
Common problems related to partition recovery and our solutions: