Thanks to the continuous development of data storage technology, flash memory and CD have become the top choices among mobile storage devices while the previously widely-used floppy disk gradually quits the stage. Inevitably, floppy disk is still employed by a small number of users to store small size files, exchange files, boot computer, restore computer hardware and system soft fault. In addition, some industrial devices only have floppy disk interface. Therefore, floppy disk-relating problems, such as floppy data recovery, should not be neglected. In this regard, the powerful
data recovery software
, MiniTool Power Data Recovery, was developed to help perform
floppy data recovery
.
Introduction to floppy disk data structure
3.5-inch 1.44M specification is the most common floppy disk. After
formatting
, a floppy disk was generally divided into Track, a couple of concentric circles on disk; Head, including0 and 1 two sides and Sector, areas on track for storing data. 3.5-inch standard floppy disk formats include 720KB and 1.44MB while 5-inch floppy disk has 1.2MB and 360KB formats.
The most widely-used 1.44M 2HD floppy disk has 80 tracks, namely 80 concentric circles; each track is divided into 9 sectors; each sector falls into 512 byte. 0 side and 0 track are extremely important for a floppy disk. The 1 sector is booting information, 2 and 3 sector is starting sector of the first FAT and the subsequent are data areas. Every formatted floppy disk with files is created with a file directory table, recording all floppy disk files. In file directory table, each file takes up 32 bytes with each byte possessing different meaning.
Data recovery software for floppy disk data recovery
If having profound knowledge on floppy disk data structure, user can solve a host of floppy disk problems through modifying FDT with WinHex, which, however, is unrealistic for most users. Therefore, user is kindly recommended to employ MiniTool Power Data Recovery to perform floppy disk data recovery. MiniTool Power Data Recovery is powerful data recovery software supporting mainstream operating systems, almost all file types and file systems. What's more, MiniTool Power Data Recovery is characterized by excellent security performance, allowing user to perform
data recovery
without internet.
Perform floppy data recovery with MiniTool Power Data Recovery
User can download MiniTool Power Data Recovery at
https://www.powerdatarecovery.com
for free.
Attributing floppy disk unavailability, here is a demo on perform
hard disk recovery
which shares the same data recovery procedures with floppy data recovery. Now, launch
MiniTool Power Data Recovery
:
In consideration of distinct data loss scenarios, this data recovery software provides five specialized
data recovery modules
.
"
Undelete Recovery
" for example, click this module to recovery accidentally deleted files with incredible efficiency.
Select the partition needing data recovery and then click "
Recover
" to meet the following interface.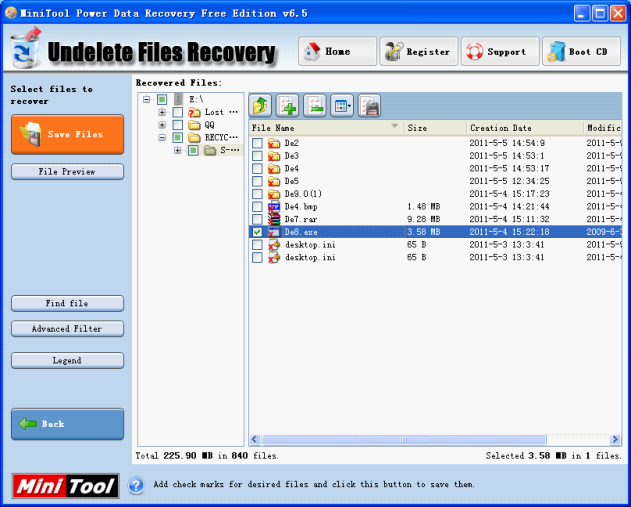 Check all needed files in this interface and click "
Save Files
" in the left.
Click "
Browse…
" to specify save path and then click "
OK
" to finish data recovery.
MiniTool Power Data Recovery should be the very data recovery software for many data loss circumstances. If any interest, please go to the official website
https://www.powerdatarecovery.com
for more detailed information.
Common problems related to partition recovery and our solutions: