Digital Media Recovery - memory card recovery, photo recovery and music recovery
Digital Media Recovery
module is a powerful data recovery tool that could help you recover lost data from digital media device. For example: flash drive, mp3 player, digital camera, memory stick, memory card.
When should I use this data recovery module?
You should try this data recovery module first when you like to recover photo, music and video files from these digital media devices. No matter your memory card is formatted or the files is deleted. This data recovery module should be your first choice.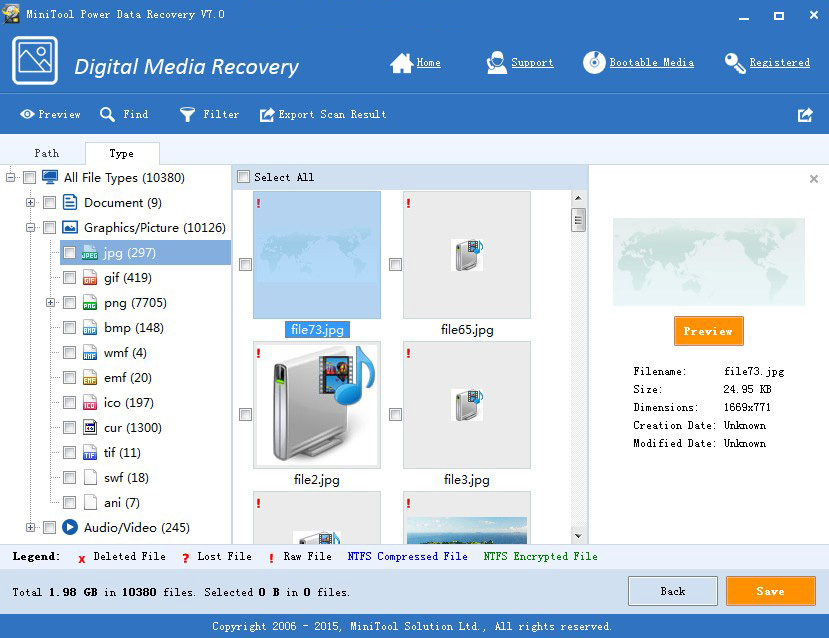 (Screen shot of Digital Media Recovery)
What is different between this module and Damaged Partition Recovery?
Digital Media Recovery module focuses on recovering music file, photo file and video files only. And this data recovery module will ignore the current file system type of the device. How does this data recovery module recover your lost data? As you know, every file type has its internal format. For example: file header, data content and file footer. Digital Media Recovery module will scan every byte of your device, and then it will check whether or not the scanned data matches any file type supported by this data recovery module. And currently, Digital Media Recovery module supports the following file format:
JPG

*.jpg photo file

CR2

Canon RAW version 2. Photograph from a Canon camera.

CRW

Canon RAW. Photograph from a Canon camera.

DCR

Digital Camera RAW. Photograph from a Kodak digital camera.

MRW

Minolta RAW. Raster image from a Minolta digital camera.

NEF

Nikon Electronic Format. Raster image from a Nikon digital camera.

ORF

Olympus Raw Format. Raster image from an Olympus digital camera.

PEF

Pentax Electronic Format. Photograph from a Pentax camera.

RAF

RAW Fuji. Raster image from a Fuji digital camera

SRF

Sony RAW File. Photograph from a Sony digital camera.

X3F

Sigma/Foveon X3 raw file.

TIFF

*.tif, *.tiff

DWG

AutoCAD drawing file(*.dwg)

PSD

Adobe PhotoShop file(*.psd)

CDR

Coreldraw file(*.cdr)

PSP

Paint Shop Pro file(*.psp)

PCX

Paintbrush file(*.pcx)

PNG

*.png

MP3

MPEG Audio Layer 3(*.mp3)

MP4

MP4 Movie File(*.mp4)

M4A

MP4 Audio File(*.m4a)

3GP

3GP Movie File(*.3gp)

WAV

WAVE sound(*.wav)

ASF

ASF video file (*.asf)

WMA

Windows Media Audio File (*.wma)

WMV

Windows Media Video File (*.wmv)

MOV

QuickTime Movie File (*.mov)

AVI

AVI clip(*.avi)

SWF
SWF File(

*

.swf)
ai
Adobe Illustrator file(

*

.ai)
abr
Photoshop Brush File(

*

.abr)
exb
Caxa CAD Drawing(

*

.exb)
ani
Animated Cursors File(

*

.ani)
dcd
DesignCAD Document(

*

.dcd)
dng
Adobe Digital Negative(

*

.dng)
dxf
AutoCAD DXF File(

*

.dxf)
fla
Adobe FLA File(

*

.fla)
max
3D Studio MAX(

*

.max)
oci
OpenCanvas Image File(

*

.oci)
sdr
SmartDraw Drawing(

*

.sdr)
arw
SONY ARW Photo(

*

.arw)
aif
Audio Interchange File(

*

.aif)
mid
MID File(

*

.mid)
mmf
MMF Audio File(

*

.mmf)
ogg
Ogg Audio File(

*

.ogg)
au
Au Audio File(

*

.au)
flv
FLV Video File(

*

.flv)
mts
M2TS And MTS Video(

*

.mts)
mkv
MKV Video(

*

.mkv)
rm
RMVB Video(

*

.rm)