Solution to Data Recovery after Reinstalling Windows 10/8.1/7
What Is System Reinstallation
System reinstallation refers to format system partition (usually partition C), and then copy new system into it. When reinstalling operating system, user can choose clean installation or upgrade installation. Definitions are as follows:
Clean installation refers to install another operating system beyond previous operating system, namely, to format the whole hard drive and then reinstall system. Process of clean installation should be: data backup -> format hard drive -> reinstall system -> reinstall applications -> copy data back.
Upgrade installation refers to upgrade previous operating system, for example, upgrade Windows 7 to Windows 10 which bears advantages of retaining original programs, data, settings. However, compatible problems may arise and it's difficult to downgrade.
Yet, though Windows update could bring us many benefits, it may also lead to troubles. The Windows update will delete our files sometimes; what's worse, it may be stuck at a certain stage. As a result,
files will be lost after Windows update
.
Why You Reinstall Operating System
When will you consider reinstalling operating system? Normally, system reinstallation happens due to the following reasons:
Improper operations that lead to system damage;
Virus attack and Trojans lead to boot file damage or system crash;
To optimize system when the operating system runs slow;
To install another advanced version of Windows for system upgrade;
Other reasons…
However, reinstalling operating system is not as easy as you have thought. To be honest, reinstalling system may bring data loss to your hard drive in some cases:
Q:
"I installed windows 7 on my computer and all of my files are gone. I have been reading online that you can install an undelete program, but I'm still not sure, the other option was to take the hard drive out and connect it as a slave drive to another computer and use a undelete program on the computer. Please help me, I don't want to mess this up anymore that it is. What should I do, and can I recover the files? I don't know if the hard drive was formatted during installation. I don't think it was. Please help..."
--from Tomshardware
In short, the question above is seeking help of how to recover data after reinstalling windows 10/8.1/7/XP? The answer is: reliable data recovery software should be a wise decision. And fortunately, we have MiniTool Power Data Recovery.
How to Recover Data after Windows Reinstallation
MiniTool Power Data Recovery is efficient, concise and green software developed by MiniTool Solution Ltd.. It can recover documents, images, videos, audios, emails etc. from hard drives, memory sticks, micro SD cards, and so on (
view full info
). MiniTool Power Data Recovery is most commonly used under Windows XP, Windows 7/8.1/10, Windows Server 2003/2008/2012, etc. It is functional software, small in size and harmless to operating system and hard drives.
To recover files after reinstalling Windows, first of all press the button to download this freeware and then install it on your computer.
Step 1: Five modules are available after entering this software: "Undelete Recovery", "Damaged Partition Recovery", "Lost Partition Recovery", "Digital Media Recovery" and "CD/DVD Recovery". Annotation comes up when putting mouse pointer on each module. Here we choose "
Damaged Partition Recovery
" to recover deleted/lost files after reinstalling Windows.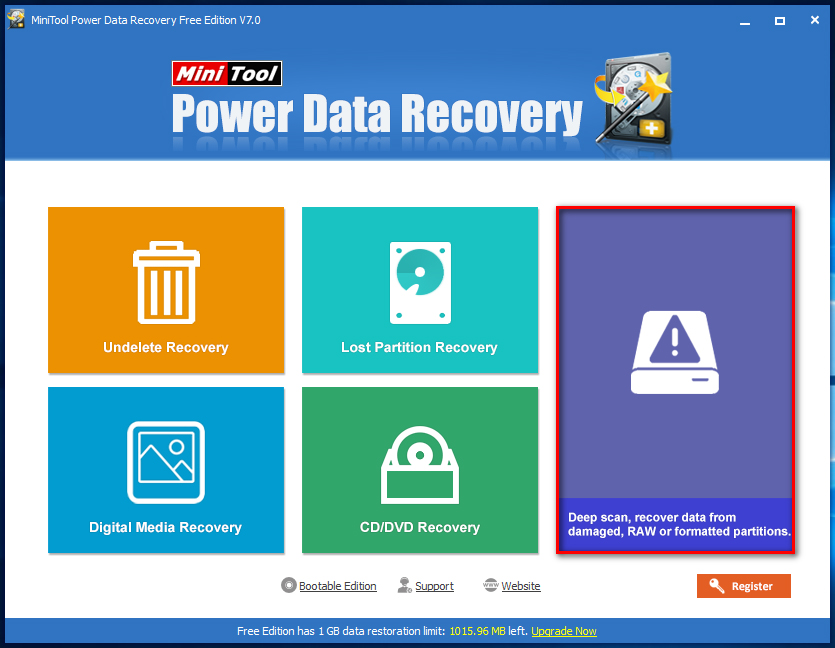 Step 2: Software will automatically list corresponding partition information. There are two buttons on the right, one is "
Open
" which is employed to list current files when disk partition runs normally; the other one is "
Full Scan
" which is used to full scan disk partition and search data when disk is severely damaged or formatted, so here we choose to full scan a partition that data loss happens.

If you encounter partition loss after system reinstallation, you should turn to "Lost Partition Recovery" and scan the whole disk.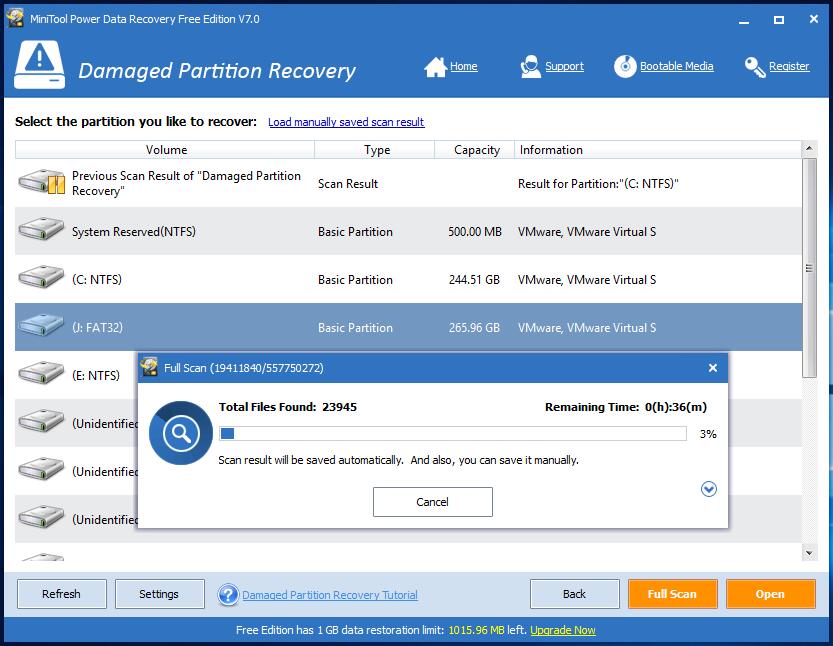 Step 3: Power Data Recovery will list all data it has found and you are expected to check whether they are the desired data.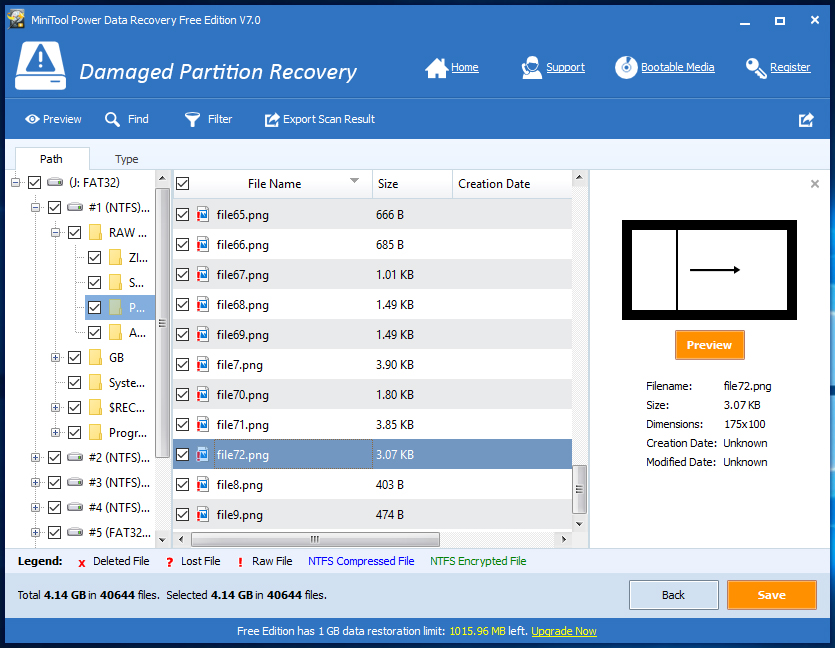 Step 4: Finally select the right files and click "
Save
" to store them in a safe location (another hard drive or another partition). After that, the recovery will be completed soon.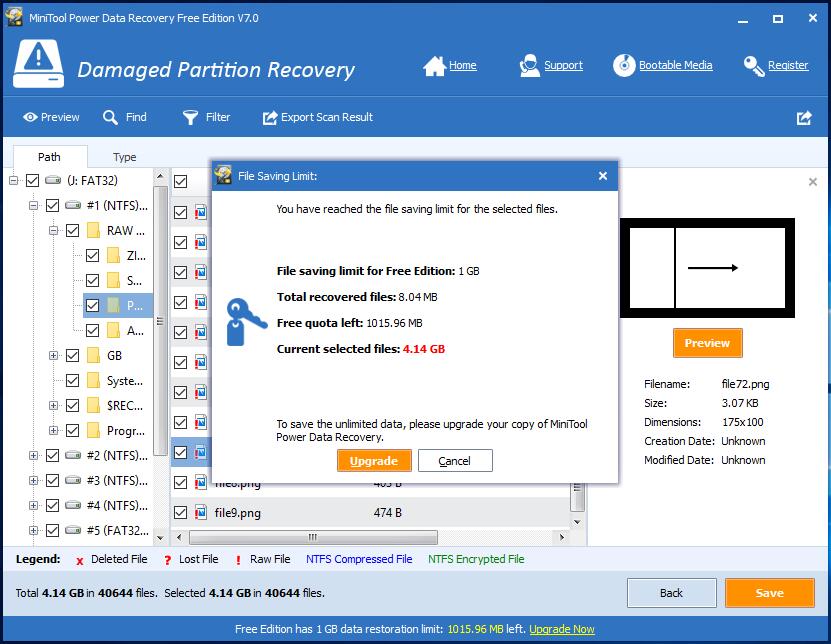 Note:
Free edition only allows you to recover up to 1GB data (check how much data you are able to recover free at the bottom of this freeware). If you have got more to recover, you will have to purchase a license to break this limit.

You may also like:
How To Recover Data After System Upgrade to Windows 10?
This is the end of how to recover data after reinstalling Windows 10/8.1/7. Should you have any question, please feel free to leave us comments below to let us know.