How Do You Recover Permanently Deleted Files In Windows 10/8/7
Issue – Permanent File Deletion
File deletion is a
common and necessary computer operation
. There is almost no computer user who has never deleted a file from computer before. Undeniably, it is a convenient way to help you get more free space for new data. Also, it is regarded as an easy solution to protecting privacy.
Most of the users wrongly hold the belief that once they delete the files in which privacy is involved, they're able to prevent other people from seeing it. Let's
face the truth
: even
permanently deleted files can be recovered
with special methods. So please seek for more reliable ways to destroy the files you would never want to share with others.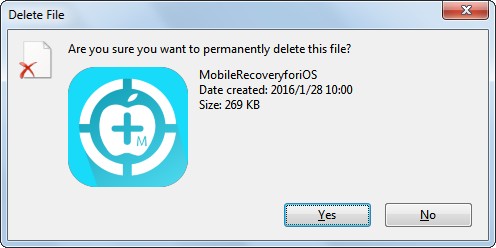 But to think it in a positive way, we can get
a second chance
if we happen to delete files permanently by mistake. "
Undelete Recovery
" function of MiniTool Power Data Recovery is an excellent choice.
To sum up, files deleted permanently in common ways can be recovered easily. If you delete them accidentally, you should read the recovery methods mentioned below carefully; if you need to destroy your private data completely, you're suggested to break your storage device physically.
There's also another important factor – if your storage device is very expensive or you're not ready to give up on your device. In this case, you are advised to try other means of permanent file deletion to achieve your goal. As for the deletion methods, we'll mention at the end of this article.
Recover Permanently Deleted Files in Windows
You may be interested in "
How can I recover deleted files without software
" after you deleted useful files by mistake, right? Actually, Windows provides a Recycle Bin for you to achieve this. You can enter Recycle Bin directly, then find deleted files and right-click on them to choose "Restore". By doing so, you can get back deleted files easily without software.
But, what if you have deleted files permanently (
shift deleted files or emptied recycle bin after deletion
)? You must wonder –
how can I recover shift deleted files
(
how to recover files deleted from recycle bin
); here is your best way out.
How Can I Restore Permanently Deleted Files in Win 7, Win 8 & Win 10
At the beginning, you had better install
MiniTool Power Data Recovery
– which is a professional and reliable recovery tool – to your computer drive (
except the one that contains deleted files
). Then, launch this tool immediately when the installation has been finished to see its main window and follow those steps to recover files (
please don't ask how do I recover a deleted folder, the recovery steps are the same
).
Step 1
: you need to make a right choice on which module to use.
Step 2
: select the corresponding drive to scan by pressing "
Scan
" (
when using "Undelete Recovery"
) or "
Full Scan
" (
when using "Damaged Partition Recovery" or "Lost Partition Recovery"
).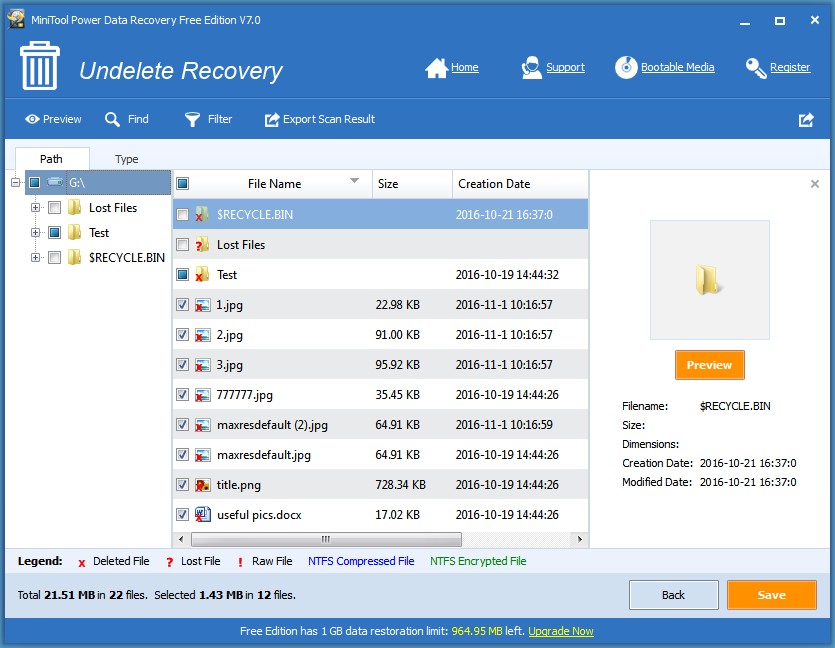 Step 3
: browse scan result and find what you need to pick them out.
This is the end of deleted files recovery in Windows 7, Windows 8 and Windows 10. If you want to give it a shot, please feel free to download MiniTool Power Data Recovery from the download center.
Link To Twitter
Possibility of Permanently Deleted Files Recovery in Windows
Basically, whether a Windows user can recover files deleted from recycle bin or not is closely related to the successful rate, which varies from case to case. Here is something we want to talk about
recovery possibility
.
Firstly, you may try your best to
confirm the time of file deletion
. If you realize that permanently deleted files are useful right after the deletion, you have a great chance to get them all back. In this case, you're supposed to take actions to recover permanently deleted files as soon as possible.
If several days or months have passed and now you finally realize the wrong deletion, the possibility of files recovery mainly depends on
whether new data are written into hard drive or not
and
whether the deleted files are covered by them or not
. No matter what the result is, you need to carry out deleted files recovery in Windows to have a try.
What Really Happens during File Deletion
A Closer Look at Recycle Bin
As we said, recycle bin in Windows is indeed
a sweet design for any false file deletion
. If users delete files by choosing "
Delete
" after right click on them or pressing "
Delete
" button in keyboard after selecting, files will be sent to recycle bin, instead of moving out from the computer. No change is made to the deleted files in Windows recycle bin.
This leaves great chance for users to regret. In this way, users can get back those files anytime they want as long as the time does not exceed the maximum limitation. By the way, you can
modify the property of recycle bin
to change the limitation.
What Does Deletion Do
Figuring out the
changes of files after deletion
could be very useful for us to recover permanently deleted files. According to information, "
directory area
" and "
data area
" will be generated automatically after a hard disk has been formatted. As its name shows, "
directory area
" is responsible for saving location and other information about data saved in data area; while "
data area
" is actually the place where the data locate.
When we complete the so-called permanent deletion, the system will mark a "deletion tag" on the information of certain files so that the space occupied by them could be released as available in the system. This place may be employed when new data are writing into target disk or partition.
Once the old files are covered by new data, the possibility of successful data recovery will be decreased.
Because of that, those hard disks with critical information of individual or business often become the hunting target of hackers. Some professional hackers will even find companies' waste hard drive on purpose, trying to recover some confidential data to reap huge profits.
As a result, please remember not to casually discard or resale the device which was used to store important information. Even if you thought all files in it are permanently deleted, it is usually not the case.
In fact,
files are stored
in the hard disk
in a small unit called cluster
and corresponding data are generated to record the cluster entry number of each file. This is a little bit like a chain. Once you discover the first section of the chain, it becomes easy for you to find all related files. Of course, you have to be equipped with rich knowledge and experience to accomplish such work.
When a file is deleted
, it is only the using state of clusters (
which are occupied by the deleted file
) in file allocation table that will be changed from "
used
" to "
available
". The
real content of file still remains
all the same.
Tweet This Now
How to Delete Files Permanently in Win 7, Win 8 & Win 10
When you plan to remove some files permanently from the computer, of course, you are unwilling to see deleted files being recovered by any data recovery software. In fact, the easiest way to achieve your goal may be
filling the partition
(
which includes deleted files
)
with unrelated files
.
In this way, you can complete a memory
overwriting operation
. And at this time, many data recovery tools will be useless. Accordingly, it becomes even harder for users to recover permanently deleted files if they find deleted data are actually useful later.
Let's make a metaphor: you write a word on a piece of paper in case that you may forget when you need to use it. After using, you don't want others to see this word. At this time, writing a new word in the same place to cover it may be a good choice. Once this work is done, it becomes harder for users to figure out the original one. But imagine this, if you repeat the overwriting process for several times, who can tell exactly what the original word is.
12 Methods for File Deletion
In summary, the following ways can all be adopted to
delete files permanently in Windows
:
Delete files by pressing "Delete" in keyboard after selecting them or you can choose "Delete" from the pop-up menu you see after right clicking on chosen files. Then, those files will be sent to recycle bin and you still need to empty it to complete permanent deletion of the file.




Choose the file or files you want to remove completely from the computer, right click on it to see a pop-up menu, choose "Delete" from it (this part is similar to above method) and press "Shift" button on the keyboard at the same time.




Press "Delete" button (also shown as "Del" or "delete" in some computer keyboards) and "Shift" button on the keyboard simultaneously after selecting all files needing to be deleted.


Delete by using DOS command: since Windows Recycle Bin only records the content of files deleted under Windows, so we can delete a file permanently in pure DOS mode or Windows MS-DOS mode to stay clear of recycle bin. You are allowed to enter MS-DOS mode to delete a file through Del or Deltree command.


Change the properties of recycle bin to make the files not been sent to recycle bin when deleted. There is one simple way available for all of you:



Right-click on "Recycle Bin" icon on desktop -> choose "Properties" from pop-up menu -> choose "Don't move files to the Recycle Bin. Remove files immediately when deleted." under "Settings for selected location" -> press "OK" to confirm changes.


In Windows OS after Windows 2000, there exists a built-in tool, the name of which is cipher.exe. It can be used to delete files permanently in an easy process: in general, we only need to type "cipher/W:F" (F refers to the letter of drive from which you have deleted some files). Then, 0x00, 0xff and arbitrary figures will be invoked to cover the entire partition free space so as to eliminate any traces of deleted files. It is worth noting that this way can only be applied to NTFS drives.




File crushing function has been integrated into some third-party tools to help users delete a file permanently. So users can choose a powerful one to achieve reliable deletion.


Formatting is usually a frequently used way to initialize a hard drive or partition. After formatting, all files in it will be deleted. And it seems that all files will be removed after drive formatting.


If users plan to delete all files in a partition, they can also delete the whole partition conveniently to realize the same result.


A safer way to move all data out of computer is wiping. Disk wiping can erase all data in the whole disk while partition wiping aims at erasing all files in a single partition. (Files deleted by wiping method are more difficult to recover. If we perform wiping for enough times, we can make the data can't be recovered.)



By the way, MiniTool Partition Wizard is a good choice to wipe disk or partition. Please activate "Wipe Disk" or "Wipe Partition" function according to needs. Files deleted by this way will never be recovered.


Copy the name of the file you want to permanently delete. Then, create a new file of the same type in another place and name it with the copied name. After that, you need to move the newly created file to the location in which the target file locates. At last, choose to replace the target file with the new one. (Make sure that the suffix name of both files should be exactly the same.)


You are able to use this method to delete some business documents to prevent file recovery to some extent: click "Start" button -> type keywords in target document name into the textbox of "Search programs and files" -> click "See more results" -> select all files you need to delete and execute deletion -> empty recycle bin -> use new files to cover the space originally taken up by deleted files -> set about disk defragmentation.


If you are a Windows 8/10 user, the work to completely delete files in hard disk will become much easier; that is because, in the latest Windows systems, there is an
initialize computer function
. It can enhance the security of computer hard disk data so as to prevent others from recovering permanently deleted files easily with data recovery software.
The working principle of this feature is: writing data randomly into the hard disk with deleted files so that traces of the deleted files will be erased. This greatly increases the file recovery difficulty.
Suggestions for Users to Destroy Useless Private Data
We suggest you break the storage device with useless confidential files into pieces or burn it to ashes. But you also need to
pay attention to one thing
before you decide to do this –
confirm repeatedly
that the files contained in the device are no longer useful.
Once you finish breaking or burning it, all files will be gone forever. You never have a chance to regret.
Sum up
believe it or not
, some people can always find a practical way to restore directly and permanently deleted files or recover files deleted from recycle bin. When you find permanently deleted files are useful, you should seize time to perform the recovery.
This gives us a regret chance, but it can also lead to privacy leakage at the same time. So please be particularly careful when private data is involved in the files you want to clear completely.
Common problems related to partition recovery and our solutions: