Recover Deleted Word Document – Here're Perfect Solutions
As a computer user, no matter you're experienced or not, you must have heard of and used Word. It's an essential program installed in every computer and operating system. Actually, the Word we often mentioned refers to Microsoft Office Word, which is believed to be the most popular word processing program around the world. Word is involved in many aspects of our lives.
When we were young and studying at school, we may not have our own personal computer. However, we do know about Microsoft Office Word since teachers in many places take advantage of Word, Excel, PPT and many other programs in Microsoft Office to make their curricula vivid and make the things they're teaching easy for us to understand. When we are a little bit older, we may be asked to finish school tasks and make presentations by using Word, Excel or PPT. Then, we graduate from school and start to work, finding that we may need to use Word more frequently, almost every day.
You can see how important a Word document could be. The disappointing news is that a large number of users keep saying they've deleted Word document carelessly or lost the latest editing content in Word document (
since users haven't had chance to save the changes in document manually
). That's really a frustrating thing. But is there any reliable way to
recover deleted Word document
or missing content? Luckily, our answer is yes, so you don't need to feel like it's the end of the world when important Word document is lost. But now, let's firstly talk about Microsoft Office Word.
Why Word Is So Popular
It is known to all that Microsoft Office Word is a word processing application of Microsoft. However, what many people don't know is that Word was originally written by Richard Brodie for the sake of running IBM computer in DOS environment. Subsequent versions of Word can run on Apple Macintosh (
1984
), SCO UNIX and Microsoft Windows (
1989
), and it became part of the Microsoft Office.
As a core program of the Office suite, Word provides many easy-to-use document creation tools and a rich set of features to help users create complex but elegant documents. For those reasons, Word becomes the world's most famous and useful program for text processing.
Word Format
The global popularity of Word makes its special document file format (.doc) become a universal standard. There exists more than one Word file format since it will be revised more or less each time when a new update is out. And the new Word file format may fail to be accessed by previous versions of Microsoft Office Word (generally because the ability to support new format is not provided in previous Word versions).

Though Microsoft has released the details of Word 97 DOC format, the information for latter versions is still undisclosed and only kept within companies, government and research institutions. In fact, other office programs which compete with Microsoft Office Word must be compatible with the universal Word file format.

Generally speaking, such compatibility is achieved by reverse engineering since the detail of Word file format is not open to the public. At present, many word processors are equipped with the dedicated conversion tool to export and import Word file. Apache Jakarta POI is an open source Java database and its major task is to access the Word binary file format. Microsoft itself also provides viewer for us to view the Word document without using Word program, for instance, Word Viewer 2003.

From Microsoft Office Word 97 to Microsoft Office Word 2003, binary file format is the default format. However, Microsoft later stated that they will use the XML-based file format as the format of their office software. Word 2003 offers the WordprocessingML option, which is an open XML file format and supported by the Danish government and other institutions.


10 Advantages of Microsoft Office Word
Microsoft Office Word combines a set of full-featured writing tools with easy-to-use Microsoft Office Fluent user interface, to help users create and share professional-looking content. Following is what Word could do for you.




1.Reduce the time spent on time setting and help you focus on document writing: Microsoft Office Fluent user interface provides lots of tools for us to choose from when necessary, making it possible to easily and quickly set up the document format.
Users can find the appropriate function in Microsoft Office Word to convey information in the document more effectively. By making use of quick styles and document themes, users can quickly change the appearance of text, tables and graphics in the entire document to conform to their favorite style or color scheme.
2.Use SmartArt diagrams and new charting tools to show information more effectively: the new SmartArt diagram and new charting engine are able to help us create great-looking content by adding effects like three-dimensional shape, transparency and drop shadow.
3.Use building blocks to build document quickly: building blocks in Microsoft Office Word can be used to build document through conventional or predefined content (
such as disclaimer text, pull quote, feed sidebar, cover page, and so on
). This can not only avoid spending unnecessary time in re-creating or copying and pasting the content among different documents, but also ensure the consistency of all documents created in Word.
4.Save the Word document as PDF or XPS document directly: Microsoft Office Word 2007 allows users to share documents with others. Users don't need to add third-party tool to be able to convert Word document to Portable Document Format (
PDF
) or XML Paper Specification (
XPS
) format. In this way, Word users can conduct extensive exchanges with people who are using any other platforms.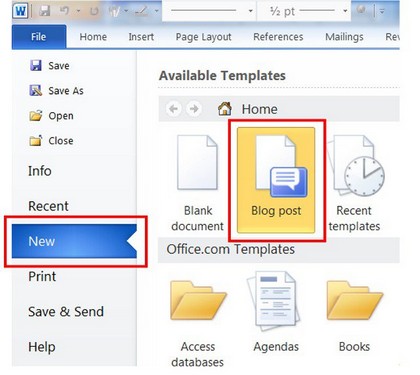 5.Publish and maintain blog directly: users can easily and directly publish blog from Microsoft Office Word; they can also configure Word to link directly to their blog site so as to create blogs containing image, table and advanced text format setting function.
6.Control document review process with the help of Microsoft Office Word and Microsoft Office SharePoint Server: users are able to start and track the review and approval process of documents in Microsoft Office Word by taking advantage of the workflow service built-in Microsoft Office SharePoint Server. As a result, the review cycle can be accelerated without forcing users to learn any new tools.
7.Connect document with business information: use new document control and data binding to create dynamic intelligent document, which can update itself by linking to a back-end system. Word can make use of the new XML integration feature to deploy intelligent template so as to assist users in creating highly structured documents.
8.Delete revisions, comments and hidden text in document: users are able to detect and remove the unwanted comments, hidden text or personally identifiable information with the help of document inspector, so as to avoid sensitive information disclosure.
9.Use three-pane review pane to compare and merge documents: Microsoft Office Word can help users easily identify the changes that have been made to documents. Word helps users to view two versions of a document through a new three-pane review panel and clearly mark the deleted, inserted and moved content.
10.Minimize document size and have the ability to restore damaged file: the new Ecma Office Open XML format can significantly reduce the file size and improve the ability to restore damaged file at the same time. New formats like this can greatly weaken storage and bandwidth requirements, and reduce the burden on IT staff.
Commonly seen Microsoft Office Word versions used in Windows include: Microsoft Word 97, Microsoft Word 98, Microsoft Word 2000, Microsoft Word 2001, Microsoft Word 2002/XP, Microsoft Word 2003, Microsoft Word 2004, Microsoft Word 2007, Microsoft Word 2010 and Microsoft Word 2013.
Built in Auto-save Feature
When dealing with the documents, we are often caught in the frustrating situation: the document content we've been working so hard on is missing due to some reasons, such as sudden power outage, unexpected system crash and improper operation.
We restart the computer and can't wait to access certain Word document, but only to find a lot of content we've finished editing is gone. You can imagine how desperate a user will be under such circumstance. In order to improve this, we strongly recommend that all of you make the full use of auto-save feature built-in Microsoft Office Word. This auto-save feature is designed to help users save the Word document they're editing at certain interval in case of unexpected shutdown.
How to Recover Unsaved Word Document
Now, we're going to introduce what this amazing feature can do for users. Subsequently, we plan to show them how to recover unsaved Word document and how to recover deleted Word document from computer or removable device.
Considering that Windows 8 and Microsoft Office 2010 are both popular among users, we decide to take Microsoft Office 2010 as an example to tell users how to recover unsaved Word document in Windows 8 specifically.
After creating a Word document in Windows 8 and opening it, users will see the main interface of Microsoft Office Word. At this time, you could click "
File
" in the upper left corner to see the following submenu: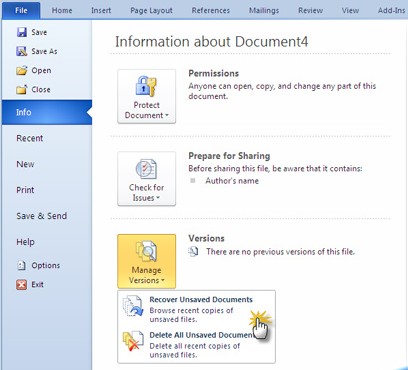 Now, you can see all the submenu items. By default, "
Info
" is chosen right after you click "
File
". Under "
Info
", there's a "
Manage Versions
" option, which is able to help us manage our unsaved Word document versions (
those versions are automatically saved and listed here in order
). You can just click on the desired version to open and decide whether you'd like to compare it with current version or just recover it to replace the current one.
This is actually what auto-save feature can do for you. In addition, if your Word/system crashed suddenly, you don't have chance to manually save the Word document you're dealing with, of course. In this case, auto-save feature could do you a good favor, after a restart, the automatically saved versions will be listed in the left navigation panel and you can choose from available files to recover easily. If available files didn't appear after restart, please click "
File
" -> "
Options
" -> "
Save
" to see the storage path of automatically saved Word files. In this way, we can go to the certain location and find AutoSaved Word files manually.
Here, you can see from above interface, there is a "
Save AutoRecover information every _ minutes
" option. You may as well change the interval from 10 minutes (
set by default
) to 1 minute to ensure the integrity of document content. This option, together with another one – "
Keep the last autosaved version if I close without saving
", are checked by default and you need to keep them checked in order to make use of auto-save feature to recover lost Word content.
Then, you can see an "
AutoRecover file location
" below, showing you the specific place where you can find the automatically saved files. The item between "
Users
" and "
AppData
" actually refers to the administrator name. Of course, you can make some changes to the default file storage location if you want. Now that you know where the files are located, just go there and choose the file you need to recover.
Notice: AutoSaved files don't share the same name with the original ones; some special symbols will be added to the file name. But fortunately, you can still find the file you need by looking at the name and creation time. There's another obvious change – the file type has been changed from DOCX to ASD (which could still be opened by Microsoft Word). If you're not sure which version you need to recover, just click any one to have a look.
How to Recover Deleted Word Document
Imagine this: if your unsaved Word document has finally been recovered successfully, but you still lose it due to wrong deletion or other reasons. You must be very regretful when meeting this problem. Please stop blaming yourself for making such a stupid mistake. We mean, who can ever avoid mistakes? Most of the time, it doesn't matter if you have made a mistake, but it do matter a lot what're you trying to do to make up for the mistake.
As a result, once you deleted or
lost a really important Word document
, please face it bravely and read the following ways provided here to regain it. At the very beginning, please install MiniTool Power Data Recovery to your computer. Believe it or not, this Word document recovery software will come in handy one day. Get familiar with the interfaces of it if you got time.
Recover Deleted Word Document from Recycle Bin
As you all know, there is a unit called Recycle Bin in Windows, used to help us save deleted files for certain time out of consideration for security. Therefore, all the files we deleted accidentally could be found easily from Recycle Bin unless they're permanently deleted or simply deleted from removable disk like flash drive. So our advice is that just go to check the Recycle Bin and recover what you need by choosing "Restore" from the right-click menu.



Open MiniTool Power Data Recovery immediately if you can't find your needed Word document in Windows Recycle Bin and then make use of "Undelete Recovery" module to detect and recover document. Just click this module and follow the specific instructions you can see in each interface of software to finish deleted word document recovery step by step.


Recover Deleted Word Document from Flash Drive
As we have mentioned, no matter you deleted a file from flash drive or deleted it permanently (by pressing "Shift" and "Delete" at the same time or emptying the Recycle Bin), you're not able to see it again anywhere. But as long as you want it back, please launch MiniTool Power Data Recovery and choose "Undelete Recovery" module from main interface directly without wasting any time.


Then, you should also do what the detailed prompts displayed in every interface suggest you to do in order to regain the deleted Word document that is useful to you. MiniTool Power Data Recovery is definitely the best Word document recovery software ever. By the way, if you're running a Mac, please try
MiniTool Mac Data Recovery
, instead.
Attention:
Please read
How Can You Recover Deleted Files Easily – This Tells All
to get to know more details on how to recover deleted files in many other different cases.