To Recover Files Deleted By Virus Attack – It's All Too Easy
Maybe you have ever heard of computer virus, but never have a chance to experience it. Believe us, encountering virus is a fairly common occurrence. According to statistics, more than half of the computer users have the experience of being attacked by virus and some of them are even frequently bothered by it, failing to get rid of this issue. The most annoying thing during virus attack is claimed to be struggling to recover files deleted by virus attack.




Imagine this: your presentation files, which were planed to show in the company meeting the next day, are totally lost from computer when virus is detected, how depressed you will be. These files may be finished after days of or even months of hard work. Besides, the lost files could be the symbol of people's past good days, which may include an unforgettable memory of deceased friend. That means, the file is unique, it can never be recreated again. So users who lose important data and are not willing to accept this fact will try to recover lost files after virus attack at any cost.


How Virus Enter Your Computer and Delete Data
Now, we're going to walk you through what virus is and how it get ruined your computer data. To put it in a simple way, computer virus is the harmful program written intentionally by people to enter others' computer without the owner's permission and even without telling users about the entry. Based on the research results, we find viruses are mainly created due to the following 3 reasons:

1.Just play a prank on others for fun, without clear and offensive purposes.
2.Make profit by stealing other people's confidential data. Some just take this as a way to earn money quickly.
3.Get even with others. A small number of people tend to create computer virus in order to take revenge on other people who have ever hurt their feelings.

Since viruses are created for different purposes, their damage to our computer is not all the same. Some of them are found to be made for fun; they are just annoying for they merely cause unknown animation or webpage appearing on your screen in a flash. On the contrary, others are more malicious; they are actually designed to steal or delete users' important files or just to ruin users' operating system, making all hard disk files in danger.




With the development of internet, the risk of being attacked by virus boosts. When you click on links sent from untrusted sites or in an anonymous email, you are actually giving way to the hidden computer virus. There are other actions that are dangerous and may let computer virus invade your OS:


Use pirated or unknown software/programs/applications.
Use a new movable device on computer without checking security or killing virus.
Continue visiting sites on which virus or abnormal operations are detected.
Download files from network casually, even from unknown sites.

In fact, virus can get into our personal computer through plenty of new ways that we couldn't think of. That's why most users would like to roll up their sleeves and start to install a trusted antivirus program when they buy a new computer or reinstall the OS. After the virus entered computer, they may not be activated right away.

In theory, viruses are attached to storage media like floppy disk and hard disk so as to constitute infection source and the transmission medium is decided by work environment. Virus is put into memory after invasion and the virus creator has already set up the trigger condition, which is diverse. It could be the clock, system date, user identifier or a system communication. When the condition becomes ripe, virus will start replicating itself to infected object and performing various sabotage activities, including destroying file system, changing file name and deleting data. At this time, to recover files deleted by virus attack becomes an urgent thing.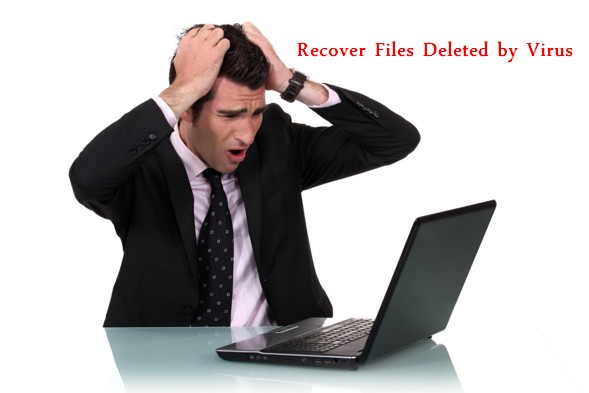 In summary, computer virus is more than just a data killer since it actually can cause serious problems to users' disk and system. Computer virus is for computer what biological virus is for human body. It can put all of us in a tight spot, letting us worry about the ruin of hard work, the loss of unforgettable memory, financial losses, etc. Well then, how to recover data from that?

Share With Friends


Recover Files Deleted by Virus Attack with Microsoft Solutions
In many ways the virus can attack on our computer and other kinds of data storage devices like USB flash drive. And when the virus is activated, it will start to delete files and ruin our OS. If any Windows 7 users discovered this, the first thing they should think of is how to recover deleted files and folders in Windows 7. Retrieving missing files could be a breeze, can you imagine that? Actually, there're lots of practical ways for users to find and recover Windows files. Now, we'll firstly talk about two ways that Microsoft Windows provide.


If users can't find a file on their computer when they need it or they just performed an accidental deletion to the needed file, they may restore it from a backup (under the premise that they're enabled Windows backup before). Here's how to do to retrieve missing files in Windows 7.



1.Click on Start button from the bottom left corner of computer screen and choose "Control Panel".



2.Choose "System and Security" from above interface and then click "Backup and Restore" from the following page.
3.Now, choose "Select another backup to restore files from" or "Recover system setting or your computer" to continue.

Tips: to use this method for deleted file recovery, users must Open System Restore and Set up backup in advance (before the files are missing).


Users can also try to restore files from previous version. What does this mean? Maybe most of the users don't know the hidden function of Windows – "Restore previous versions". To be honest, previous versions are the copies of files and folders that saved by Windows itself automatically. When users find files in their computer hard disk are lost, they can try to restore the certain drive or folder to its previous versions, in which files are still there. Here are the steps to show users how to recover deleted files and folders in Windows 7.



Users usually get access to the computer hard drive through following two ways: one is clicking on Start button from the bottom left corner of computer screen and choosing "Computer" and the other is double clicking on "Computer" icon on desktop.

At this time, if users want to recover deleted folder from D drive, they could right click on D drive to see a pop-up menu, in which many options like "Open", "Open in new window" and "Turn on BitLocker…" are included. Now, find "Restore previous versions" option and choose it to continue.

After seeing a list of available previous versions of files and folders, users should choose a favorable restore point to start recovering folder.

If users want to recover lost files after virus attack from a folder, they should enter the certain drive that included target folder before virus attack. Afterwards, navigate to the folder that was used to save the needing files. And then, right click on it and choose "Restore previous versions" to complete the recovery.



Tips:
Before restoring a file or folder to its previous version, users are suggested to select a certain previous version, and then click Open to view it in order to make sure that this is the version users actually need.

But remember, we can't open or copy previous versions of files and folders that were created by Windows Backup. The only thing we can do is to restore them.

After users clicked "Restore" to restore files from a previous version, the current version will be replaced on computer. What's more, the replacement can't be cancel. So please think twice before you really do this.
Tweet New Skills
Recover Lost Files after Virus Attack with Third-party Tool
Though Microsoft Windows has provided above two methods for recovering files deleted by virus attack, this is far from enough. The main reason is that those two methods are very limited; they are only useful in finding and recovering Windows files under certain conditions. For example, the backup and restore function must be enabled.

After taking that into consideration, we feel it's really necessary to introduce a more effective way to help users regain their lost files. That is to recover files with MiniTool Power Data Recovery – a piece of powerful third-party tool that has been used and praised by tens of thousands of people.

Two versions will be taken as examples here to help users to complete data recovery in different situations.




Situation 1: the common issue is that some files, including text files, photos, audio files and videos are missing after users' computer has been invaded by virus. And it's often too late when users have finally detected it. The needed files may get lost without a warning and users got no way to cancel such deletion performed automatically by virus.

In this case, we strongly suggest users to download, install and run MiniTool Power Data Recovery as soon as possible to start recovery (please remember not to install this software to the drive which has been attacked by virus and included files waiting to be recovered).

Above interface will appear after users double click the application. And when users see this, they need to choose a suitable one from the displayed five powerful functions. Of course, if users are not sure about which one they should choose, they can put cursor onto each one of them to know the specific usage scope, helping to make the right decision.

After that, please select the disk or partition to scan in order to find lost but needed files. When the scan finished, an interface full of found files will show in front of users. At this time, users need to do two things: one is to look through the files to find and select needed ones and the other is to press "Save" button in the lower right corner to set a new storage location for the recovered files. After all those steps are finished, users will see a prompt in software, indicating that the recovered work has been done and users are allowed to close software right away.

Free Download




Situation 2: a more serious problem is that the operating system becomes unbootable after the virus attack. This may happen because virus has damaged the OS, deleted essential boot files or changed the boot settings. No matter what the reason is, the result would be – users are no longer allowed to enter their own computer by booting from the operating system they often use and they totally lose access to their files saved on that hard drive, no matter it's for work, for study or for entertainment, all gone.

If users can't boot into their computer, of course, they can't download, install or run the software in their computer. But the exciting news is that there's a bootable edition of MiniTool Power Data Recovery, which can help users access their hard drive without an operating system.

But firstly, users need to burn the boot disk to CD/USB drive successfully from another computer. Then, they should insert the CD or connect the USB drive to target computer which needs recovery, and set it to boot from this CD/USB drive, not the local drive. Afterwards, above interface will appear, in which users need to choose the first option to continue.

Later, users only need to follow the instructions to access the main interface of MiniTool Power Data Recovery Boot Disk, which is similar to that of the common version (only the "CD/DVD Recovery" function is gone). Now, for the rest steps to find and recover Windows files, users can refer to situation 1.

Buy Now


Kill Virus for Security Concerns
In today's era, where information and science is well developed, almost everyone is aware of the danger of virus and the importance of killing virus. But do you really know what time is the best time to kill virus?




Knowing that virus may further ruin our data and operating system after its invasion, most users' first reaction to virus attack is killing them as soon as they can by using powerful antivirus tools. However, we don't suggest users to do so. On the contrary, we recommend that users try every means they can to recover files deleted by virus attack firstly before performing any other operations.

Why don't we suggest them to kill virus before retrieving missing files? The reason is easy-to-understand: antivirus programs may delete some useful files from users' computer when removing virus for them. And this may cause secondary damage: deleing more files from computer and making some data gone for good.

As a result, we suggest users to complete data recovery before they adopt antivirus programs to clean disk, unless the files deleted by virus are of no use.


Common problems related to partition recovery and our solutions: