Recover Data From Dead SD Card With This Easy And Safe Way
Till now, SD card has become
one of the most popular movable storage devices
. Its large capacity, high performance, good security and other features appeal to countless users. However, just like any other multimedia information storage devices,
SD card can be corrupted
easily due to users' improper operations or others' intentional attacks.
You may find some data stored on their SD card are lost due to unknown reasons;
You may encounter a prompt which says your SD card needs to be formatted for further use;
The SD card may have no response at all after it had been connected to computer.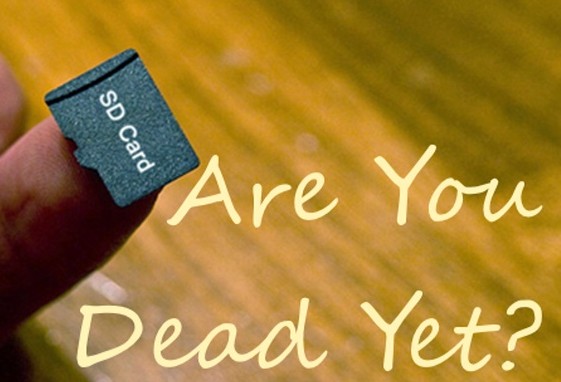 A large number of users have similar experiences, so they're interested in finding solutions to
recover data from dead SD card
or recovery lost data from SD card.
Apparently, it's not a breeze. But, it's also not impossible. Whether
SD card recovery
can be finished or not largely depends on the cause of SD card data loss and the things users have done after data were missing from SD card.
Generally speaking, as long as the lost data are not overwritten by new data, they're able to be recovered completely from SD card with MiniTool Power Data Recovery. It is a professional data recovery tool for not only SD card, but also other kinds of storage devices. Download it now and it will be of great help sooner or later.
If you have lots of files waiting to be recovered from dead SD card, you may as well buy a personal license for breaking the 1GB free data recovery limit in free edition.
Now, we plan to introduce 3 common types of SD card data loss and then give the recovery solutions you need.
3 Types of SD Card Data Loss Cases
Since data loss can cause inestimable economic and mental loss once the missing data can't be found back, users will try every way possible they can to go for data recovery.
Like other data loss cases,
SD card data loss
could also be divided into different types. Now, we'll firstly introduce the
types of SD card data loss cases
and then give
suggestions on corrupted SD card recovery
– how to recover a micro SD card that won't read and how to fix damaged SD card.
SD Card Becomes Dead
When you connect the SD card to computer, trying to read, write or modify data, you may disappointedly find that, there's no response after the insertion.
If you have saved valuable data in dead SD card and have no backup for them, you are suggested to
try the following methods
at first:
Find a clean eraser and use it to rub back and forth for a few times on the sheet metal (this is because the metal contact piece of SD card may be oxidized or worn due to the frequent ejecting and inserting).
Check whether write-protection function is enabled or not (please turn it off immediately when you find it's actually the reason why you can't make any changes to SD card).
Try to connect SD card to another computer or change a card adapter (the SD card may fail to be detected on computer due to poor connection).
Top Recommendation
Poor connection is not the only reason why a USB drive can't be recognized. The post USB Flash Drive Not Recognized – Don't Worry Too Much tells more about it.
Generally, those will work under the condition that there is no serious physical damage on the surface of SD card.
SD Card Needs to Be Formatted
Sometimes when you intend to open the SD card in computer for data view or management, you may fail. That is because, when we click on the SD card, trying to open it, an error pops up and suggests that the SD card need to be formatted.
Common error messages
include:
The disk in drive * is not formatted. Do you want to format it now?
You need to format the disk in drive * before you can use it. Do you want to format it?
* is not accessible. Access is denied.
* is not accessible. The parameter is incorrect.
* is not accessible. The disk structure is corrupted and unreadable.
* is not accessible. The file or directory is corrupted and unreadable.
* is not accessible. The volume does not contain a recognized file system. Please make sure that all required file system drivers are loaded and that the volume is not corrupted.
Please don't click to format disk at this time. When you see any of those error messages, you must be aware that the SD card is damaged somehow. And you have to take measures immediately to try to
recover files from damaged SD card
.
SD Card Files Are Deleted by Mistake
The last but most popular cause for SD card data loss is accidental deletion. Everyone makes mistakes and it often occurs in the blink of an eye. So it is a common thing that we
delete a useful file or folder carelessly
, considering it as useless.
Under this circumstance, if the SD card is working well and it is only some data that have been lost, the work to recover deleted data from SD card would be very easy.
2 Solutions to Recover Data from Dead SD Card
In both solutions, you should download & install MiniTool Power Data Recovery Free Edition in advance and then launch to experience its amazing performance.
How to Recover Deleted Data
When your SD card can be detected and used on computer finally after you tried above methods, you should complete following steps to recover data:
Select "Undelete Recovery" module from main interface of MiniTool Power Data Recovery;
Choose the SD card and press "Scan" button to detect lost data on it.
Check all the data you need to recover by pressing "Save" after the scan was finished and data were found and displayed in software.
Share With Friends
How to Fix Damaged SD Card
When you find your SD card is inaccessible and the system suggest you to format the disk before using, you need to follow this tutorial:
Choose "Damaged Partition Recovery" module of MiniTool Power Data Recovery;
Select the SD card to scan by pressing "Full Scan" button;
Select needed data found by software and save them out by pressing "Save".
4 Things to Notice to Avoid Dead SD Card
In order to enhance data security and avoid making SD card dead by improper operations, users should keep the following things in mind. Those tips could help them get away from the troublesome data recovery steps.
1. Be very familiar with the format, characteristics and composition of SD card data.

2. Use professional genuine data cable and card reader to transfer data. Please make sure that the power supply of SD card is stable; fluctuated voltage may bring serious damage to card. Always check the condition of card reader and computer system to make sure there is no bad contact or virus attack.

3. Do not unplug or disconnect the card once it is connected to computer. When you really need to unplug it, you should eject it safely from computer through the system. If computer crashes when the SD card is still connected to it, you should manually disconnect the card after turning off the computer.

4. Be careful enough when you put SD card in someplace or carry it around. Please try not to carry the card next to power distribution room, electroplating plants, welding machine and some departments in hospital: X-ray room, MRI room and CT room.
Write Protection – An Amazing Feature of SD Card
Learn More about SD Card
According to research, in 2001, the market share of
SM (SmartMedia) card
is over 50%, but in 2005, it is dropped to about 40% and a continuous quick dropping is found in the next few years. At that time, most digital camera manufacturers, such as Canon, Nikon, Kodak, Panasonic and Konica Minolta, have
given support to SD cards
.
Besides, in recent years, SD card is also popular on the professional camera market; it seems to be a destiny that the high-speed and high-price CF card will finally be replaced by the
cheaper but high-speed SD card
completely.
To sum up,
MMC (Multi Media Card)
is developed on the basis of SM card. And a few years later, SD card appears after further developing on the basis of MMC and it becomes
a universal storage device
, which is suitable for almost all portable digital products. Based on semiconductor flash memory, SD card is now widely found in all kinds of portable devices, such as digital camera and mobile phone.
What Can Write Protection Do
Some of the SD cards have a lock-unlock switch, which is used for
protecting data from being modified or deleted
by malicious people or by mistake. Have you ever noticed this? Actually, this is what we called write protection function.
If you're careful enough, you may find the
lock button on SD card
which has such function. When the button has been moved to lock side, no one can modify or delete files from certain SD card. On the contrary, we're only allowed to enter and view files saved in SD card.
Basically, SD card write protection function is designed to
prevent unauthorized or unexpected change/deletion of data
. When it is enabled, no changes can be made to data in protected SD card.
The write protection switch is a piece of plastic, which is very small and fragile, so it is easy to be broken or knocked off while using. If that happened unfortunately, users will not be able to write anything new to the SD card or change the content of old files anymore.
Even if the SD card you use has no write protection switch, you may still meet such problem since the card adapter you have adopted to connect SD card with computer is equipped with a switch button to control new data writing and file moving/copying.
Signs That Indicate Write Protection Is Enabled
When you see following messages, you'll know your SD card is write-protected. If you encounter any one of them, please be on guard.
The Memory Card is write-protected. Please release the write protect switch.
The disk is write protected.
The disk is write-protected. Remove the write-protection or use another disk.
Cannot delete *: The storage is write-protected. Remove the write-protection and try again.
Cannot copy *: The disk is write-protected. Remove the write-protection or use another disk.
Cannot copy *: Access is denied. Please make sure the disk is not full or write-protected and that the file is not currently in use.
This file is set to read-only. Try again with a different file name.
When you need to modify data in SD card under protection, please switch off the write protection function.
Tweet This Now
Fail to Disable Write Protection – How to Fix
If you come across
disk is write-protected issue
after trying to write new data into or copy file/folder from your SD card, you would definitely choose to
disable write protection
on SD card. But, what if you failed? How to solve this problem at this time?
Our suggestion is:
try the following solutions
to fix the problem as you can.
Please figure out
whether the SD card adapter has a write protection switch
. If there is, please move the switch to the unlock side to allow data modification and writing.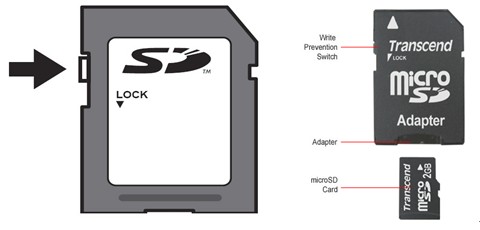 If you have switched off the write protection function on card adapter, but still fail to write any new data and change old data, it is possibly because that your
card adapter is broken
. In this case, you may need to try another adapter that is working normally.
If the data saved in your SD card can be accessed and modified normally, but fail to be deleted while it is used in mobile phone, digital camera or other electronic equipment, it may indicate that your
SD card itself has something wrong
. And you can try to fix this problem by performing a formatting to it.
If your SD card data can be accessed, modified, deleted, copied and moved without any trouble, but you get the disk is write-protected error message when connecting it to computer through card adapter, this implies that your
card adapter is not working well
.
At this time, you can try to
eject the card adapter from current USB port and connect it again
to another USB port and repeat this action. If this works, we can basically confirm that the problem is caused due to bad contact of card adapter and USB port.
Summary
Compared to hard disk, removable disks like SD card are easy to be damaged and then become dead. But it doesn't mean all data in it will be lost forever. We should follow the solutions given here to recover data from dead SD card firstly. After that, we should analyze the issue carefully for 2 reasons:
try to fix the problem and use SD card in the way we want;
try our best to avoid such problem in future.
If you still have any doubts, please feel free to leave a message below.
Common problems related to partition recovery and our solutions: