Data Recovery From Corrupted Internal Hard Disk – How To Do
Hard disk, as the most important computer data storage medium, is used widely in the whole world. Hard disk can be divided into many kinds due to different classification methods. Based on manufacturing materials, hard disk is generally divided into SSD (Solid State Disk), which uses flash memory particles for storage, and HDD (Hard Disk Drive), which adopts magnetic platters to store data. According to the type of computer, hard disk is divided into desktop hard drive and laptop hard drive.

Apart from that, one of the commonest ways to classify hard drives is dividing them on the basis of the location it is placed. So, hard disk is also divided into internal hard disk and external hard disk.

No matter you're using a desktop or a laptop, there's an internal hard disk built-in your computer when you bought it. The capacity, rotational speed, interface and service life vary from disk to disk. In addition, different computers' configuration is different and users' operations are not all the same. As a result, hard disk crash takes place under different circumstances and due to different reasons.




Once that happens, computer users, especially the inexperienced ones, would be depressed since they know the work of data recovery from corrupted internal hard disk is even more formidable than getting back data from a removable drive.

Why? That is simply because after you encountered the hard disk crash, you will try to restart the computer, but in many cases, you may end up in failure, stuck in an infinite loop or in one stage of startup. Since you're not able to enter the hard disk, the task of retrieving files from a corrupted hard drive becomes pretty tough.

But please don't worry; as long as the accident is not caused by physical damage of hard disk, you've got a great chance to regain all the lost data. In order to help users stay away from the data loss caused by hard disk quality problems, we'd like to give them some tips on how to pick out a good hard disk.


Hard Disk Purchase Skills
As you're about to see, we'll walk you through some common purchasing skills here. In summary, price, interface, capacity, speed, stability, cache and after-sale service form the aspects which could decide the overall performance of a hard disk.

1.Price: whenever we want to buy a thing, quality and price comes first into our consideration. No matter how good the stuff is in quality, if the price is too high to afford, most of us will give up the idea of bring it home. On the contrary, given that the quality of a thing is not so satisfactory, but as long as it has an appealing price, some people would buy it even if they don't need it currently.




2.Capacity: we think it's not necessary to talk about capacity so much since it is always true that the bigger the better. Meanwhile, with the fast development of technology, the capacity of hard disk has been increased a lot when there's no big change in price.

3.Interface: in terms of the hard disk interface, the most widely used one is SATA (Serial ATA put forward by Intel). The famous IDE hard disk is out of date. As for another hard disk interface specification – SCSI, though it owns many advantages which IDE can't be compared to, it is seldom used among ordinary users due to its expensive price, decided by the high production cost.

4.Cache: there's also not much to talk when it comes to hard disk cache. Why? That is simply because most of the hard drives are built with a 2MB cache; only some SATA hard drives adopt an 8MB cache.




In fact, large cache is a good feature for hard disk for it can improve disk performance significantly, but it has one shortcoming – the price is relatively high. Yet, you can choose an appropriate cache by following your own financial situation.

5.Speed: it is easy to understand that a 7200 rpm hard disk is better than a 5400 rpm hard disk in performance. Just because of this, two hard disks with the same capacity could have difference price. Under the condition that the price difference can be accepted, we suggest users to choose a hard drive with fast rotational speed.

6.Stability: unquestionably, strong stability is the thing everyone wants to pursue. The stability determines how long your hard disk's service life is in a way and it reflects whether it was a right choice to buy your hard disk at your price. Therefore, it's safer to avoid the outdated or the newest hard disk.

7.After-sale service: this is an aspect that nearly all people will take into consideration before they buy a product, especially when this product is very expensive. As you know, hard disk is always working at a fast speed as long as your computer is running.

But it turns out that hard disk is actually very fragile and could be broken at any moment. No one would like to see his important data saved on hard disk gone, so after-sale service and quality assurance are two vital factors that would change users mind when they're selecting hard disk.

Now, in order to avoid the troublesome and annoying data recovery from corrupted internal hard disk, users should hurry to roll up their sleeves to pick out a hard disk with high cost performance.


Hard Disk Is Crashed – Why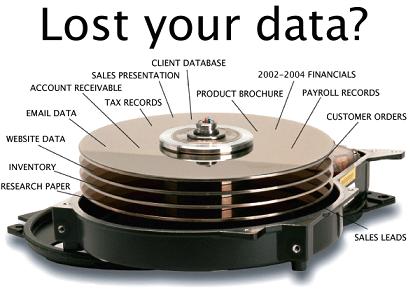 It is not a rare phenomenon that users lost their valuable data or failed to enter the system. The reasons responsible for that disaster are multifarious and internal hard disk crash is one of the most ordinary causes. Even a slight impact on hard disk platter or a wrong operation could leave users with a corrupted internal hard disk.

It's getting worse that users realize they didn't make any backup only when they come across hard disk crash. Thus, we recommend users raise their vigilance to try their best to stay away from hard disk damage. Now, let's take a look at the possible causes for internal hard disk corrupt.


Physical damage: also known as hardware failure, which includes overheating, read/write head crash, cracked or poor-contact data line, scratch on magnetic platters, short circuit in the control circuit board, and so on.


Hard disk aging: every hard disk is built with a certain service life. The usual argument is that the theoretical life of a mechanical hard disk is probably more than 30,000 hours. If the hard disk is working continuously (for example, in Web server), then you can kiss goodbye to your industrious hard disk after about 3 years. But please don't worry, the service life of hard disk used by ordinary computer users could last for about 6 to 10 years.


File system damage: file system is used by operating system to define the method for organizing files on storage device. To be specific, it is like a gateway to access data saved on hard disk partitions. If the file system on internal hard disk is unfortunately damaged somehow, the disk may become inaccessible and the computer may fail to start.
Virus attack: if a computer is attacked by virus, the necessary boot files stored in internal hard disk may be destroyed or deleted, leading to boot failure. Besides, useful data or partition may also be deleted by the virus.




Boot sector corruption: boot sector is the first sector of hard disk; it is used to load processor control and then transfer it to the operating system. Once boot sector is damaged, users will not be able to enter the computer and access any data saved in internal hard disk.


Software conflict or wrong operation: the programs we installed on our computer may not able to be fully compatible with each other, so software conflicts may happen sometimes to cause internal hard disk corrupt. Meanwhile, since not all users are professional in computer using and file managing, they tend to make some mistakes when computer is running, resulting in hard disk crash.

All in all, both the internal hard disk and external hard disk are fragile and easy to be damaged by a bunch of factors. So users need to be cautious when working or studying on computer. Remember, it is a good habit to back up important data regularly to a separate drive. Otherwise, once internal hard disk is corrupted, we bet most users will feel very regretful since the work of retrieving files from a corrupted hard drive is totally beyond their ability range.


Deal with Data Recovery from Corrupted Internal Hard Disk
Generally speaking, though the desktop hard disk is put inside the computer case, it is relatively flexible – it can be taken out from computer case even by ordinary users and this will not bring damage to disk data or computer. So in this case, if the internal hard disk is corrupted, users could choose to take out the disk and then connect it to another computer to analyze the problem and try to fix it.




However, what if the internal hard disk which is crashed now is a laptop hard disk? Users would get their hands on finding answers to how to recover data from crashed laptop hard disk. To be honest, things will be much more complex since most of the internal hard disk of laptop is built in the computer and can't be taken out easily even by professionals. Therefore, laptop users have to search for other ways to recover data from internal hard disk.

Some people would suggest going for professional recovery agencies. Is that a great idea? We're afraid it's the last choice. A large number of computer users stated that they send the computer with broken internal hard disk to people in recovery agency and paid 500 bucks to have them try the recovery; if they can't get anything, then users will get 100 bucks back of their 500. But the result is: only a little part of it is recovered. What's worse, you can't get anything.

Taking situations like this into consideration, we advise all of you to try MiniTool Power Data Recovery, which is regarded as a piece of wonderful failed hard drive data recovery software by numerous users.


Solutions to Retrieving Files from a Corrupted Hard Drive
Here's how you gonna do to finish data recovery from corrupted internal hard disk in different cases.

Case 1: After your internal hard disk was crashed, their first reaction must be rebooting the computer to have a try. If this succeed and you enter the system as usual, only to find some of the files are lost, they could just make use of the free edition of MiniTool Power Data Recovery. For instance, how to recover data from crashed laptop hard disk after successful reboot.




a. Download and install the free edition to laptop.
b. Run it to choose a proper module from main interface. ("Damaged Partition Recovery" is advised if the partition containing your lost data exists; if a partition is lost, please resort to"Damaged Partition Recovery")
c. Scan the target drive under guidance and check files you need to recover at the end of scan by pressing "Save" button and setting storage location afterwards.

Remember, the free edition allows recovering at most 1GB files from your laptop internal disk.

Case 2: if you can't restart the computer successfully after discovering internal hard disk corrupt, the free edition would not be helpful. At this time, you need to turn to the bootable edition of our Power Data Recovery.




a. Burn the boot edition to your CD/DVD or USB flash drive with third-party tool or our Bootable Media Builder.
b. Insert the boot CD/DVD to computer CD driver or connect the boot USB flash drive to computer through USB interface. Then, enter BIOS and change the settings for booting computer from this disk.
c. After a successful boot, you ought to recover data just like using the free edition.

Remember, the free boot edition is only free to scan the lost files, if you want to recover them, you'll need to buy a license.

Nevertheless, what if users want to know how to restore portable hard drive after crash? The fact is – it's so easy. MiniTool Power Data Recovery is also helpful in this case. Just connect the portable/external hard drive to a computer which works well and installed with the great failed hard drive data recovery software.

Then, run software and choose a functional module to start. The only difference is that, you need to select the movable device to scan after entering certain module. The left steps are the same with what we have said just above.

Please hurry up to get this amazing software to recover data now or for future use.
Common problems related to partition recovery and our solutions: